UFC Fight Night 30: Lyoto Machida interview
By Coach Staff published
An exclusive interview with Lyoto 'The Dragon' Machida ahead of UFC Fight Night 30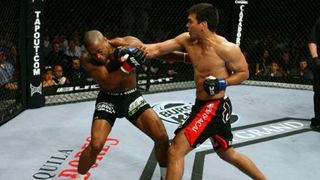 (Image credit: Unknown)
MF's Ben Ince catches up with the former UFC light heavyweight champion ahead of his fight with Mark Munoz at UFC Fight Night Manchester this weekend.
Why did you decide to take the fight on short notice?
I thought it was a great opportunity for me, and I didn't want to disappoint the UFC. They asked for me to step up, so I accepted it.
Do you think Munoz is a more difficult opponent than Tim Kennedy, who you were originally scheduled to face?
It's hard to say. They're both wrestlers, so they're pretty similar style-wise. Tim Kennedy's very tough, but I believe Munoz is a more resilient fighter. He doesn't stop during a fight – he just keeps going for it.
You've trained with Munoz before. Does that make it harder to fight him?
That is something that's hard to do, but you've got to be professional before anything else. It's a fight, and after the fight's over we can go back and be friends. It might make the gameplan a little more challenging, because I know how he fights and vice versa. But when both guys know how the other trains and fights, that's when you try out new things.
This will be your first fight in the UFC at middleweight. How are you finding the weight cut?
It's a little bit tough, but it's not that bad. I'm able to eat well – I'm just not able to eat as much as I'd like to. My portions are regulated now, so I know exactly how much I need to eat in each meal. The food doesn't really change – I've always eaten healthily – just the amount. But now is the right time to move to middleweight. I feel like I've already fought everyone at light heavyweight, and it's a matter of moving down and finding new challenges.
If you had the chance of a rematch against light heavyweight champion Jon Jones after he beat you at UFC 140, what would you do differently?
I think I'd try to avoid his ground game as much I could. That's his strong point and that's what he likes to do – take people down. But on the feet I think I'm equal to him.
Do you think a win over Munoz will earn you the next title shot against the winner of the Chris Weidman-Anderson Silva rematch?
It's too early to say. I'm just arriving in this weight class, I need to focus on Munoz. It might be hard to fight Anderson anyway – we have the same managers, we roll in the same group and we know each other very well. Plus he was the champion for a long time. That's not something I can predict or even think about right now.
UFC Fight Night: Machida vs Munoz takes place on Saturday 26th October at the Phones4u Arena in Manchester. Tickets are available now from ticketmaster.co.uk (opens in new tab) or catch the action live on BT Sport.
Coach is the place to come for all your health, fitness, and personal wellness needs.
Sign up for workout ideas, training advice, the latest gear and more.
Thank you for signing up to Coach. You will receive a verification email shortly.
There was a problem. Please refresh the page and try again.