Steve Wakeling: training blog 3
By Coach Staff last updated
With only a week until weigh-in, Wakeling explains how he's been preparing to fight in a heavier weight category than he's used to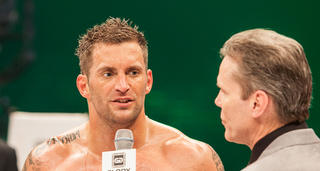 (Image credit: Unknown )
This time next week the weigh-ins for the GLORY World Series 10 middleweight tournament will have come and gone. If all goes according to plan – and it always has – I'll be resting, refueling and channeling all my focus into the fight, with all that hard training and dieting behind me.
Until my last bout in February, I always fought at a much lighter weight than 85kg. The dieting was tough but training intensely while dieting was even tougher. To avoid the risk of piling on the pounds, strength work always took a back seat to my regular Muay Thai training. But when I found out I was going to be part of this four-man tournament at a heavier weight than I'm used to, I knew I had to work on my strength and conditioning if I hoped to make an impact against the bigger guys. That's why I enlisted the help of ex-marine PTI and strength and conditioning coach Sean Lerwill. After our initial consultation, I knew our partnership would be a great one. He understands the fight game, having trained MMA fighters in the past, and more importantly his work ethic is on a par with my own.
I knew I really had to increase my power to go toe-to-toe with the other three guys in the tournament. It's one thing to have knockout power against fighters in the weight categories below, but I wanted to make sure I could bring that explosiveness with me into the ring on the 28th September, too. Sean took me through circuits involving plyometrics, core work and whole-body strength using kit such as the Olympic bar, battle ropes and cable machines, and structuring them like a fight – which by GLORY rules would be three rounds of three minutes. Keeping that sort of intensity up for three non-stop minutes was excruciating, but I knew it would also fine-tune my endurance in ways that would benefit me in the ring. With Sean's encouragement I just about got through each session alive.
Week by week I noticed little improvements, which seemed to cross over into Muay Thai training perfectly. I was sharper, had more stamina and was generating far more power. Most rewarding, though, is what it's done for my confidence. Knowing that, with just a week to go, I've done everything I possibly can both mentally and physically to prepare is one of the most satisfying feelings any competitor can have. Now the fun begins.
Coach is the place to come for all your health, fitness, and personal wellness needs.
Sign up for workout ideas, training advice, the latest gear and more.
Thank you for signing up to Coach. You will receive a verification email shortly.
There was a problem. Please refresh the page and try again.