UFC Fight Night 29: Ross Pearson interview
By Nick Hutchings published
Pearson tells MF why motocross and the English fans will help him beat Melvin Guillard at UFC Fight Night this October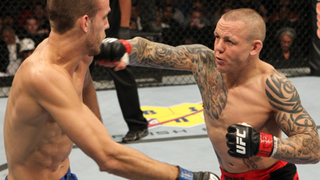 (Image credit: Unknown)
You're fighting Melvin Guillard at UFC Fight Night 29 in Manchester on 26th October. What should people expect from the bout?
It's going to be a great fight. He brings heat – he's very explosive, he's very powerful and he's never in a dull fight, so I'm excited to test myself against him. I feel that I'm technically better than him but he possesses a lot of power, which always poses a threat, so I have to fight smart.
Guillard has been touted as a top contender and you're on a good run, so where do you think that puts you as far as title contention is concerned?
If I finish Melvin, that's four in a row and I can't be denied any more. Hopefully they'll give me a top-five opponent.
Some people would say that you already deserve to fight someone slightly higher up the pecking order than Melvin. He's lost three of his last four fights.
A fighter is defined by how well he comes back from his losses, and he won his last fight with a knockout in the first round. He's got new coaches and a new team, and he wants to carry on making a statement. I've got to be prepared for the best Melvin there's ever been.
You won your last fight against Ryan Couture at UFC on Fuel 9 in April with an injured foot. How did that affect you during the fight?
I felt terrible and the most nervous I've ever been before a fight. I was really hurting. What I took from that fight was how mentally strong I am. When I got in the Octagon to fight Couture I put all that to the back of my mind and just went to work. It wasn't my best performance but I got the finish.
How are your injuries now?
I'm back to 100%. After that fight I had about eight of weeks of rehab work to fix everything. I feel super strong, super fit and I'm looking forward to going to San Diego and finishing my training for Melvin.
You're also into motocross, a sport that carries a big injury risk. Has the UFC ever tried to stop you riding your bike in case it jeopardises your Octagon career?
I always stop riding my motorbike eight weeks before a fight but that's my choice. I've never been told I can't ride. Motocross is a release and a good way of getting away from fighting. MMA used to be a hobby but it's turned into a full-time job, and sometimes you just need to get away from that. Riding my bike is great for my conditioning too, and I'm not very fast, so even if I fell off I wouldn't hurt myself.
How does motocross compare with fighting in the Octagon?
The athletes are the same in both – they put their bodies through hell for just one 15-minute fight or a single race, and a lot of the time even the guys who succeed aren't particularly famous or well off. They're just dedicated to their sports.
You went from lightweight down to featherweight and now you're back at lightweight. What was it like to switch weight classes?
I'm definitely never going down to featherweight again. Keeping my weight down made me feel weak, and you can't compete against top guys if you're not feeling 100%. At 155lbs I can make weight and I feel strong. I'd rather be a smaller guy at 100% than a bigger guy at 50%.
You've fought all over the world, but you're coming back to fight in the UK in October. Is that a big deal for you?
It will be great to be in the Octagon in front of the people who supported me when I was fighting in smaller shows around the UK, before I got into the UFC. Some of my friends and family haven't seen me fight live in nearly three years so it'll be a real treat for them and me.
What's it like to come out to a crowd that wants you to win?
It's electrifying. You feed off them. The louder they scream the harder you fight. I've loved fighting all around the world for the UFC but this is one of the main reasons I'm so excited to be coming home.
Going back to Guillard – he's famous for coming out hard but then slowing a bit as the fight goes on. How much of a factor will that play in the fight?
He certainly starts fast, so I've got to be able to control that by putting him on the back foot from the off. As the bout goes on my fight pace will wear him down, and I think I'll take him out in the later rounds.
As a fan, what's been your favourite fight to watch in 2013?
Chris Weidman beating Anderson Silva to take the middleweight title.
Was that because of the shock value?
Yes, and also because of the hype that had built around it. But there have been so many other great fights this year. Dennis Bermudez has been in some amazing wars.
What do you think the outcome of the Weidman v Silva rematch will be?
Chris Weidman is a great fighter but I feel that if Anderson really, really wants to do it, he'll finish him.
How did you find the FitBrit challenge?
I enjoyed doing it and my legs were a bit fried afterwards. Next time I won't do a big training session beforehand.
Pearson's time was 14min 30 sec. For your chance to beat his time, go to mensfitness.co.uk/fitbrit
Ross Pearson takes on Melvin Guillard at The Phones 4U Arena in Manchester on 26th October. Tickets for UFC® MANCHESTER 2013: BISPING vs. MUNOZ are available from Ticketmaster (opens in new tab) and phones4uarena.co.uk (opens in new tab)
Nick Hutchings worked for Men's Fitness UK, which predated, and then shared a website with, Coach. Nick worked as digital editor from 2008 to 2011, head of content until 2014, and finally editor-in-chief until 2015.
Sign up for workout ideas, training advice, the latest gear and more.
Thank you for signing up to Coach. You will receive a verification email shortly.
There was a problem. Please refresh the page and try again.