Steve Wakeling: training blog
By Coach Staff last updated
Follow the former British, European and four-time world Muay Thai champion as he prepares for his next big fight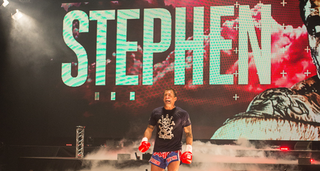 (Image credit: Unknown )
When I got the call from the guys at Glory World Series asking me to take part in their four-man middleweight tournament in California on 28th September, it was a lot to take in.
I've been fighting since I was a kid growing up in Surrey. My dad got my brother Michael and me into Muay Thai when we were young and since then we've trained, taught and competed in the sport non-stop. When I was 19 I won the WMC [World Muay Thai Council] world championship, and since then I've also taken home the famous green WBC [World Boxing Council] straps in the 72.5kg and 76.1kg weight classes. But the Glory middleweight category takes place at a much heavier weight of 85kg and I think a lot of fans are excited to see if I've got the goods to take gold against the bigger guys.
Since my debut at 85kg in February's Glory 5 event in London, when I defeated American Eddie Walker by TKO, I've been working on my strength and conditioning with London-based trainer Sean Lerwill at Fitness First. We're making sure I've not only got the power and explosiveness to make a mark as a middleweight, but also the endurance to keep the pace up for all three rounds – twice in one night if I defeat the homegrown Joe Schilling in the tournament's first stage.
Jason Wilnis, a tough Dutch fighter, is someone I won't be overlooking, but if all goes well and I move through the first round of the tournament, I'm looking forward to meeting Russia's Artem Levin in the final. We have unfinished business, after our meeting last year was deemed a draw. The aftermath of the fight and the controversy surrounding the decision mean a rematch is sure to produce fireworks. I'd be lying if I said the $150,000 cash prize for winning the tournament doesn't motivate me, but what's really keeping me hungry through the long, gruelling training sessions is the chance to take the top spot in the rankings from a guy I feel I've already beaten. Until then I'll be sleeping, eating and breathing kickboxing.
Coach is the place to come for all your health, fitness, and personal wellness needs.
Sign up for workout ideas, training advice, the latest gear and more.
Thank you for signing up to Coach. You will receive a verification email shortly.
There was a problem. Please refresh the page and try again.