MF meets Amir Khan
By Max Anderton published
MF speaks exclusively with British boxer Amir Khan ahead of his fight with Julio Diaz about training, rumours and misconceptions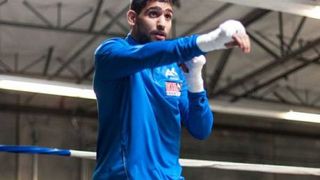 (Image credit: Unknown)
What prompted you to change trainers and how does training with Virgil Hunter compare with training with Freddie Roach?
I think Freddie Roach is one of the best trainers in world, but I just needed a change in everything really. I needed to work on different techniques to improve because people were starting to work out my style. Roach has an authentic, tough style, coming forwards with a lot of shots, which is great, but I felt I needed a trainer who was going to work on the defence side of things more. I was looking through videos of different coaches and saw Hunter teaches that. My offence is always going to be there, but I needed someone who could help me work on my defence.

How has your training changed in terms of the conditioning work you do?
It has changed a lot. I have a team of people working with me now and, conditioning wise, they have me in the best condition I can be in. I feel fit and strong. I've been doing a lot of rounds and sparring, and just can't wait to get in the ring and fight. This training camp has been tough, but it has been great too. I've been pushed to the limit and we've changed a lot of things, like the way we do our track work and the way we do our hill runs.

What is the difference? Is it more intense?
There's more short-burst explosive stuff. So instead of doing an hour's run at a steady pace, I'll do high-intensity sprint sessions punctuated with short periods of rest. It's like a fight. In a fight you're not going to throw combination after combination, you're going to throw a combination then take two or three seconds off, move around, see what your opponent's openings are and go again – it's important to have the energy to explode at any given time. The longest sprints we do in training are 300-400m sprints. Other than that everything is really short, such as 20m sprints as fast as possible. I'm doing a lot more core work than before and a lot of exercises like ladder drills and step work. Jumping steps, for example, are great for making sure I land in a strong position.

Are you at the peak of your fitness?
No way. I can feel myself getting stronger every time I go to the gym. Every time I fight, every time I'm in the gym, I can feel myself getting stronger. We're working so many new things for this camp, I'm going to be in a great condition for this fight. I'm going to be more than ready.
What have you learnt from the mistakes you made in your losses?
I've learnt a lot. I used to make silly mistakes, but they were fixable. Little things like jumping in and forgetting about the defence, not really being focused or not sticking to the game plan. Now I always stick to the plan and do what's best. There's no messing around in the ring – when I'm in the there, I just stick to the plan and do what my corner tells me to do. In the early days I think there were times when I thought it was getting easy. I would just do my own thing, or I'd get bored and try to make it exciting by throwing loopy shots and trying to knock my opponent out. That's when you get caught. I've learnt from that. It's about being more focused and disciplined.

What do you think is the biggest misconception about you as a boxer?
One thing people don't realise is I've fought everyone who has been put in front of me. I'm not one of those fighters who has turned anyone away. I've fought the best in the division and have never said no to an opponent – and I'm offered the best, biggest names. When I was two-time world champion I wanted to fight Timothy Bradley. It would have been his two world titles and my two world titles on the line – it would have been an undisputed unification fight. But he didn't want that – he didn't take that fight. I didn't have to go to DC to fight Lamont Peterson. I was top of bill, the bigger name. But because of the fighter I am I said OK, if he's playing hard to get I'll go to DC and fight him in his own state, which is one of the worst things I could have done. Then we found out he was on steroids and the rematch was called off because he tested positive. I didn't have to face Danny Garcia. We didn't know anything about the guy – we didn't have much video on him. But, you know, we still jumped in with that fight. It just shows my character – I'm a tough guy who doesn't say no to anything and will fight whoever is put in front of me.

What do you think is the key to success against Diaz?
I think it's going to be sticking to my game plan, being focused and doing what my trainer tells me from the corner, because we're going to be changing tactics everywhere a little bit. It's going to be different from the fight against Carlos Molina. I've got the chance to spend more time with Virgil this camp, so as well as taking the training from the last camp I'll be taking new stuff from this one. It will give me the chance to work on new things and be a different fighter – be more of a complete fighter.

How important do you think fitness is compared with technique?
I think fitness is a big thing – without it you can lose fights no matter how good you are. If you die off after six rounds, you'll lose the fight. At championship level, the test of a fighter's fitness probably starts from round eight – that's when the fight gets tougher and that's when you need the fitness to keep you going. You also need fitness to keep to the game plan because it's when you get tired that you start forgetting it and start trying to do things to finish the fight. You start compensating for your fitness – putting in big looping hooks, trying to knock your opponent out because you're tired mentally and physically. You look for a shortcut, an easy route out and that's when you get caught yourself. So fitness is a crucial thing in boxing.
There are rumours of a fight with Floyd Mayweather. Is that something you'd want?
It's all about winning right now and getting past this fight with Diaz. I mean, they've put me at number two in the WBC, which is a title Mayweather always fights for. I haven't fought at 147lb [welterweight class] yet, but before I move up I want to clean up this [light welterweight] division. I still want the rematch against Garcia and I still want the rematch against Peterson. The Peterson rematch would've been done by now if he hadn't failed that drug test. I still want to prove myself and prove to everyone that I beat him the first time by beating him again in the rematch.

How does avenging your losses compare in terms of importance with winning another world title?
They're probably even really because you want to avenge your losses and take those world titles away from the fighters you've faced so they know what it feels like. I've offered Peterson and Garcia reamtches numerous times, they're just not taking them. Golden Boy [Khan's promoters] are doing a mini tournament with Garcia vs Zab Judah and Peterson vs Lucas Matthysse, with the winners fighting each other. At the end of the year Golden Boy have promised me the winner of the whole tournament will face me in an undisputed fight. That will prove who is the best in the division. I'm looking forward to getting a crack at whoever wins the final fight. But first of all I have to win this fight [with Diaz] and win with style.
Amir Khan fights Julio Diaz on Saturday 27th April at the MotorPoint Arena in Sheffield. Tickets for the fight can be purchased from www.motorpointarenasheffield.co.uk (opens in new tab) or by calling 0114 256 5656. For hospitality visit www.h2osportspartnership.com (opens in new tab) or email amirkhan@h2osportspartnership.com (opens in new tab).
For more exclusive interviews with the world's best athletes, subscribe to MF - we'll give you five issues for £5 (opens in new tab).
The new MF interactive iPad magazine is out now. Click here to download it (opens in new tab).
Max was the head of digital content for Men's Fitness which worked alongside Coach between 2015 and 2019.
Sign up for workout ideas, training advice, the latest gear and more.
Thank you for signing up to Coach. You will receive a verification email shortly.
There was a problem. Please refresh the page and try again.