MF meets MMA fighter Andre Winner
By Sam Razvi published
MF caught up with Andre Winner ahead of his BAMMA lightweight title fight with Rob Sinclair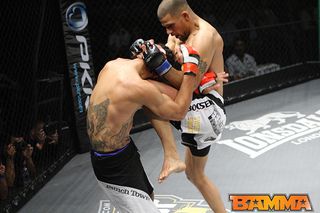 (Image credit: Unknown)
How is your training camp going?
I was actually supposed to fight back in February, but my fight got cancelled so I've pretty much been continually training since then. If I'd known I wasn't fighting till September I probably could've used my time a little better, but I feel good and I'm still happy with my progress. Training's a passion of mine anyway so I'm always in the gym. I get grumpy if I'm not training. I'm just one of those people.

What's it like at Team Rough House now that most of the original members have left?
Dan Hardy and Paul Daley are the guys who founded Rough House, so even though they're off doing their own thing, they'll always be the team captains. Ross Pearson is training out in San Diego and he's got a great team out there with Alliance. Nick Osipczak retired from MMA. Everyone has to spread their wings and live their own lives, but we all still talk and we're still there for each other. A lot of teams have guys who float in and out and it doesn't really mean anything, but we're a lot tighter than that. There's a lot of talented young fighters at Rough House now too, and credit should be given to Jim Wallhead for bringing them through and making them part of the team. To be fair you could call it Team Wallhead, that's how much Jim's influenced it!

You had to fight Ross Pearson in the final of The Ultimate Fighter season 9. What was it like fighting such a good friend?
Going into the tournament we knew it was a possibility. To be honest it's a strange thing. It's not something you want to do and it's a bit awkward – you'd much rather be fighting someone else – but at the same time it's beneficial for both your careers to go in there and have a hard spar. In the end you just have to crack on with it.

Your next opponent, Rob Sinclair, has built a reputation for knocking people out. How do you size him up as a fighter?
He's a good, solid fighter who's well rounded. He's quite explosive and he's got the power to hurt people with his ground and pound, so he poses problems like any fighter would. But if you spend too much time focusing on what your opponent can do you'll end up on the defensive, which is basically just prolonging the inevitable until you take a beating, so I'm not too concerned about what he can do. I feel like I'm the best I've ever been, I'm confident in my skills and my abilities and I'm going out there to dominate him.
Do you feel any more pressure, knowing you're fighting for the title and it's being broadcast on national television?
Honestly I don't think about anything like that at all. All that I think about is going out there, performing, dominating, hurting my opponent and collecting my cheque. It'd be nice to have the belt, but all that I really care about is being proud of myself and fulfilling my potential.

What are your goals for the rest of your career?
My goals for the next few years are to keep on winning, keep improving and save my money – maybe put it down on a house or open a gym. I'm not looking to be a multi-millionaire like Floyd Mayweather, but at the same time I want to be successful so I'm working hard, keeping my head down and putting the grind in.

BAMMA 10: Sinclair vs Winner takes place at London's Wembley Arena on 15th September and will be televised live on Channel 5* (Sky 176, Freeview 30, Virgin Media 151) with highlights on Channel 5. Buy tickets from the Wembley Arena website (opens in new tab). BAMMA is brought to you in association with Lonsdale.

For more interviews and news from the world of MMA, subscribe to MF - we'll give you five issues for £5 (opens in new tab). (opens in new tab)
Download a digital version of the latest issue from iTunes (opens in new tab). (opens in new tab)
Sam Razvi wrote for Men's Fitness UK (which predated and then shared a website with Coach) between 2011 and 2016.
Sign up for workout ideas, training advice, the latest gear and more.
Thank you for signing up to Coach. You will receive a verification email shortly.
There was a problem. Please refresh the page and try again.