Paralympian Richard Whitehead on motivation
By Richard Whitehead published
There's nothing life can throw at you to prevent you achieving your dreams, says GB's Paralympic 200m gold medallist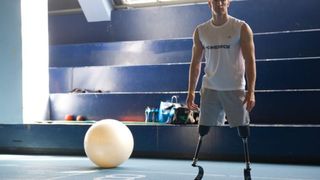 (Image credit: unknown)
I've got a tattoo on my right arm that says 'Cometh the hour, cometh the man'. It sums up everything I believe in, which is why – through my dedication to my sport – I want to be an inspiration to people from all walks of life.

I want to use London 2012 as a platform to show that anyone, whether disabled or able-bodied, can get out there and make their dream a reality. I'm living proof that with enough desire and determination any obstacle can be overcome.
World beater
I'm the current world record holder in the marathon for athletes with a double amputation, having run the Chicago Marathon in 2hr 42min 52sec in 2010. For many years, though, even completing a marathon would have been beyond my wildest dreams.

As an above-the-knee, double-legged amputee, just being able to run at all should have been a more realistic goal, but I wanted to prove to myself that nothing could get in my way. So in January 2004 I signed up to do the New York Marathon the following November. When I applied I hadn't run even a single mile. But I wanted to raise as much money as possible for charity, and I chose Macmillan Cancer Relief.
Open roads
My training started in February. I began by running with sports cups – attachments for prosthetic legs specially adapted for running – on a treadmill in my local gym. After a while I'd built up enough confidence to brave roads. Running mainly at night to avoid attracting attention, I began to experience the freedom that running provides.

I was hooked, even though it was really hard work and I could only manage about 30 minutes before the pain became too much. Developing the strength and belief to run further was one of the biggest challenges I had to face.

Public pressure
I'd put pressure on myself but this intensified when the local media started following my progress. It was a great help in raising money and awareness but I knew that with so many people working so hard to support my cause, I couldn't afford to fail and let anyone down.

By summer the most I had run was ten miles, which had been physically and mentally exhausting. It had also given me blisters the size of 50p pieces. This running lark was getting me down, but I still believed that I would complete the marathon, even if it took me a week. Then something happened that changed my life.
Tech support
A fellow amputee heard about some special running legs that could help make my running dream a reality. The problem was that they cost £2,000 per leg. Disappointed but still determined, I continued with the gruelling training sessions on my knees with my sport cups.

Then Ossur, the company behind the running leg technology, heard about my marathon challenge and donated two running feet. With just 13 days to go before the New York Marathon my running legs were ready. I hit the road for over two hours. It hurt, but it was the furthest and quickest I'd ever run in my life.
Race day
On the day of the marathon I was up at 4.30am. I spent the four hours before the gun thinking about not wanting to let anyone down. We'd raised more than £8,000 for charity and I was going to give it everything I'd got. It was an amazing experience. The support of fellow runners and spectators inspired me to finish in 5hr 18min and the feeling when I crossed the finish line was unforgettable. I had achieved something I'd never thought possible, but it was just the beginning.
Golden ambition
Because there's no marathon race at London 2012, I switched to the 200m and I'm already the world champion and world record holder. Whatever the distance, my ambition is to show everyone that you can do whatever you set your heart on. I believe that everybody has the potential to be amazing at one thing. It comes down to seizing your opportunity. Cometh the hour, cometh the man. Now is 
the time to act.
For more interviews with top athletes, subscribe to MF - we'll give you five issues for £5. (opens in new tab)


Download a digital version of the latest issue from iTunes. (opens in new tab)
Sign up for workout ideas, training advice, the latest gear and more.
Thank you for signing up to Coach. You will receive a verification email shortly.
There was a problem. Please refresh the page and try again.