MF talks to British heavyweight champ Tyson Fury
By James Dickenson published
The giant boxer talks to MF ahead of his fight against Martin Rogan.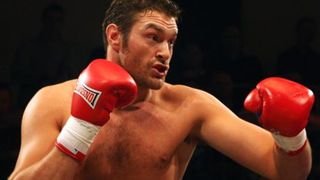 (Image credit: Unknown)
You have spoken about your battles with weight gain, but you've shed weight ahead of your British and Commonwealth title defence against Martin Rogan. How did you lose the weight?
It's been very hard. It hasn't been a quick thing - it's taken three and a half months to get it off. It's been hard training, just dedication really. I'm looking forward to the fight to show off my physique. I can't wait for everyone to see.
How does your diet during heavy training differ from when you're between camps?
It's a lot stricter; it's pretty much the most important part of preparing for a fight. My diet during training consists of porridge in the morning, lots of protein shakes throughout the day and I eat every two hours, basically just meat and vegetables. When I'm not training I can eat what I want basically. I used to eat junk food in the past but recently I've been eating the right foods and it is helping everything come together for me.
How long do your fight camps last? And during heavy training, what is an average day's training like?
They usually last about five weeks but this one has lasted three and a half months. An average day breaks down like this: morning run for an hour, followed by some weights, and then in the afternoon I'll do some pad work and technical stuff. In the evening I'll do skipping, more pad work and sit-ups.
How would you describe your style of boxing?
My style of boxing is tall, long and awkward. I can box both ways, go forwards, backwards, counter-punch, be the aggressor - I can do everything there is to do in a boxing ring.
Would you say your style is like that of any other professional past or present?
No, there is no-one else like me. I'm 6ft 9in [2.06m], I can box, fight, punch, I'm speedy if I need to be… I think I am unique among boxers. You can't prepare for me because tall fighters are usually stiff and they can't twist and bend, which I can. You just can't fully prepare for a fighter like me and I don't think there's ever been anyone like that before.
What has the change from amateur to pro been like for you?
Things have changed dramatically. Things are totally different now – it's a lot better than being an amateur boxer. The attention is on you instead of the team and obviously you get fame off the back off it. If you put in a good performance you get rewarded for it instead of getting a plastic cup! I don't miss anything about the amateur game.
You're on a 17-fight unbeaten run since turning pro. What has been your favourite bout so far?
My favourite fight so far was the John McDermott rematch. [Fury beat McDermott on a controversial points decision in September 2009; he won the rematch in June 2010 convincingly, stopping the fight in the ninth round] Everyone thought I was gonna get stopped, the fight swung backwards and forwards – I got caught, he went down… it was just an exciting fight, you know. It was a must-win for me.
How do you see the upcoming Rogan fight panning out?
I see Rogan bombing forward, swinging left hooks and right hooks, moving his head, bobbing and weaving, and I see me moving round, jabbing, jabbing, catching him, dropping him, hooking him out. I don't think it'll be over quickly - he's a tough lad, he's definitely done a lot of training. He's got a lot of pride and he's in his home town Belfast. But I don't care if it's one round or 12 rounds as long as I get the win at the end. That's all that counts.
After beating Dereck Chisora for the British and Commonwealth titles last year and then seeing him do reasonably well against Vitali Klitschko in February, how do you fancy your chances against the Klitschkos?
Yeah I definitely do. It's just a matter of time before I get them crushed. I'm looking for a big fight after Rogan and the Klitschkos would be my next aim, probably next year. Either of them would do I'm not too bothered.
If the chance arose, would you like to fight David Haye?
Not interested. David Haye is a bum. He has nothing to offer. He had his chance and he blew it. I don't need to fight anybody like that.
For more boxing related stories and interviews, get Men's Fitness. Subscribe now and we'll give you five issues for £5. (opens in new tab)
Sign up for workout ideas, training advice, the latest gear and more.
Thank you for signing up to Coach. You will receive a verification email shortly.
There was a problem. Please refresh the page and try again.