MF meets the UFC's Cub Swanson
By Coach Staff published
Top UFC featherweight Cub Swanson talks to MF about respect, rematches and facial fractures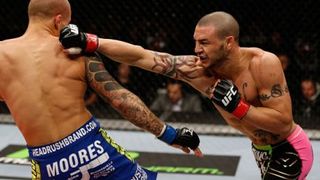 (Image credit: Unknown)
You lost three out of five fights between 2009 and 2011, but you've won all four of your bouts since the start of 2012. What changed?
I grew up. I guess you could say I'm a late bloomer as far as my career goes. I finally felt like everything I was doing came together on every level, mentally and physically. On a personal level I felt more confident. I knew that I was great, I just had to go out there and prove it.
You've won Knockout of the Night in two of your last three bouts. What kind of difference does that bonus money make to you financially?
It's huge. It scares me all the time, not knowing when my last fight will be. I've had some bad injuries and I know my career can be taken from me at any time, so I go into every fight like it's my last. I'm just trying to secure my future. I don't go out and blow what I earn – I've been saving all my bonus money. I still drive the same car, and I'm trying to buy a house now.
Do you consciously fight to win bonuses?
I'm not thinking about it during a fight, but that is why I'm fighting so hard to get a finish and put a stamp on it. The two things go hand-in-hand – if you go out there and fight your heart out and put on a good fight, it's very likely you'll get a bonus.
You suffered a brutal knockout loss to UFC featherweight champion José Aldo in the WEC in 2009 but if you continue your current run of wins, you could face him again. What do you have in your locker now that you didn't have the first time you fought?
I'm just a better fighter now than I was back then. My career has been similar to the rest of my life in terms of learning the hard way and taking the hardest route possible, but I feel like I've learned a lot from my losses. The first time I fought Aldo I tried to get after him right away and fought out of my element, trying to be something that I wasn't. If I fought him again, I'd just be myself, fight my fight and have confidence it would be enough to beat him.
What's the worst injury you've ever suffered?
I've had eight broken hands. I've torn ligaments in my shoulder. The worst was during a training camp before my UFC debut when I was supposed to fight Eric Koch. The whole left side of my face got destroyed. My cheekbone caved in, and my orbital bone, nasal and upper jaw all broke – I had seven facial fractures in total.
Who did that to you?
It's out there, but I'm not one to say. It was a former team-mate, somebody I don't care to train with anymore.
Frankie Edgar has caused something of a stir by calling you out. Do you see it as a mark of respect or a sign of disrespect?
I see it both ways. On the one hand, it's a mark of respect that I'm finally being recognised as a top guy, which is something I've been fighting for. It's always been a little painful for me, not getting the respect I felt I deserved, so on that level it's nice. But on the other hand I feel like he was trying to hand-pick me to boost his career. For me, the fact that he asked for five rounds showed a weakness in him. I think that's the only way he thinks he can beat me – to out-endure me. I'm not going to go out there and try to pace myself for three or five rounds, I'm going out to finish a fight. I don't want to have to change my style to try and squeak a win.
You've talked recently about potentially dropping to bantamweight to fight the champion, Renan Barão. Why do you think you'd match up well with him?
He likes to stand and I'm better than him there. We tried to seriously pursue it before his fight with Eddie Wineland was announced, but we couldn't get hold of [UFC matchmaker] Sean Shelby in time. I'm just excited to be in great fights for the fans, because ultimately that's what matters. So whether it be at bantamweight, featherweight or even lightweight, if it's a great fight, I'm open to it.
What do you think of Anthony Pettis dropping down from lightweight to fight Aldo, and how do you see it playing out?
I think it's going to be a challenge for Pettis to drop that weight and fight a guy who's as dominant as Aldo. He's got a great shot to win it, but I don't know if he will. With regards to him fighting at lightweight, I'm excited about all these lightweight guys dropping down to featherweight, because it gives our division more credibility. We've already seen what the former WEC lightweights have done in the UFC lightweight division. All these old school UFC lightweights dropping down gives us featherweights a chance to prove ourselves in the same way.
Is there a sense of camaraderie between the all the former WEC fighters who made it to the UFC?
Oh yeah, we've seen each other around for so long, so it's almost like we've got a secret club. I see it now with the Strikeforce guys coming over too, which is kind of cool. It always sucked when the average fans wouldn't give us any credit because we weren't in the UFC, so it's awesome now that we're all here in the big show!
UFC Stockholm 2013 will be shown on ESPN from 9pm on Saturday 6th April.
Coach is the place to come for all your health, fitness, and personal wellness needs.
Sign up for workout ideas, training advice, the latest gear and more.
Thank you for signing up to Coach. You will receive a verification email shortly.
There was a problem. Please refresh the page and try again.