MF meets UFC star John Hathaway
By Nick Hutchings published
British welterweight John Hathaway speaks to MF ahead of his bout against John Maguire at UFC: Nottingham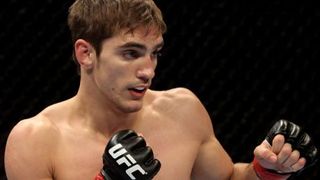 (Image credit: Unknown)
What's the gameplan for John Maguire?
Ha-ha. When's this going to be published? Before the fight? I can't tell you that!

OK, we'll re-phrase – what do you expect from Maguire?
I know John's a southpaw, his striking has improved and he's a top-class grappler. He's also had more fights than me.

You and Maguire have both mentioned that you've trained together and like each other. Do you find it hard to motivate yourself to fight a friend?
To a certain extent, but we're both professionals and will take this as a seriously as any other fight. We'll both be going for it 100%.

When was the last time you trained with him?
Probably about two years ago and we're not from the same camp, which would make things harder.
What do you normally give yourself as a reward for wining a bout?
I always try to book a holiday or buy myself a treat – last time I got a new laptop to play games on and whatnot. I haven't decided what to purchase if I win this bout but it'll be fun figuring it out.

Your only UFC defeat came against Mike Pyle at UFC 120. He and Maguire have similar strengths – does that bother you?
It doesn't. I feel I've fixed all the mistakes I made then and have new skills John won't be able to deal with.

What new conditioning work have you done during this training camp?
Not much really. But one bit of kit I did use that your visitors might not be that familiar with is the Versaclimber (opens in new tab) – it's like a climbing wall running machine that I used to do five-minute flat out speed climbs to replicate the exertions of rounds in the cage.

Do you ever get mad during a fight?
No, I stay calm throughout my bouts which is why I can usually implement my gameplan pretty well.
How do you think this fight will go?
Obviously I feel like I'm going to get the win. I would rather get it before the end of the three rounds, but if I have to go three rounds with Johnny that's not a problem.

John Hathaway fights John Maguire at UFC: Nottingham at the Capital FM Arena on 29th September. Tickets are available from UFC.com (opens in new tab)

For UFC training advice and interviews, subscribe to MF - we'll give you five issues for £5. (opens in new tab)
Download a digital version of the latest issue from iTunes. (opens in new tab)
Nick Hutchings worked for Men's Fitness UK, which predated, and then shared a website with, Coach. Nick worked as digital editor from 2008 to 2011, head of content until 2014, and finally editor-in-chief until 2015.
Sign up for workout ideas, training advice, the latest gear and more.
Thank you for signing up to Coach. You will receive a verification email shortly.
There was a problem. Please refresh the page and try again.