MF interviews British UFC fighter Paul Sass
By Sam Razvi published
MF spoke to rising lightweight star Paul Sass ahead of his bout with Matt Wiman at UFC: Nottingham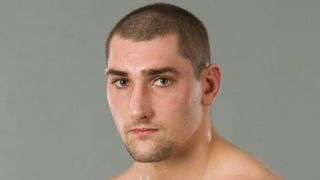 (Image credit: Unknown)
You currently hold the world record for consecutive professional wins by triangle choke with seven. Is it getting harder to catch opponents with it now that they're expecting it?
I won three fights in a row by triangle during my amateur career too, so people have been expecting it from early on. All my opponents know what I'm going to go for, but I've still managed to pull it off on quite a few people.

Do you ever wish that you'd get the chance to show off more of your striking game?
There have been times where I've said before a fight that I'm going to stand up with my opponent, but when it starts if I see a chance to pull guard I'll go for it. Then after the fight I wish that I'd stood up a bit more. But as long as I get the win it doesn't matter.

What's been the toughest fight of your career so far?
Probably my fight with Jason Ball [at CG 10 in November 2008]. I'd never been past the first round before then, and I had to show a lot of heart, as I was getting beat up a bit before I pulled off the submission [in round two]. It was a great learning experience and the biggest wake-up call I've had so far.

Earlier in your career you went to train at Greg Jackson's gym in America for a short while. Have you been able to travel to any other foreign gyms since then?
I've been at Team Kaobon in Liverpool for three years now and it's the best gym I've been to. We train super hard there – I've never trained as hard anywhere else. But I did get to go and train some jiu jitsu with Robert Drysdale at his gym in Las Vegas for a couple of weeks last year, which was great because I got to roll with some different people and learn some new things.
You're fighting a UFC veteran next in Matt Wiman. What do you make of him?
He's a really tough opponent for me and he's good at all aspects of MMA – he's a good wrestler with good striking and good jiu jitsu. He's a well-rounded fighter, and he's never been submitted throughout his career, so it'd be a really good scalp to take.

You're undefeated, riding a three-fight win streak in the UFC. Where would a win over Wiman position you in the lightweight division?
I think a win would put me just outside of the top ten.

So you think you'd be ready for a top ten opponent after that?
Yeah. I'm confident in myself, so we'll just have to see.

There's a YouTube video of you leaping off the side of the cage to lock up a flying triangle in the gym. Would you ever attempt it in an actual fight?
Sometimes things work and sometimes they don't, so it would depend on how I was feeling. If I had the opportunity to try it in a fight I might, but I could end up landing on my head!
Paul Sass fights Matt Wiman at UFC: Nottingham at the Capital FM Arena on 29th September. Tickets are available from UFC.com (opens in new tab)

For UFC training advice and interviews, subscribe to MF - we'll give you five issues for £5. (opens in new tab)
Download a digital version of the latest issue from iTunes. (opens in new tab)
Sam Razvi wrote for Men's Fitness UK (which predated and then shared a website with Coach) between 2011 and 2016.
Sign up for workout ideas, training advice, the latest gear and more.
Thank you for signing up to Coach. You will receive a verification email shortly.
There was a problem. Please refresh the page and try again.