MF meets British UFC star Brad Pickett
By Coach Staff published
MF speaks to the UFC bantamweight to find out if he is confident of victory in his 29th September bout with Yves Jabouin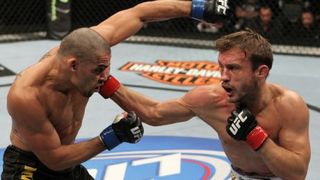 (Image credit: Unknown)
You won three of your four fights for the WEC promotion, but do you feel like you've received more recognition since the WEC merged with the UFC?
There's definitely been a lot more exposure – there were a lot of casual fans who didn't know what the WEC was, so it's great to get that recognition. I just wish I'd been able to be more active in the past couple of years, as I've had a couple of injuries that have held me back a little bit. The WEC was cool and I was glad to be a part of it, but I'm happy to be in the UFC and I can't complain about anything.

You were out injured with a back injury for a long time. Is it something that still troubles you?
The herniated disc is always there, you just learn to deal with it and train around it.

Last year at UFC 138 in Birmingham you lost to Renan Barão, who then went on to beat Urijah Faber and win the interim UFC bantamweight title. If you could have that fight again, what would you do differently?
I think I would've approached him a bit differently. I watched footage of him beforehand, and it looked like he didn't do well when pressured, so I came out really aggressively and went for him straight away. I thought that fighting in England, making his UFC debut, might make him crumble under the pressure but he stayed very composed and did a good job. Also, there were a few opportunities when I could have taken him down, but I was worried about his ground game. I've a good ground game too – I just thought that if I take a guy down when I believe I've got better standup than him, and then I get submitted, I'd never forgive myself.

Did you feel any pressure making your UFC debut in England?
There was a lot of pressure on me behind the scenes, some of which I put on myself, it being my UFC debut, fighting in England and being in the co-main event. There was a lot of media too. It was weird because I'm normally quite good at dealing with pressure, but it was very different to fighting in the WEC. I don't think it affected me too much though, because I felt good in the fight until I got rocked.
Barão is expected to fight bantamweight champ Dominick Cruz when he returns from injury to unify the belts. How do you see that fight playing out?
It'll be a very interesting fight, but I think Cruz is a much better all-round fighter. Cruz is very good at winning rounds where he'll take you down a couple of times, let you back up, and beat you up again. He's very good at scoring points and he's very difficult to beat by decision. In my eyes you have to finish Cruz to beat him. Barão does have finishing power, but if it goes to a decision – which I think it probably will – I see Cruz taking it.

Some fans criticise Cruz's style, arguing that he fights defensively and doesn't try to finish his opponents. What are your thoughts on that?
There are always critics in this sport, and when you're at the top you're going to get criticised no matter how well you do. In my eyes, he's doing nothing wrong – he's the world champion and that's where I want to be. It's just his style. It's not that he doesn't hit hard, but when he's bouncing around he can't plant his feet, which is what you need to do to generate power. It makes him harder to hit, but it also means he has less power. I like to plant my feet, which makes me easier to hit, but I hit a lot harder too.

You've been in and out of title contention over the past couple of years. If you beat Yves Jabouin in Nottingham, where do you think that places you in the division?
It depends. If I win in spectacular fashion then maybe I'm back in contention, but I've been in this position a couple of times before and fallen at the final hurdle, so I don't like to think about it too much. There are other people out there as well – Eddie Wineland just had an impressive win over Scott Jorgensen, Michael McDonald is coming up – so all I can do is focus on getting the win.

What do you make of Michael Bisping's recent comments about the lighter weight categories and their fighters?
He's very outspoken and it gets him some fans and it gets him some haters, which is what the sport's about. But for me personally, I'm one of the lighter weight guys and I know he's seen some of my fights, and if he ever thinks I'm in a boring fight he's certainly mistaken. Boxing used to be all about the heavyweights but now everyone goes on about smaller guys like Manny Pacquiao and Floyd Mayweather, so times change. Guys like Bisping have had a lot more time in the UFC to become household names, but the more people see the lighter guys put on great fights the more fans we'll get.
A lot of people argue that the lighter weight categories consistently produce the most exciting fights. Do you agree with that?
Of course! To be honest I think that's one of the main reasons why [UFC president] Dana White merged the WEC and UFC together, because the UFC was at a point where people were complaining about it being a bit boring, while everyone was raving about the WEC – and it worked. If you look at the WEC fighters who have gone into the UFC, everyone gets bonuses [given out at each UFC event for knockout, submission and fight of the night]. I've had them in both of my fights and [lightweight] Donald Cerrone's got six already. [Former WEC lightweight champ] Benson Henderson's the UFC lightweight champ too, so we're doing really well and we're all in exciting fights.

You defeated Kyle Dietz with a Peruvian necktie submission in your WEC debut. It's a move that's rarely seen in MMA – would you go for it again?
If I get myself in position and the opportunity arises then of course, definitely. It's one of my submissions and I'm quite good at it. But personally, I don't try to plan submissions before a fight – if my opponent gives me an opportunity I take it. I don't like to force things. Sometimes if you go in with a premeditated plan and try to force something, you can lose position.

Are there any other unorthodox moves that you would use given the opportunity?
I've got a modified guillotine choke that not a lot of people know. I've seen some people use variations of it – it's a bit like Cody McKenzie's guillotine – but I've got my own variation. I haven't used it to win a fight yet, but I hit it a lot in training.
Pickett will fight Yves Jabouin on 29th September at UFC: Nottingham at the Capital FM Arena on 29th September, tickets are available from UFC.com (opens in new tab)

For more UFC training advice and interviews, subscribe to MF - we'll give you five issues for £5. (opens in new tab)
Download a digital version of the latest issue from iTunes. (opens in new tab)
Coach is the place to come for all your health, fitness, and personal wellness needs.
Sign up for workout ideas, training advice, the latest gear and more.
Thank you for signing up to Coach. You will receive a verification email shortly.
There was a problem. Please refresh the page and try again.