MF meets British UFC fighter John Maguire
By Joel Snape published
MF talks to John 'The One' Maguire about Gypsy jiu jitsu, pink belts and whether he can do a Sharpshooter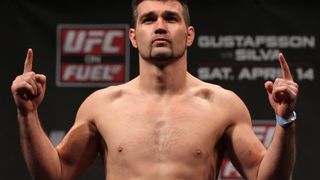 (Image credit: Unknown)
This your third UFC fight, but your first time in the Octagon against another UK fighter. Do you think that's going to make a difference to the crowd reaction?
The crowd will be split, that's for sure. Otherwise I don't think it'll make much difference. I've known John Hathaway for a while and I've helped him out in training before. There's no bad blood between us – there's a lot of mutual respect. It's a job, and my job is to fight him.

Your fighting style is unusual in that you practise your own type of grappling, called 'Gypsy jiu jitsu', instead of the more traditional Brazilian style. How did that happen?
Well, I'm from a Gypsy community, so I'm representing that. I don't wear a gi [the traditional BJJ uniform] to train in, I never have done. I've just learned things here and there from guys like Team Tsunami and UK fighter Robbie Olivier. I seem to pick up grappling quite fast.

Apparently you're a pink belt. Can you explain how the grading system works?
I awarded myself the pink belt. I got invited to a couple of grappling competitions and I beat a Brazilian jiu jitsu black belt there, so I gave myself a belt. I've always liked pink.

Is that anything to do with former WWE champ Bret Hart [known as the Pink and Black Attack thanks to his distinctive outfits]?
Yeah, I followed Bret Hart for a long time when he was a wrestler. When The Rock came in, I followed him as well. After that I stopped watching wrestling as regularly. Me and my brother used to wrestle all the time – if I wasn't an MMA fighter, I'd be a wrestler.
Can you do any of his signature moves like the Sharpshooter (opens in new tab)?
Yeah, I used to do Sharpshooter all the time. I don't think it would work in a real fight, though.

So what's the plan for your fight against Hathaway in Nottingham?
Well, I've been working hard on my strength and conditioning at Core Cambridge. I've been doing a lot of explosive stuff, working on my Olympic lifts and doing a lot of hip thrusts and glute bridges, trying to get those muscles powerful. My groundwork's my biggest strength. I'm a thinking fighter – I'm always trying to finish.

What's Hathaway's biggest strength?
His size. He's a big guy for a welterweight. And his endurance. He's a good fighter.

So what's your prediction for the fight?
I don't like making predictions, but I'll be trying to finish him. I always say you don't get paid for overtime.

John Maguire fights John Hathaway at UFC: Nottingham at the Capital FM Arena on 29th September, tickets are available from UFC.com (opens in new tab)
For more UFC news and interviews, subscribe to MF - we'll give you five issues for £5. (opens in new tab)
Download a digital version of the latest issue from iTunes. (opens in new tab)
From 2008 to 2018, Joel worked for Men's Fitness, which predated, and then shared a website with, Coach. Though he spent years running the hills of Bath, he's since ditched his trainers for a succession of Converse high-tops, since they're better suited to his love of pulling vans, lifting cars, and hefting logs in a succession of strongman competitions.
Sign up for workout ideas, training advice, the latest gear and more.
Thank you for signing up to Coach. You will receive a verification email shortly.
There was a problem. Please refresh the page and try again.