MF interviews Dan Hardy
By Sam Razvi published
British UFC welterweight Dan Hardy tells you a few things life inside and outside of the cage has taught him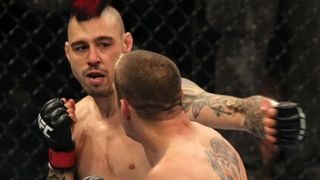 (Image credit: Unknown)
I realised early on that fighting was part of my nature.
I needed to do it to feel more like myself. There's a drive and a desire in all of us to compete physically against someone else, but I don't think we've quite come to terms with it as a society, so we've created a sporting environment to make it seem a little more acceptable.

I'm a bit of a control freak and I have a habit of taking over and doing too much in training.
That's why I need to be in an environment where somebody else is leading. Now I'm at a gym where I trust my coaches to make sure I'm prepared and that I've done everything I need to do, which helps a lot.

My training sessions are a lot more efficient now.
I used to travel to different gyms to do separate jiu jitsu, striking, and strength and conditioning sessions. Now I train at one gym where every session is an MMA session. It's helping me to transition seamlessly between disciplines, which gives me a huge advantage in the Octagon.

My goal is to find out what I'm capable of.
That's always been my aim, since I started competing – to test the skills I'd spent years developing in the gym and to find out what else I needed to work on to improve. For me, first and foremost, martial arts are about continually trying to better yourself, and that's still my goal. After that it's about life experience – being in situations that teach me something and help me to move forward as a human being.

I've made a list of things I'd like to do.
My mindset isn't, 'Which one should I do?' It's, 'What order should I do them in?' I'm going to ride this till the wheels fall off and see how many of my dreams I can accomplish. I've been an MMA fighter, I'm still doing it and I feel like there's some mileage left in it. But once it comes to an end, I'm excited about trying other things. I'm in a good place now and I feel encouraged to try to achieve more in my life.

You have to be smart about how you study traditional martial arts.
A lot of the time it's the principles of the art that you've got to heed rather than the actual techniques – combat has evolved so much since some of these arts were founded, so you need to evolve their techniques with it, make them more streamlined and whittle away the bits that don't work till you're left with a core that does.

Muay Thai is the most direct and violent form of fighting.
I love all the traditional kung fu styles – they're very aesthetically pleasing to watch – and I enjoyed doing a lot of tai chi when I was in China. When my MMA career's over I'd like to study kendo. I think beating people with sticks would be a lot of fun. But for me, Muay Thai was always the root of competitive martial arts.

My work ethic is inspired by Olympic wrestling gold medallist Dan Gable.
His motto was: 'When you're in the gym, give it 100%, and as soon as the session's over, do everything you need to do to be able to give it 100% in the next session.' It's always stuck in my mind, and I think all athletes should aspire to it, whatever sport they're competing in.
Dan Hardy will be in action on 29th September at UFC: Stipe vs. Miocic at the Capital FM Arena in his home town of Nottingham. Get your tickets from UFC.com (opens in new tab)

For more UFC training advice and interviews, subscribe to MF - we'll give you five issues for £5 (opens in new tab). (opens in new tab)
Download a digital version of the latest issue from iTunes (opens in new tab). (opens in new tab)
How to throw an overhand right
This is a big punch if you can land it,' says Hardy. 'It's good for setting up a left hook, which I used to knock out Rory Markham at UFC 95 and Duane Ludwig in my last fight.'

1. From your stance, step forward slightly with your left foot.

2. Throw the punch as if you're bowling in cricket – pull your right fist back slightly, and then loop it all the way over the top.

3. The aim is to come over your opponent's guard and catch him on the chin.
Sam Razvi wrote for Men's Fitness UK (which predated and then shared a website with Coach) between 2011 and 2016.
Sign up for workout ideas, training advice, the latest gear and more.
Thank you for signing up to Coach. You will receive a verification email shortly.
There was a problem. Please refresh the page and try again.