MF talks to UFC bantamweight champion Dominic Cruz
By Sam Razvi published
Cruz tells us about boxing like Muhammad Ali and tossing people on their heads.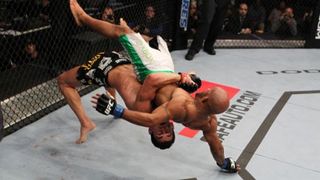 (Image credit: Unknown)
You recently had surgery on a broken hand, how's the recovery going?
I had surgery on it about two weeks ago and I'm going to physiotherapy twice a week. Normally I'd only give myself a week off after a fight before getting back into training, but obviously this injury has set me back a couple of weeks. I should be able to start picking up my cardio in the next couple of days and I'm looking forward to getting back in the gym and sweating again.

You broke the same hand earlier in your career - is there a chance it'll become a recurring problem in the long term?
After having these surgeries it should be stronger now than it's ever been so I'm pretty happy about that. I'll have a lot more stiffness and probably some arthritis issues later on in life, but that won't be for a long time.

Your boxing has evolved considerably in recent years, to the point where you now have one of the most effective striking styles in MMA. Are there any particular boxers who you model yourself on?
I try and emulate the styles of guys like Muhammad Ali and Floyd Mayweather Jr., in terms of making myself really hard to hit. Mayweather's approach to not taking damage is one of the main reasons why he wins so many fights. I also like Manny Pacquiao and the way he throws long combinations with so much speed. Really I just try and take whatever I can from anyone who's better than me at boxing!

Would you say that avoiding damage is your main objective inside the Octagon?
My gameplan is always to keep busy, take as little damage as possible and inflict as much damage as possible on my opponent. It sounds pretty simple, but you can't really be losing a fight if you're hitting somebody two or three times while avoiding their strikes and their takedown attempts.
Some fans seem to take issue with this approach, deeming it to be 'safety-first'. Why do you think that is?
I think that a lot of fans don't really understand what it takes to go in there and get punched in the face – which isn't something I particularly enjoy doing! I'd rather go in there and not take a lot of damage and beat somebody up. You can't really worry about people's opinions, though, because some people are going to like you and some people aren't – you can't control that. I hope that as the sport grows, more fans will start to appreciate it as an unpredictable style that allows me to beat the crap out of the person I'm fighting.

Talking of being unpredictable, you executed some impressive German suplexes against Demetrious Johnson in your last fight at UFC Live 6. Was that part of the game plan?
That was 100 per cent improvisation. When you've grown up as a freestyle and Greco-Roman wrestler, if you get double underhooks on somebody, they're going flying. During the fight, Johnson was standing against the cage without any hand control and that's a recipe for getting tossed on your head. It's just a part of the fight though, being able to make adjustments like that to help you get the win.

There's a good chance that your next title defence will be against the winner of the Urijah Faber vs Brian Bowles bout at UFC 139. Who do you see winning that fight?
I think Faber is going to take Bowles down and Bowles is probably going to close his guard and take a bunch of elbows. If Faber doesn't finish him, he'll win a unanimous decision. I just don't think Bowles will be able to stop Faber's takedowns.

After all the bad blood that surrounded your previous fights with Faber, how good would it feel to have the last laugh and beat him in the trilogy fight?
Hell yeah, that'd be awesome! If he gets a title shot again I think it'll be his fifth in the last three years. He's lost the previous four and to make him 0-5 in title shots would definitely put a smile on my face!
You fought the first half of your career at featherweight. If you were to move back up to the 145lb (66kg) division, do you think that your speed would pose problems for the current UFC featherweight champion José Aldo?
I think my speed would cause a lot of problems in that weight class.

Would you take that fight if the UFC offered it to you? And what would winning a title in two weight divisions do for your legacy in the sport?
It's definitely something that I'm going to have to look at in the future. Winning a belt in two weight classes is virtually unheard of [Only Randy Couture and BJ Penn have done so thus far – Ed], so it would be a huge feat and a dream come true for any fighter. Right now my goals are to defend the bantamweight title and move up the pound-for-pound rankings.

For more UFC and MMA interviews get Men's Fitness magazine. Subscribe now to get five issues for £5. (opens in new tab)
Sam Razvi wrote for Men's Fitness UK (which predated and then shared a website with Coach) between 2011 and 2016.
Sign up for workout ideas, training advice, the latest gear and more.
Thank you for signing up to Coach. You will receive a verification email shortly.
There was a problem. Please refresh the page and try again.