Chris Leben on rash decisions, blackouts and karma
By Nick Hutchings published
Just a mindless brawler? MF discovers that outside the cage Leben's a very different beast.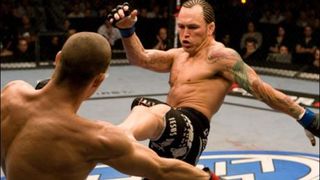 (Image credit: unknown)
What is the key to winning your fight against Brian Stann at UFC 125 on New Year's Day?
Getting a lucky punch would be great but he's a good boxer and he's going to come out throwing big shots. He's not so good on the ground, though, so my plan is to capitalise on that and take him into deep water in the later rounds when he's not packing so much power.
You lost a bad-tempered fight to Josh Koscheck during season 1 of The Ultimate Fighter. Is there part of you that hopes he'll move up to middleweight so you can have another crack at him?
Not really – all the animosity between me and Koscheck has gone. I've got no reason to fight him now, it wouldn't benefit my career. Also, I'm a big believer in karma and I think justice got served when he fought GSP [Georges St-Pierre beat Koscheck at UFC 124 on 11th December by unanimous decision, breaking Koscheck's orbital bone in the process].
You're known for being dangerous when you're rocked. When it happens, do you consciously go into survival mode or does a self-preserving instinct take over?
Some parts of my fight I remember in crystal-clear slow motion, but there are big chunks of fights that are missing from my memory – those are the times I've been rocked. It's weird because when you watch those fights back, it's a shock to see yourself doing certain things – you just don't recall it. When I get hit like that I'm just reacting and responding to what's been drilled into me during training, I'm not thinking or hesitating.
A lot of people thought your fight with Yoshihiro Akiyama at UFC 116 was the fight of the year. Do you enjoy fights like that while they're happening?
I really enjoyed that fight. I'm a competitor and I loved the challenge it presented. I also like what fights like that teach me about how I'm developing as a fighter – what I'm doing that works and that doesn't.
Your stand-up, brawler fighting style is one that can take its toll on a fighter. Do you ever think about changing to extend your career?
I started changing my style after the Anderson Silva fight [Silva beat Leben at UFC Ultimate Fight Night 5 in 2006] when it became pretty obvious that couldn't go out all guns blazing and expect to beat elite fighters. I needed to pick my shots better and have a more adaptable game. My coach Burt Richardson has really helped with this – he's got me to mix up my striking with more technical brawling and my ground game, which despite what some people think has always been pretty good. It took me a while to get a handle on these changes – I lost a couple of fights after Silva, but it's really paying off now, I feel as if I'm a more technical fighter and can respond quicker and more intelligently than before.
What would you do differently if you got another shot at Anderson Silva?
Take my time – that was my original game plan but I didn't stick to it and went full-on at him. Also, when I fought him it was his first fight in the UFC and I didn't really know what to expect. Now we all know what how he fights and how to be more effective against him. Chael Sonnen, who's a good friend of mine and is the owner of the best double-leg takedown in MMA, showed how you can get at him [Sonnen fought Silva at UFC 117]. I'm not as good a takedown artist as him but my striking game is better so I'd mix the two, as well as generally being more patient.
Do you agree that wrestling is the most effective discipline in MMA at the moment?
No, wrestling's day was four or five years ago. Before that jiu jitsu was the most effective fighting style because it was an unknown quantity outside Asia. When US and European fighters started learning jiu jitsu defence, it lost some of its effectiveness. After that, wrestling became popular but, as with jiu jitsu, people eventually came up with ways to stop it. Today it's all about being well-rounded – you need to be able to take down people, defend against them and strike well. If you're deficient in one area a good fighter will capitalise on that.
Are you the kind of guy who learns from your mistakes in and out of the ring?
Absolutely. I always go back and look at my fights to see what I did wrong, even when I win. There's always somewhere I can make improvements. Someone wise told me that it's important to wait and weigh things up before you make a decision. In the past I've made some rash decisions and things haven't gone well. I now realise that if I'd waited and considered things I would have ended up making choices that resulted in better outcomes.
You've said you want to fight Wanderlei Silva. What is it about that match-up that gets you hyped?
When I first started Wanderlei was the guy I loved watching – he's one of my idols. I feel that amongst the current crop of fighters I'm one of the guys who fights in a similar way to him – whether he wins or loses you know it's going to full-on. It feels like a passing of the torch to me. I've asked for him after this bout because I think it would be an explosive fight and I think it should be my reward for stepping up to the plate with Akiyama at super short notice [Akiyama was meant to fight Silva at UFC 116 but Silva pulled out due to injury].
If you could fight anyone outside of the UFC, who would it be?
I like fighting in competition, not in anger. Outside of the UFC I'm a pacifist – the only time I'd fight is in a life or death situation.

Check out this workout from British UFC fighter Ross Pearson (opens in new tab). And subscribe to the magazine for more exclusive UFC content (opens in new tab).
Nick Hutchings worked for Men's Fitness UK, which predated, and then shared a website with, Coach. Nick worked as digital editor from 2008 to 2011, head of content until 2014, and finally editor-in-chief until 2015.
Sign up for workout ideas, training advice, the latest gear and more.
Thank you for signing up to Coach. You will receive a verification email shortly.
There was a problem. Please refresh the page and try again.