Dan Hardy on slapping Calzaghe, faking and secret weapons
By Coach Staff last updated
Dan Hardy sniffs out the bullshit in MMA and boxing and hurls it against the wall for everyone to see.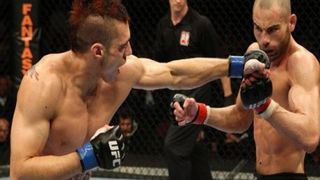 (Image credit: Unknown)
There's been talk that you've got a new 'secret weapon' training partner working with you at Rough House. Any truth to it?
Yeah, it's Victor Estima, the brother of [multiple jiu jitsu world champion] Braulio Estima and a world-ranked jiu jitsu player in his own right. Working with him has been really useful – you'll be seeing all the Rough House fighters showcasing some new skills in their upcoming fights.

What did you learn from your loss to Georges St-Pierre at UFC 111?
That my wrestling and my offensive jiu jitsu both need some work. Going in I felt that I could push the pace in the stand-up, but it was difficult to do anything on my feet against GSP because he kept taking the fight to the floor. It was a good learning experience, but at the time it was pretty frustrating.

Your comments about wrestling [Hardy said that wrestling takedowns are scored too heavily in MMA] have sparked a lot of debate in the MMA community. How do you respond to the critics who say that if you don't like it you should learn some takedown defence?
My comments weren't necessarily aimed just at wrestlers; it's people not making an effort to finish the fight that I've got a problem with. A lot of the time you get one guy clinging on to another for 15 minutes. The problem now is that fighters understand how the judges are scoring fights, so you get guys going in there knowing they can earn their money in an easier way by getting in the cage and not fighting. So my response to wrestlers who do that kind of thing is: if you don't like fighting, stick to wrestling.

Speaking of wrestlers, you recently described Josh Koscheck as 'the world's most irritating man'. What is it about him that gets under your skin?
It's a number of things. It's the way he carries himself, the way he talks, the way he competes. If you watch football you'll see instances where guys get clipped or nudged and they'll be on the floor, rolling around making a big scene out of it. The only person in mixed martial arts who does that is Josh Koscheck and it ruins the sport. If something hurts and you're injured, fair enough, but if you're faking it that's not part of the sport. There's been a few phantom knees and eye pokes when Koscheck's been fighting, and it's just not how a fighter should conduct himself in my opinion. I don't think he's a very good representative of the sport and I don't mind telling him.
Do you think he'll beat GSP in their rematch?
I think he's got a very good chance. In their first fight he neglected his wrestling, assuming that GSP wouldn't be able to compete with it. But going into this fight I think his wrestling will be sharp, and he'll be able to keep the fight standing. On the feet it's anyone's game. I think GSP has been a little bit gun-shy since the Matt Serra fight, and although Koscheck's not the most polished of fighters, he's quite aggressive and he does land clean shots. If it stays standing I do lean towards Koscheck a little bit, as much as I hate to admit it.

Looking ahead to UFC 120 and your opponent Carlos Condit, why do you think he asked for this fight?
I don't know why he asked for me, maybe he banged his head or something, but it was a very silly thing to do. I think he looks at me as a guy who will stand and trade punches with him, whereas some of the top contenders in the welterweight division would cause him problems with their wrestling backgrounds.

Was it disrespectful of him to ask for you?
The way I see it is anyone who signs a contract saying they're going to fight me is disrespecting me. Even if he's the most polite guy going into the fight, if he signs that piece of paper it means he thinks he can beat me and that his skill level is higher than mine, which is an insult to me. That's my focus going into every fight, going in there to prove him wrong, even if I've got nothing against the guy personally.

How do you see the fight playing out?
He's quite a rangy striker who likes to rely on his kickboxing to win fights, but if it hits the ground he's got a good guard too and he doesn't mind working off his back. He's a gritty fighter, but he doesn't hit as hard as I do and he's not as strong as I am. I'm planning to go in there and bully him. The [advertising] logo in the centre of the Octagon is mine, and if he comes anywhere near it I'm going to punch him in the face.


Who in the welterweight division would you want to fight next?
It's difficult really, because a lot of guys in the division are tied up already. Certainly, the winner of the Matt Hughes-BJ Penn fight would be a great opponent for me, and that'd be something I'd get really excited about. I did hear that Chris Lytle is interested in the winner of this fight as well and he always comes and bangs so it would be a great fight.

If you could choose to fight anyone for fun, who would it be and why?
I'd like to fight Joe Calzaghe under mixed martial arts rules. He's a great boxer, but he's not a great person. He plays the whole 'humble country boy' thing, but he's very arrogant if you meet him, very 'I'm a superstar' and I think that he's had a very protected path through his career. He had a few great fights – the Kessler performance was brilliant, and so was the Lacey fight – but I was very disappointed with his fights against Roy Jones Jr and Bernard Hopkins. If he'd faced either of them in their prime he would have really struggled.

Would you box him?
I would, it'd be a good lesson for me. He'd probably hit me 300 times before I knew what was going on, but he tends to slap rather than punch anyway, and I think I could take a slap with a ten-ounce glove. I think under mixed martial arts rules it'd be a lot different, I'd just take him to the ground and elbow him in the face.
Check out this explosive interview with British UFC middleweight Michael Bisping, who's also fighting at UFC 120. (opens in new tab)
Coach is the place to come for all your health, fitness, and personal wellness needs.
Sign up for workout ideas, training advice, the latest gear and more.
Thank you for signing up to Coach. You will receive a verification email shortly.
There was a problem. Please refresh the page and try again.