UFC fighter for a day – MF blog 05/06/09
By Coach Staff published
MF's Nick Hutchings spent a day at Britain's premier MMA gym training like a UFC star – and he's got the scars to prove it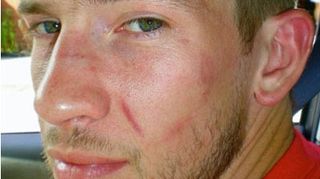 (Image credit: Unknown)
This week I went to the Wolfslair MMA Academy in Widnes, Cheshire, to spend a day living the life of a UFC fighter (opens in new tab) – hard-as-nails British lightweight Paul Kelly to be exact.

It was murder. Today I'm so sore I'm walking like an OAP and my face looks like someone's been throwing cricket balls at it.

I knew it was going to be hard and I was prepared to take a few licks, but I wasn't ready for the staggering amount of cardio Kelly undertakes in his daily training. There were several points during the day when I felt as if I was only one rep away from losing my lunch, while Kelly seemed like he could keep going indefinitely. And given that he was tapering (slowing his training down) in preparation for his next fight – against Roli Delgado at UFC (opens in new tab) 99 in Cologne, Germany, on 13th June – this was one of his light days. Thank the Lord I didn't go along a couple of weeks earlier.

We started the day at 6am with a 5km fat-burning run, had a break and some breakfast, then got stuck into proper training at 10.30am. This two-and-a-half-hour session was run by Ricco Rodriguez, a mountain of a man and a beast of trainer who is a former UFC heavyweight champ and has beaten some of the world's best fighters including Randy Couture and Andrei Arlovski.
The session kicked off with sets of 10x50-metre sprints mixed broken up by 500m jogs. By the time we got to the third set of sprints it had become a proper lung-buster. Next, we headed back to the gym for a spot of boxing sparring – three-minute rounds with a different opponent each round. Kelly promised the fighters would take it easy on me, which was a bloody good thing because I have no idea how to box. I ended up being a human punching bag, as you can probably tell from the picture on the right, which was taken shortly after we'd finished.

Next, we moved on to wrestling. While I managed to pin one of the Wolfslair's fighters on a couple of occasions, my lack of experience meant I had no idea what to do next. And that was all the opportunity my opponent needed to get me into a series of agonising armlocks and choke holds.

The session continued with pad work and ground-and-pound drills, before finishing up with a savage core workout, comprising around 250-odd reps of various abs exercises. Although this last bit was tough, I was so relieved people had stopped punching me in the face it made it seem almost manageable. But by the time the session finished I was spent. Kelly, however, wasn't nearly done and got stuck into a series of tricky boxing footwork drills.

An hour later he was finished and we headed off to Manchester to do a weight session with former national bodybuilding champion and director of CNP Nutrition Kerry Kayes, who was helping Kelly out with his nutrition. I'd been told that what Kayes doesn't know about weight training and sports nutrition isn't worth knowing – and this became abundantly clear as he talked us through Kelly's diet, then directed us through a super-efficient partial-reps weights circuit that helps develop fight-specific explosive power in all the major muscle groups. Once we'd finished the circuit I headed for home, but Kelly went back to the Wolfslair to get stuck into some more fat-burning cardio.
It's beyond me how anyone can stick to this kind of training programme day in, day out – even with the massive financial rewards that are on offer in the UFC – but that's what it takes to get to where Kelly is. I found out the painful way that I'm about as far from there as humanly possible.
Want more cracking UFC (opens in new tab) content? Try three issues of MF for £1! (opens in new tab) The August issue of MF features a cool full-body conditioning circuit, performed by Paul Kelly.
Coach is the place to come for all your health, fitness, and personal wellness needs.
Sign up for workout ideas, training advice, the latest gear and more.
Thank you for signing up to Coach. You will receive a verification email shortly.
There was a problem. Please refresh the page and try again.