This Green Smoothie Recipe Uses Maca And Matcha Powder To Boost Your Body And Mind
By Nick Harris-Fry last updated
It's packed full of valuable vitamins and minerals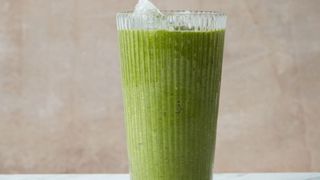 (Image credit: Unknown)
Photograph: Clare Winfield. Food styling: Rebecca Woods
Maca and matcha are two ingredients that have become common in shop-bought smoothies owing to the nutritional benefits they bring, but if you stick to home-made smoothies you might not yet have dabbled with them.
If that's simply because you don't have a good recipe to uses them, then we've got good news: this healthy smoothie recipe from cookbook The Cycling Chef by Alan Murchison includes both maca and matcha powder.
In case you're unfamiliar with the ingredients, matcha is a powder made from green tea leaves – so it's rich in antioxidants – and can be found in supermarkets these days. Murchison says it boosts metabolism, mood and your ability to concentrate. Maca powder is a little harder to find on the high street, though you can get it on Amazon easily. Maca is a Peruvian vegetable, the root of which is ground up to create the powder, which is a great vegan-friendly source of iron and is also high in several other vitamins and minerals including calcium, potassium and B3 (niacin).
Matcha tea is an acquired taste and a bit of a faff to make, so throwing it in a smoothie is a simpler way to try it – plus you get the added bonus of its strong colour turning your smoothie a delightful shade of green. That's enhanced further by the spinach in this recipe, which also contains dates, a banana and flaxseeds to throw even more vitamins and minerals into the mix.
Buy The Cycling Chef on Amazon (opens in new tab) | £15.19
Ingredients (serves one)
250ml almond milk
2tsp maca powder
1tsp matcha powder
1tsp flaxseeds
Pinch of cinnamon
2 Medjool dates
1 ripe banana, peeled
Handful of spinach
1tbsp almond butter
Handful of ice
See related
Method
Simply place all the ingredients apart from the ice in a smoothie machine or blender and blitz until smooth. Serve with ice and enjoy ASAP.
Nutrition per serving
Calories 478
Carbohydrates 88g
-of which sugars 59g
Fat 13g
Protein 13g
Sodium 25mg
Sign up for workout ideas, training advice, the latest gear and more.
Thank you for signing up to Coach. You will receive a verification email shortly.
There was a problem. Please refresh the page and try again.