Smoothie recipe: nutrient packed
By Coach Staff published
Hit three of your five a day with this nutrient packed smoothie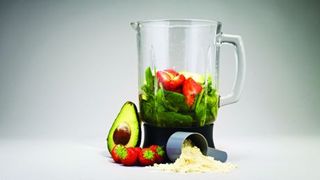 (Image credit: unknown)
Shop-bought smoothies are far from ideal – most contain about as much sugar as a can of pop. The solution? Blend your own. This wonder-drink, designed by nutritionist Scott Baptie, hits three of your five a day but still tastes delicious. Advantage: you.
Ingredients
Handful of strawberries
½ avocado
50g spinach
10g honey
1 scoop whey protein
Water to taste
The nutritional info
Avocados are high in soluble fibre, which can help to reduce spikes in blood sugar that cause you to put on weight.
Spinach is rich in iron, which helps you maintain high energy levels.
Honey is a natural carbohydrate source that provides energy-boosting fuel for the body.
Whey protein is essential for building and repairing muscle after a workout.
Water keeps you hydrated – just 1% dehydration can lead to a 10% reduction in workout performance.
Berries such as strawberries are a source of anthocyanins that can improve focus and boost short-term memory.
Scott Baptie is a physique and sports nutritionist, online personal trainer and director of FoodForFitness.co.uk (opens in new tab)
Coach is the place to come for all your health, fitness, and personal wellness needs.
Sign up for workout ideas, training advice, the latest gear and more.
Thank you for signing up to Coach. You will receive a verification email shortly.
There was a problem. Please refresh the page and try again.