Running Training Plans Explained
By Nick Harris-Fry published
Following a plan can make your running more effective and enjoyable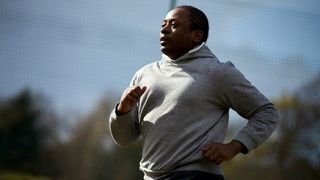 (Image credit: Unknown)
Unless you use running purely as an opportunity to escape the daily grind and clear your head, there is merit in using a training plan.
Training plans can help you to get fitter, lose weight, and structure your training to be more effective in improving your speed and endurance. It will also make running more fun, because days off will be built in so you're not knackered every time you step out of the door.
For an expert view on the benefits of taking a structured approach to your running, be it with an off-the-peg plan or through coaching, we spoke to running coach Nick Anderson, founder of RunningWithUs (opens in new tab) and Polar (opens in new tab) ambassador.
What are training plans?
A training plan details all your runs and rest days for a set amount of time, such as a 16-week plan for a marathon. Within the plan you'll have different kinds of runs, like tempo runs and interval sessions, as well as easy runs. An effective plan is one that contains a variety of runs and fits them together intelligently and gives you everything to need to understand it.
"Any plan should be supported with some kind of glossary," says Anderson. "You have to read that – many don't and then they don't know what they're doing. The education behind the plan is key."
What are the benefits of using a plan?
Whether you're a new runner who isn't sure what to do or an experienced one happy to outsource the work of planning your runs elsewhere, a training plan can provide structure for your running without you having to think about it much.
"The structure it provides should give you confidence," says Anderson. "The components should be what's required to run your event."
Who can benefit from using a plan?
Pretty much anyone. Most people will use a plan when training for a marathon, but structured training will help you improve at all manner of other goals, like improving that long-standing parkrun PB or completing your first 5K without stopping. It's certainly not just elite or more serious amateur athletes who can benefit – in fact, novice runners will probably get the most from using a plan.
"My business works with elite athletes that have run for Great Britain, but I have always worked with young athletes and people at the beginner end too. A lot of the coaching decisions are exactly the same. The problems someone new to the sport is dealing with are often very similar to the elite athlete, it's just the elite athlete is doing it at five-minute miles, rather than eight-, nine- or 10-minute miles."
Where can you get a training plan from?
You'll find off-the-peg plans available cheaply or even for free online (you can find our free running training plans from qualified running coaches below). The next step up would be to buy a plan tailored to you by a coach. The gold standard is paying a coach to set your plan and provide ongoing advice. That last part is crucial because no matter where it comes from, in running as in life, plans change. You might have to adjust it because you're tired or simply because life gets in the way. Naturally, discussing tweaks with an experienced coach makes those decisions a lot easier.
"You have to be prepared to be flexible with your plan," says Anderson. "It is a guide, but if you want it to go well you may need to move those days around. You might have planned to do a hard session on Wednesday, but if you're still tired from your Sunday long run, push your session back to Thursday or Friday. That's sensible training."
Some running watches can now generate personalised training plans for you. Certain Polar, Garmin and Coros devices all offer a version of this, and will coach you through each session and use the information it records to adjust the plan.
A watch-based plan will give you a lot of useful insight into your training (providing you are getting accurate results – pairing a chest strap heart rate monitor with the watch is wise). You can also get guided training from higher-end watches: Polar watches offer suggested workouts each day that are based on how well you've recovered, while Garmin devices provide training suggestions based on your overall training load and any imbalances they detect. The data tracked can be top-quality, but can also be a little overwhelming and you have to know how to use it to shape your training.
"If you're using a plan on a device, it's still great, but you've got to make some decisions yourself," says Anderson. "You've got to be brave enough to change things."
What kind of data can you use to inform your plan?
"Perceived effort is the most important variable of them all," says Anderson. "How you feel about your running, your energy for running, how well you feel you've recovered, and your perception of the effort in all your runs. That's going to tell you the most.
"Then we get to the beauty of data and metrics. If you understand your heart rate zones, and your zones are set up right for you, using heart rate data can really support your training. You can make sure your easy run really is an easy run.
"You can also look at pace, but you will find that your pace varies day to day, depending now how tired you are, the wind, the slope and the terrain. But over weeks and months, your pace will probably start to get quicker even when you're running easier, a sign you're getting fitter.
"So you can use heart rate, pace, even power with some devices, but above it all is perceived rate of exertion, and your day-to-day energy levels."
How long a training plan do you need?
"It depends on your starting point," says Anderson. "An athlete in 5K or 10K shape probably only needs 10 to 14 weeks of marathon prep before they race. You can actually get overtired if you train too much and you were already in good shape.
"You can train for a 10K in eight to 10 weeks, perhaps 12 weeks for a half marathon, but it varies so much."
Of course many of us are not in 5K or 10K shape when starting marathon training, in which case a longer plan is definitely advisable.
"If you're trying to run your first 5K as a step towards a marathon, I'd prefer you to have five or six months to build for it," says Anderson. "You're less likely to get injured. The ones who are more likely to get injured are the people who wake up at New Year with a hangover and haven't done much running, but have a marathon in April. That's a risky, steep mountain to climb."
Nick Anderson was speaking to Coach in conjunction with the launch of the Polar Vantage M2 multisport watch
See related
Free Running Training Plans
5K Training Plans
We have two 5K plans to consider. The Couch to 5K is the ideal starting point for new runners, or those coming back to the sport after a long break, and over eight weeks you'll go from short run/walk sessions to running 5K without stopping. The other plan is a tough five-session-a-week schedule to help you get faster, but it's designed in such a way that you can pick a type of run you're not doing, add it to your usual weekly schedule and still reap rewards. See the plans
10K Training Plans
Once you're running 5K relatively comfortably you can set your sights on a 10K. We have four options for you to choose from, two aimed at beginners and two for setting a new PB. See the plans
See related
Half Marathon Training Plans
Completing a half marathon is a great challenge for anyone, but neither the training nor the event itself is as gruelling as a full marathon, making it more accessible. You can go from barely running at all to completing a half marathon in two to three months, though it's always better to train for longer if you can. You also get to experience the joys of the Sunday long run, which we'll wager will quickly become the highlight of your week. See the plans
Marathon Training Plans
Running 42.2km in one go requires a lot of training and smart preparation in general, so you'll need to heed our advice on gear and nutrition as well as the training plans we offer, of which there are three. This winter may well be the perfect time to train for a marathon – all that training is time-consuming which can make it difficult to balance with social commitments normally. See the plans
Sign up for workout ideas, training advice, the latest gear and more.
Thank you for signing up to Coach. You will receive a verification email shortly.
There was a problem. Please refresh the page and try again.