How One Pro Runner Is Adapting To Training During The Pandemic
By Nick Harris-Fry last updated
Follow her lead and hit the grass for your track sessions and think about what you have available to use for your training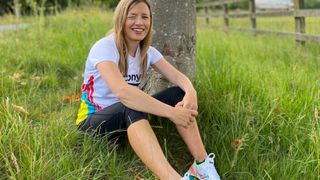 (Image credit: Unknown)
While the UK is starting to ease lockdown restrictions, things are not going to go back to normal for quite some time. For runners, while training in small groups is now allowed again, the regular routine of track nights, club sessions and real-world (rather than virtual) racing still feels a long way away.
That doesn't mean your training has to suffer, however: you can still get the same results if you adjust to the new normal. We've enlisted runner Katrina Hart, Paralympic medallist and Saucony ambassador, to provide expert advice on adapting your training.
How has your training changed during the COVID-19 lockdown?
I'm used to running on a track and doing gym sessions in an actual gym. I've done a lot of my usual track sessions on grass and I've adapted my gym work to use what's available, doing things like step-ups to get the most from my sessions. There's a hill by me which I find quite good to run up and down as well. You have to adapt to what you've got to play with.
See related
Why do you use grass rather than the road for track-style sessions?
Just because of the impact of it. I still do some on the road, but I found that the impact on my legs started to hurt a bit. Because of my disability I have one side that is different from the other, so I'm putting a lot more force through my right side than my left. I've always done occasional sessions on grass – they're also a lot harder than on the road, especially for sprinting.
Have you found training by yourself difficult?
I usually train with a group and then I sometimes go to club nights, so I'm always used to being around other people and that has been quite different. I find it hard when I'm on my own to get the best out of my sessions, but I feel like I'm doing OK now.
How do you motivate yourself when training solo?
I always find the best thing to do is to write your session down. Then you feel like you're achieving things. Obviously at the moment it won't always go well, some days you feel great and some days you won't, so it's about doing the best that you can on that day to get the most out of your session.
Under normal conditions, how would you recommend people get into sport?
I always think sport is not a one-size-fits-all thing. There are loads of different sports to choose from, and you don't just have to do one. The best thing to do is try different sports, see where it takes you.
You make loads of friends by doing sport. You can be doing parkruns, where there are loads of different people, and the best thing to do for athletics in particular is to go to your local club. They usually run on a Tuesday and Thursday evening. It's a good way to boost your mental health, meet new people and challenge yourself.
Katrina Hart is a Saucony UK Ambassador (opens in new tab). The Endorphin collection (opens in new tab) is available to buy from 1st July.
Sign up for workout ideas, training advice, the latest gear and more.
Thank you for signing up to Coach. You will receive a verification email shortly.
There was a problem. Please refresh the page and try again.