The Ultimate Guide To The Royal Parks Half Marathon
By Nick Harris-Fry last updated
Everything you need to know about this scenic central London race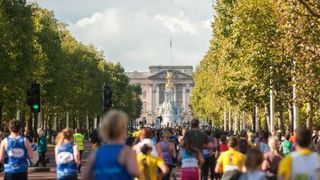 (Image credit: Unknown)
London is not lacking in great running events, so for one to stand out from the crowd it has to offer something really special. The Royal Parks Half Marathon does that with the most scenic course you're likely to find in a city centre event, its route taking in four of London's eight Royal Parks.
We have an in-depth guide to that route below, gleaned from our experience of running the event twice. Before we get to that, however, you'll need to know when the race is, and how to enter and train for it.
When Is The Royal Parks Half Marathon 2022?
The 2022 race will take place on Sunday 9th October. The event always takes place around this time of year (pandemics notwithstanding), which usually makes it the only autumn half marathon event in the centre of London. The field sets off in the morning, with four waves of runners starting between 9am and 9.45am in 2021. We expect a similar arrangement for 2022.
How To Enter The Royal Parks Half Marathon 2022
Owing to its immense popularity, you have to enter a ballot to get a spot in the race. The ballot for the 2022 event is open between 25th January and 5pm on 2nd February.
Enter the ballot (opens in new tab) | Free to enter, race place £59
The results will be sent out on 4th February. If you are successful you need to complete your registration and pay the £59 fee by 5pm on 11th February or you will lose your place.
Everyone who enters has the same chance of getting a place in the ballot, but you can increase your overall odds of getting a spot in the race by paying for your entry up front. If you do this and are unsuccessful in the main ballot, you are automatically entered into a second-chance ballot just for people who paid up front. Strike out in both and you lose that money – but it's going to a charity anyway, so you may as well, right?
Speaking of charity, you can also run for one. This allows you to enter the race if you struck out in the ballot or even if you didn't enter it. There's a list of charities (opens in new tab) that have race places on the Royal Parks Half Marathon website, so you can find one with a cause close to your heart.
See related
Where Does The Race Start And Finish?
In 2021 the race starts on the Mall and finishes on South Carriage Drive. Normally the event both starts and finishes on South Carriage Drive, the road that runs along the south side of Hyde Park, but the route has been adjusted this year.
How To Get To The Start
All runners have been given a suggested arrival time at the race village in Green Park, which is easily accessed by public transport. The two best tube stations are Green Park and Hyde Park Corner, and there are plenty of bus routes passing the park as well.
What Should You Do Before The Race?
You'll need to take a lateral flow test and complete the event's health questionnaire before travelling to the race on Sunday.
New Bag Drop Instructions
There is a bag drop for the event, but it's a little different from other years when you could just turn up and leave your bag at the start. For one, the main bag drop is the day before the race, between 10am and 4pm on Saturday 9th October. You can also drop your bag off on the morning of the race, but you will have an assigned time and the bag drop is by the finish in Hyde Park, which is a 30-minute walk from the start.
You also have to book your bag drop via the Royal Parks website, and then take the confirmation email of your booking with you when leaving your bag. At that point you'll be given two wristbands – one for your wrist and one for your bag. These will not have the same number as your race bib, so keep hold of that wristband if you want to be reunited with your bag.
Is There Water On The Route?
Runners are encouraged to carry their own hydration using a belt or backpack, and originally the race planned to go ahead with no water on the route. However, owing to the warm weather there will be cups at miles 4.5, nine and 12. You can also refill your own bottles at those points.
Royal Parks Half Marathon Course Guide
While the course is flat enough to be PB-friendly, it does have a lot of twists and turns, especially during the second half, so you'll need to watch your footing when sprinting around the bends in pursuit of a new record.
The race is now divided into two distinct sections: the first 7km takes you around Westminster, through St James's Park and Green Park, and the remaining 14km of the race is entirely run within Hyde Park and Kensington Gardens. From the start on The Mall, you'll run through Trafalgar Square, and then there's an out and back along the Strand. There are some long straight sections in this part of the race, which give you the chance to find a bit of clear space to run in. This will be useful in the second half of the race when the large crowds and twisting course can lead to congestion.
You'll then turn down Whitehall and continue on Parliament Street passing London landmarks like the Houses of Parliament and Westminster Abbey, running an out and back on Victoria Street. You'll complete an out and back along Birdcage Walk with a gentle turn-around in front of Buckingham Palace. Next up is an anti-clockwise lap of St James's Park, so you'll approach Buckingham Palace via The Mall and continue up Constitution Hill (don't panic, it's a fairly gentle slope), towards Wellington Arch at Hyde Park Corner and enter the park.
The next couple of kilometres in Hyde Park often have runners on both sides of the road heading in opposite directions, and crowds flock to the sides of the course as a result. Savour this support – you'll need it.
The route winds its way around Hyde Park, heading into Kensington Gardens at around the 15km marker. The support becomes a little more sporadic by the latter stages, but even in 2018 when it rained most of the morning there were still plenty of people out cheering. Be wary of running in a pack in this section, however, because the paths get narrow at times and you might be forced on to the grass at some corners.
The home straight at the Royal Parks Half Marathon is perhaps the most disheartening home straight in existence because it's more than a kilometre long, so make sure you pace yourself and don't start sprinting as soon as you spy the finish line. Actually, don't even look at the finish line, because it'll seem like it's not getting closer. Instead keep an eye on the signs saying "800m/400m/200m to go" to reassure yourself that you are indeed making progress towards the end.
Sign up for workout ideas, training advice, the latest gear and more.
Thank you for signing up to Coach. You will receive a verification email shortly.
There was a problem. Please refresh the page and try again.