How To Prevent And Treat Blisters, From The Man Who's Had A Few
By Chris Sayer last updated
Ultra-runner James Williams is all too familiar with popping the odd race-stopping skin-bubble or two…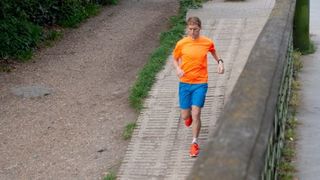 (Image credit: Unknown)
James Williams's midweek 4am alarm clock – set so he can squeeze in a quick 50km run before work – is not, amazingly, the most horrific thing about his current training regime. Not by a long shot.
"The worst blister I've ever suffered was actually the most recent one," the amateur ultrarunner confides, after sneaking away from his desk at Sky – where he's a performance controller – to chat on the phone. "It happened about five weeks ago, on the fourth toe of my right foot. It was horrendous – a huge, yellow, pus-filled balloon that not only covered the bottom of my toe, but ringed all the way around the top of it, too. It actually caused a slight infection in the rest of my foot and the bottom of my leg. Not ideal for a week when I was planning to cover 250 miles in training."
Williams's latest blister is the last in a long line of savage skin bubbles, through a career that's seen him win the Autumn 100 Mile and the 100km Serpent Trail, finish four Ironman triathlons, and bag a marathon PB of 2hr 30min.
Now, the 31-year-old dad of two is setting his sights on a world-record run from John o' Groats to Land's End, and targeting an average pace of 6min 43sec per km to break the current record of nine days, two hours and 26 minutes. Here's how he's going to do it, without letting a little (or large) blister get in the way.
How did you manage to get such an epic blister recently?
I'm not entirely sure how it happened. It wasn't anything to do with the socks or trainers – I wear Hilly Twin Skins and Saucony Kinvara runners all the time, and they're both fantastically comfortable, fit perfectly and are excellent at blister prevention. In fact, I've worn the same make and model of trainer for eight years now. I think the culprit may have been a bit of grit in my shoe.
What did you learn from it?
That you need to deal with blisters as soon as you feel them forming. We call the early stages "hot spots" and if you feel one emerging, you need to get your shoe and sock off and deal with it, be that just shaking your shoe out or seeing the doctor at your next race checkpoint.
Stopping when you're in full race mode must take a lot of willpower. How do you deal with that?
It does – but fundamentally, if you notice something happening on your feet and don't sort it out right away, you're looking at being out of action for far longer than the five minutes it takes to take off your shoe and sock. My sports psychologist has helped me with that mindset. One of our race strategies is called If/Then. It's simple, but it's about listing all the "If this happens" scenarios and coming up with "Then I will" solutions. It can be as simple as what happens if I haven't eaten for an hour, but it also covers the action of stopping if a blister occurs. You'd be amazed at how much easier it becomes to follow rules like this when you write them down.
Any quick mid-run blister fixes?
I will have a very simple first-aid kit with me when I run from John o' Groats to Land's End, with sterilised needles and plasters. That's the easy part. The hardest part is having the expertise to actually lance a blister – tough for me, because I'm not great with needles. Luckily, I'll have an incredible masseur, Kerry Tibby (opens in new tab), coming along with me as part of my team. She's a pro at that sort of thing.
See related
What are the craziest preventative measures you've heard of?
The best form of prevention is making sure your shoes are the right size. I've heard of people rubbing alcohol on their feet regularly or using light sandpaper to harden their feet, but I've not gone to those extremes so far. I guess the funniest one I do is with my wife, when we watch TV together. We're rarely in front of the television, but when we're on the sofa we tend to massage each other's feet. It's a good way of getting in some self-care, if your partner's willing! I'm very lucky, given how haggard my feet are…
What's the most common error that people make when dealing with blisters?
I've heard too many horror stories of marathon runners attending big expos before race day, and being lured in by flashy new trainers that they then wear on the starting line. Brand new shoes for a big race is a recipe for blister disaster.
Have you ever suffered the truly terrifying fate of a blister under the toenail?
I have had that before, yes. It happened in my training for the Marathon des Sables. It's kinda gross actually – I was hosting a dinner party, walking around my home with no shoes or socks, when the nail popped off. Truthfully, they look a lot worse than they feel.
Wow. Did your guests make it to dessert?
Haha, they did. They're aware of what I put my feet through.
And finally, how do I know when to pop and when not to pop?
To be honest, I don't often get blisters that are horrendous enough to pop, or that warrant a full-blown medical emergency. I'd only pop one when it was at its most bulbous – don't go at it with a needle too early. The key thing is to make sure you're doing it with a proper surgical needle, and dressing it straight away. I also find that leaving as much skin over the blister as possible is important – exposing the red raw skin beneath is a no-no. Then put some effort into drying it out and airing it at home.
James Williams is a Saucony UK athlete and wears the Kinvara 10 (opens in new tab). Follow his world record attempt at saucony.com/uk (opens in new tab) and jamesrunsfar.com (opens in new tab)
Craft beer drinker, Devonian, fisherman and former content director of Coach online, Chris contributed style coverage and features between 2016 and 2019.
Sign up for workout ideas, training advice, the latest gear and more.
Thank you for signing up to Coach. You will receive a verification email shortly.
There was a problem. Please refresh the page and try again.