What Is Parkrun And Why Does Everyone Love It?
By Nick Harris-Fry last updated
Here's a great plan for the weekend – go do a parkrun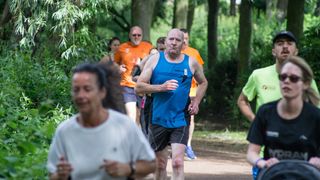 (Image credit: Shutterstock)
Almost two million people in the UK have taken part in a parkrun since it first launched back in 2004 and very few of those people will have a bad word to say about it. Parkrun is pretty much the preeminent example of how exercise can be for everyone and bring everyone together. If you've never done one then we heartily recommend you rectify that this coming Saturday. Here's what you need to know before you show up.
What is parkrun?
A series of free 5K runs hosted in parks around the world, including 587 events in the UK every Saturday morning at 9am. The routes are marked out so you won't take a wrong turn and they're also timed (although you can skip this bit if you prefer) so you can see how long it took you to run the distance and where you placed in that day's field, as well as your all-time best time on the parkrun website. The organisers are keen to point out, however, that despite bearing all the hallmarks of a race, it is not a race. Probably to stop excessively competitive people ruining it for everyone else.
Each of those events is hosted by volunteers and while most are held in city or country parks, that's not always the case – beaches, lakes and promenades are among the other locations used. The surface you run on varies too, from paved road to muddy trails, and there are both pancake-flat and horrendously hilly parkruns. You can find your local event on the parkrun website, and parkrun tourism – where you find the local parkrun when you're travelling away from home – is very much encouraged as well. Outside the UK you'll find the most events in Australia and South Africa but it's in 20 countries, from Malaysia to Swaziland.
Why is parkrun so great?
The one thing every event across the world has in common is the communal spirit that's at the core of parkrun. You can run hard and push for a PB, or take it easy with some friends. It's not about competing with others. Whether it's your first 5K or your 50th, parkrun is about coming together on a Saturday morning and doing some exercise.
How does parkrun work out my time?
Register on the parkrun website (opens in new tab) and you'll get a barcode. Print that out and bring it along (or buy a personalised wristband from parkrun (opens in new tab)) and it'll be scanned at the end of your race and matched to your finishing token so your time is posted on the website. You can run without a barcode, but that means you won't get a time, so don't do that.
When and where do I get my result?
Results are put up on the event website within a couple of hours of the finish every Saturday and you'll also get a email detailing your time and position.
How do I volunteer?
An excellent question, because parkrun doesn't happen without regulars taking the occasional Saturday off running to direct people around the course, set up the route, scan barcodes, brief first-timers or any of the other small jobs that need doing for the event to succeed.
To get involved with volunteering at your local parkrun go to your parkrun profile online and, within the email options section, pick the event you want to opt in on emails from. You can also check the volunteer section of your local parkrun's website, or just approach any of the team on duty one Saturday morning and ask how you can get involved.
---
See related
---
Can kids run?
Parkrun is open to all ages, although children under 11 must run with an adult. There are 233 UK locations that also stage junior parkruns (opens in new tab) on a Sunday morning. These are two kilometres long and for kids aged four to 14.
Can wheelchair users take part?
People in wheelchairs can also take part in parkrun, although many courses won't be suitable, so it's worth getting in touch with the event you're planning on attending to check.
Can I bring my dog?
You can also run with your dog at many parkruns. Again it's best to check with the organisers first, and you're only allowed one dog – you can't strap yourself to a squad of collies and let them do all the work. Parkrun's Can I participate with my dog? (opens in new tab) FAQ page has more information on the subject.
Sign up for workout ideas, training advice, the latest gear and more.
Thank you for signing up to Coach. You will receive a verification email shortly.
There was a problem. Please refresh the page and try again.