Try These Mobility Exercises Before Your Next Run
By Nick Harris-Fry published
Loosen up properly before you start running and the results might just surprise you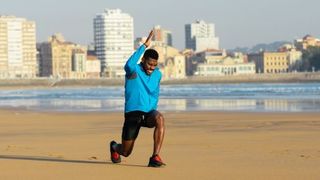 (Image credit: Unknown)
When was the last time you warmed up properly before a run? By that we don't mean a couple of half lunges and five seconds of jogging on the spot – we mean a five- to ten-minute warm-up full of dynamic stretches and mobility work. Be honest, now.
Unless you're a better person than us, or indeed a filthy liar, we reckon the answer might be quite a long time ago. Many runners just head out for their run and accept they'll feel creaky and tired in that first kilometre as their body warms up.
When we spoke to Jenny Blizard (opens in new tab), a physio speaking on behalf of healthcare company Simplyhealth, for some advice on how to improve your running form, she mentioned an excellent YouTube video that provided a stellar pre-run mobility routine. Blizard says she and her husband both use it.
"We introduced some mobility work and it's made a minute a mile difference," says Blizard. "Rather than hobbling that first mile and then getting into it, you start straight away. It really warms up and mobilises each of your joints for running."
The video shows American distance runner Dathan Ritzenhein's pre-run routine, which involves a series of dynamic stretches, each done over 20 metres so you're moving while stretching the muscles. The whole routine involves 11 different stretches and takes around five to ten minutes to complete – a time commitment it's well worth making given how much better you'll feel from the off in your run.
See related
There's a whole lot of information and videos like the above available on the internet, but
the quality varies wildly, so when you find a good 'un that seems to help you it's definitely worth bookmarking. After scouring YouTube over several months we found these four post-run stretching routines for runners that we reckon are a cut above what else is on offer.
Hopefully, between Ritzenhein's pre-run routine and these post-run stretching sessions, your body will be more able to handle the rigours of running better than ever.
Simplyhealth is title partner of the Great Run Series. For more training advice, please visit greatrun.org/training-simplyhealth (opens in new tab)
Sign up for workout ideas, training advice, the latest gear and more.
Thank you for signing up to Coach. You will receive a verification email shortly.
There was a problem. Please refresh the page and try again.