The Beginner's Guide To Cross-Country Running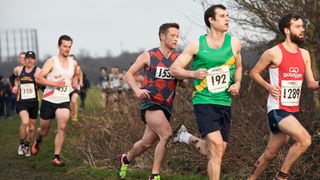 (Image credit: Unknown)
Hands up who loved cross-country running at school? Anyone? Well, never mind, we're adults now and there's lots of stuff we didn't like as kids that we now recognise as excellent, like olives and alcohol.
Cross-country running is another one of those things, even if many keen runners steer clear of it, restricting their autumn and winter running to the roads as soon as heading off-road starts to get a little sticky.
Sure, cross-country races might occasionally involve tackling lake-sized puddles and mile-long bogs, but that's all part of the fun. For more information about how and why you should get involved this season, we spoke to Rob Wilson, head of marketing at premium running clobber company SOAR Running (opens in new tab) and cross-country captain at Highgate Harriers (opens in new tab) running club.
It's cold, wet and usually very muddy. So what makes cross-country running fun?
It's pure. There's not the stress that comes with racing over fixed distances and chasing times or PBs. It's just back-to-basics racing with no other goal than to beat as many people to the finish line as possible. What's more, there's a huge amount of variety – flat, hilly, muddy, firm, twisty, short, long – and different runners are suited to different courses, so there should be something for everyone. It's also over relatively quickly – less than an hour in most cases – so you get a real buzz from the intensity.
When is the cross-country season?
It typically starts in mid to late October, running right the way through to late February or early March. It's long, so pace yourself!
Is there a standard distance for the races?
League races tend to be around 6km for women and 8km for men, though increasingly those distances are being equalised. Championship races, such as at a county level, regional or national levels, are 8km for women and 12km for men, with the exception of the men's Southern Championships which is a whopping 15km. In Scotland the national championships have been equalised as 10K for both men and women.
What is the typical terrain you'll tackle?
Grass and parkland, in varying degrees of muddiness as the season progresses, are the most common surfaces you'll encounter in British cross-country, but you'll still get a fair amount of variety from course to course. Don't be surprised to encounter trails, clay or an out-and-out bog.
Do you need to be a member of a running club to attend races? And what do they cost?
You don't have to be, but it does make it easier. Normally a club will be a part of a league and affiliated to regional and national cross-country bodies, and your race entry will generally be a part of your club membership fee. You can also enter races independently or as a guest, with the fee ranging from anywhere from £5 to £15 or so.
If you're a complete beginner, are you going to feel out of place? Is the standard very high throughout the field?
No, certainly not. This is one of the inherent beauties of cross-country. In the same field you'll find elite thoroughbreds, complete newcomers, veterans and juniors. It really is all abilities.
See related
Do you need spikes or can you wear trail shoes?
Either will be fine on most courses, especially earlier in the season when it's not so wet and muddy. But on particularly muddy courses, and as you start to seek out more performance gains, spikes are your best bet.
Is there any other kit you need aside from appropriate shoes?
A lightweight vest, shorts and socks for racing. Gloves and arm warmers for when it gets really cold. And for before, after and warming up you'll want layers including tights, long-sleeved tops and a waterproof jacket.
What are some examples of good training sessions for someone working towards a cross-country race?
Fartlek training is great for cross-country. The speed-play nature of it mimics the ups and downs and the variations in intensity of a race. Plus a weekly long run will give you the strength required for longer races.
---
Cross-Country Running Shoe Guide
What kind of running shoes should you wear for a cross-country race? The answer can change with every cross-country race you do, and even in the days leading up to a race depending on the vagaries of the weather. There are three main options: normal trail shoes with relatively small lugs that are good for a variety of surfaces; deep-lugged or studded trail shoes designed for muddy conditions and fell running; or lightweight racing shoes with spikes in for gripping in the mud.
Lighter trail shoes are useful when the course has long road or hard sections, or early in the season when the ground is still firm, where deeper lugs or spikes can be uncomfortable. However, for almost all of the UK cross-country season you will need more grip than an all-terrain trail shoe can provide.
Deeper-lugged trail shoes are more comfortable than spikes and generally have more grip on the rear of the sole. (Spikes usually only have spikes on the forefoot, which means it's more likely heel-striking runners will come a cropper running downhill in mud.) Look for shoes with at least 8mm lugs or ones described as fell running shoes to ensure you get the grip you need.
However, trail-running shoes with deep lugs can amass a lot of mud on the sole during a race, becoming significantly heavier by the end of your run, which just compounds the fact that you're already knackered from running through that mud. Spikes don't have this problem, and if you opt for 12mm or even 15mm spikes you'll have excellent grip on muddy courses as well as having chosen the lightest, fastest option for your races.
At first it's probably best to opt for a set of trail shoes designed for the mud, because all runners will be able to get on with them and they can handle all kinds of cross-country conditions well. However, when you really feel the need for speed, spikes may well become the more attractive option, especially if you're a runner used to wearing racing flats on the road.
Here are a few great trail shoe and spike options for the cross-country season.
Inov-8 X-Talon G 210 V2
The G210 is the best studded racing shoe we've come across, offering a rare combination of exceptional grip and a lightweight design. The 8mm studs on the bottom can find purchase even when the mud comes up to your knees – something we verified when using the shoes on Hampstead Heath during the Southern XC Championships one year – and the sticky graphene-enhanced rubber used also grips well on the patches of harder ground you'll come across in XC races. The most significant improvement found on the V2 is a tougher upper made of Cordura mesh, which is very welcome because we found the upper was the only weak point on the original, with a couple of rips appearing over the course of a season.
Buy men's from Inov-8 (opens in new tab) | Buy women's from Inov-8 (opens in new tab) | £135
Adidas Adizero XCS
One sensible approach to choosing XC shoes is to simply buy the cheapest XC spikes you can find in your size, because they don't tend to last that long and there's not a vast difference in performance across different options. The Adizero XCS is a dependable, lightweight racing option that is often included in sales. It has a mesh upper that drains quickly and an outsole that features small rubber lugs alongside holes for six spikes under the forefoot.
Buy men's from Sports Shoes (opens in new tab) | Buy women's from Sports Shoes (opens in new tab) | £59.99 (currently reduced to £47.95)
Higher State Soil Shaker 2
(opens in new tab)
If you're unsure about splashing big cash on a set of shoes for XC, the Soil Shaker 2 is a great budget option. Although it has an RRP of £80, we can't remember seeing it on sale for more than £40 and with 8mm lugs it will reliably find purchase in the deepest mud. There's also protection from roots in the shape of a toe bumper, and the upper drains well. The Soil Shaker 2 is a fair bit heavier than the likes of the Inov-8 X-Talon, but the second version is much lighter than the first.
Buy from Sports Shoes (opens in new tab) | £79.99 (currently reduced to £39.99)
Salomon Speedcross 5
The Speedcross is heavier than the X-Talon but has more cushioning, so runners used to comfortable road shoes might find it preferable for cross-country, especially over longer races. The outsole offers reliable grip on any terrain, and the Quicklace system makes it easier to get the shoe on and off even when it's caked in mud – which it will be most of the winter, unless you're better at looking after your shoes than we are.
Buy men's from Salomon (opens in new tab) | Buy women's from Salomon (opens in new tab) | £120
Sign up for workout ideas, training advice, the latest gear and more.
Thank you for signing up to Coach. You will receive a verification email shortly.
There was a problem. Please refresh the page and try again.