Amputee Charlie Lewis On The Freedom Running Gives Him
By Nick Harris-Fry published
After a decade of being unable to run, Lewis wants to help everyone discover a passion for running at the Adidas City Runs Shoreditch 10K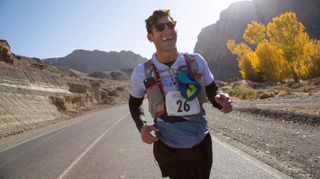 (Image credit: Unknown)
For Charlie Lewis, running is about far more than keeping fit or clearing his head. It's about the freedom to explore the world around him and challenging his body to achieve ever greater feats. Lewis knows better than most the benefits of running; he had to endure ten years without it after a snowboarding accident when he was teenager.
After a decade of failed attempts to reconstruct his leg, which included 15 operations, Lewis opted to have his leg amputated, a decision which has not only allowed him to run again, but to take on incredible challenges around the world, including marathons in Afghanistan and North Korea.
Lewis's next challenge is closer to home at the Adidas City Runs Shoreditch 10K. Coach spoke to Lewis about his injury and what running means to him in the build-up to the event.
How did the injury happen?
I was snowboarding on a gap year in the Alps when I was 19, in 2004. Before then my whole life revolved around sport. I was a runner as a kid and then at the age of 13 when you have to choose between sports, I went for rugby. I was hoping to become a professional rugby player. I took a year off before uni and had the accident. As soon as it happened, from the first round of operations, I knew I wasn't going to play any impact sport again.
What treatments did you try for the injury?
I was airlifted to hospital in France and had one operation there. I was there for three weeks and then I was flown back to the UK. About two weeks later I had another operation. A month after that it was clear they needed to reconstruct, so I had the first major reconstruction, which was a three-part operation.
They took all the bone out to try and rebuild it, and put an external frame on which holds it all in place. I had the frame on for six to eight months and then that it came off and we started rehab. After nine months it broke down again and I went through another reconstruction – a two-part operation.
By then it was 2006. They had taken all the bone out of my leg and replaced it with metal – I had an 8cm part of my leg that was just metal.
At that point were you able to exercise again?
Running had gone, rugby had gone, so I cycled. That was what I did for six years. I cycled for pleasure and cycled through the frustration. I did lots of mountain cycling in places like Mont Ventoux – all the usual amateur cyclist stuff.
About five or six years after that, in 2012, it started breaking down again. Because they'd replaced the bone with metal and because of where it was in the leg – right down the bottom so it takes all the weight – the metal just broke through the bone. I was cycling up Ventoux and halfway up it was agony. The metal had gone through the bone and was digging into my foot.
Is that when you decided to amputate?
When I wasn't putting weight through it, there wasn't any pain at all. I ignored it for six months to a year during which I went from being able to walk everywhere to only being able to walk two metres in constant pain. It got worse and worse. I lived in Paris at the time and had to move back – I was commuting between London and Paris and I had to stop because I couldn't walk. By late 2012 I thought, "I need to get this sorted. I need to have this taken off."
I started the amputation process. I met a surgeon who had done the operation before and we put a date in the diary for end of summer 2013. But by then I'd been introduced to other surgeons. When you're dealing with it yourself you're very aware of what you need to do – it's your problem and you understand it, but for some orthopaedic surgeons amputation is getting rid of a problem, not fixing a problem. And for friends and other people, amputation is a big word. People think it's terrible and it's the same for surgeons.
I was strong-armed into going down the route of another reconstruction. It wasn't against my will, because at the end of the day it was my decision, but it's hard when you're sitting there with people who are the best in the world at what they do and they're telling you that you're making the wrong decision.
I had another reconstruction. I knew deep down it was the wrong decision. About six weeks after the operation I could feel stuff going wrong. I met another surgeon and said there was no choice – we're cutting the leg off, that's it.
The amputation was at the beginning of 2014. It was my 29th birthday – it had been ten years since the accident.
How did you feel after the amputation?
It was a massive weight off my shoulders. It was such a positive thing after ten years of crap. It was about getting back to running and full fitness, and rediscovering what I need, which is to have a physical interaction with the world. Sport is my life in that I have to have physical movement to be mentally stable. I need to run, I need to be doing stuff. That gets my head to a level place. Once you take away the freedom to move, that's when I started getting frustrated.
Once you start running, any exercise, you release endorphins and you become addicted to those drugs – that keeps you stable. If everyone did more fitness, everyone would be happier!
How soon after the amputation did you start running?
After the operation I was very active in terms of rehab – I was at the gym twice a day. I got to the stage where I needed to start running and cycling again within two months. But in the operation a nerve had got caught in the bottom of my leg and my bone had gone through the muscle. With an amputation they wrap the calf muscle underneath the stump, so it acts as a pad. But it hadn't been sewn up properly and my bone was going through it. They had to re-operate four months after the amputation.
I had done the all the rehab, I was fit. It was like giving a kid a new toy and then saying you can't use it. Mentally that was really difficult. I had made this big decision to have my leg cut off and I was ready to go, and then they needed to operate again. That was a really difficult time for me – the month after the amputation. Not because of the amputation, but because I'd waited so long to get this done and I hit a hurdle straight away.
They operated again in June. Then I was fitted with a prosthetic and two weeks after that I cycled up Ventoux. Two weeks after that I did my first ever triathlon. Triathlon became a big thing in the ten years after the injury. I was so jealous of everyone doing it and I was desperate to get into it. Two weeks after Ventoux I was given a running blade. I got the blade on the Friday, tried it out on the Saturday and did a triathlon on the Sunday.
How did that feel?
I'd built up to it for so long it was just a benchmark. It wasn't like I suddenly had this Forrest Gump moment where I broke the shackles. It was more like, "OK, I've done that. I knew I could, now move on." It was the bare minimum.
It's the same for me now. Maybe at some point I'll look back and take stock, but for now it's benchmarking achievements – what to do next?
You've done some epic events already. What have been your favourites?
Running gave me my freedom back. The freedom to move and explore. I took that as a mantra for races, so I've been picking races that give you freedom to travel and in countries where freedom isn't necessarily is what they have.
You go to places like Afghanistan or North Korea – they have oppressive regimes or wars and security issues. Afghanistan was a real eye-opener. They're used to getting blown up, they're used to war. It doesn't stop them living. Running there, in the mountains, was brilliant.
What are you looking forward to in the future?
I head to Kashmir to do a half marathon [as part of the Ladakh Marathon races] in September and then I have the Adidas 10K in Shoreditch.
I've been running for myself for the past couple of years, and I still am, but I have always known that being an amputee you can serve a purpose as a runner – I can stand for something, to get other people involved an activity like running. I think the 10K is such a great distance – it's attractive for all runners, it can be a challenge for anyone, and I'm really looking forward to running on closed streets in London.
Then I'm potentially going back to Afghanistan in November. There's also a marathon in Baghdad at the end of November, but they're not 100% sure if they're going to do it due to security concerns. Then in February next year I'm going to do the first ever marathon in Somaliland. It's in Hargeisa, in the north-western part of Somaliland.
After that it's the London Marathon in April. I tried to do that this year, to get a world record for a lower-leg amputee, which is around 2hr 58min, but I got injured leading up to it. When you want to run marathons fast, the volume and intensity of training takes a huge toll on the body. You're pounding so much weight through a stump which is in a bit of carbon fibre. I can run 70-80km a week but it takes so much out of the skin… I get cuts, lumps and bumps, all this sort of stuff. In the first attempt this year my body gave up five weeks before the marathon, so I need to get back to the drawing board and see how I can manage my training better.
All the runs I've done have been in weird places. The one in Afghanistan was 3,000m above sea level, the one in Kashmir was 5,000m above sea level. You're on your own, and it's beautiful scenery – but with London there's the buzz. I'm desperate to experience that.
The Adidas City Runs Shoreditch 10K is on 8th October and costs £40. Sign up at adidascityruns.com/shoreditch (opens in new tab)
Sign up for workout ideas, training advice, the latest gear and more.
Thank you for signing up to Coach. You will receive a verification email shortly.
There was a problem. Please refresh the page and try again.