The Best Trail Runners To Follow On Instagram
By Nick Harris-Fry last updated
As chosen by world champion runner Ricky Lightfoot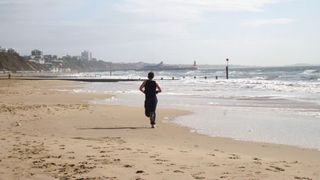 (Image credit: Unknown)
In This Series
The Best Trail Runners To Follow On Instagram


Photograph: Tom Joy/Northern Monk
After spending just a few minutes on Instagram it's entirely natural to feel sick with envy. The mix of stunning locations, delicious meals and incredible activities that seemingly everyone is enjoying will make your day grafting at work seem very dull indeed.
One way to get over it is to remember that people tend to only post the very best parts of their life and are probably spending just as much time with their nose to the grindstone as you. The other is to follow a load of trail runners, because then at least you know that every amazing view or location they post required some very hard work to get there.
They can also provide some inspiration for your next run, whether you're a weekend warrior or expert athlete yourself. The 2013 trail running world champion Ricky Lightfoot (@rickylightfoot (opens in new tab)) posts some fantastic pictures on his own Instagram.
But he also looks to his fellow runners for inspiration: "Instagram is really good for finding places that are off the beaten track, places that you wouldn't necessarily see," says Lightfoot.
"There are people that inspire you to try different things and get out of your comfort zone."
RECOMMENDED: Why I Love Trail Running – World Champion Ricky Lightfoot (opens in new tab)
Here are four runners Lightfoot recommends following ASAP.
Rickey Gates (@rickeygates)
Having spent years running in glamorous locations around the world, Rickey Gates decided to get to know his home country a little better by crossing it on foot. Gates's journey started in South Carolina in March and, assuming all goes well, will finish in San Francisco in August.
As well as posting pictures of the jaw-dropping natural scenery he's running through, James focuses on the stories of the diverse range of people he's meeting on his epic journey. Followers also have the chance to track the growth of James's increasingly impressive beard, although whether that survives the heat of Utah's deserts is yet to be seen.
Rickey Gates (@rickeygates)
One of the most impressive men on the planet, Jornet is not only an almost unbeatable ultrarunner, he's also a fan of climbing very high mountains, recently summiting Everest twice in a week… without the aid of bottled oxygen. As you might expect, such superhuman antics produce some astounding pictures.
Anna Frost (@annafrosty)
New Zealander Frost is a champion skyrunner, which means she does a lot of very fast running in some very high places. If you think maintaining a good pace is tricky on urban roads, try doing it on the narrow ridges at the top of mountain ranges. Frost is a tough follow for anyone with vertigo, but it's worth it.
Kelvin Trautman (@kelvintrautman)
Trautman is an all-round adventurer, athlete and photographer who travels all over the world to take pictures of himself and others tackling all manner of monumental challenges. Most of the posts on Trautman's Instagram are accompanied by a detailed caption that explains the photo in greater depth.
Sign up for workout ideas, training advice, the latest gear and more.
Thank you for signing up to Coach. You will receive a verification email shortly.
There was a problem. Please refresh the page and try again.