6 Things I Learned Getting My Running Analysed At Saucony Stride Lab
By Jonathan Shannon published
An ungenerous interpretation of one of those things is: I don't know how to run (I'm 35)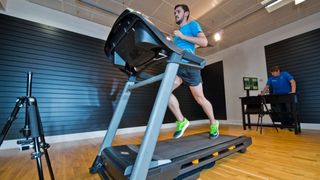 (Image credit: Unknown)
A lot of specialist running stores now offer gait analysis – a typically free service that closely examines the feet of a runner as they run to find out how high their arch is and how much they pronate. The end point is a recommendation for a type of running shoe.
There's a step up from that, though, which looks at the foot and knees and trunk and hips. That's what running shoe brand Saucony offers in its free Stride Lab – a treadmill and three-camera set-up which stops in specialist shops across the UK and Ireland (you can see the schedule by registering on stridelab.co.uk (opens in new tab)).
Sure, the end result is a recommendation for a type of (Saucony) running shoe, but even if you have no intention of upgrading your current pair I'll wager you'll get some useful advice after a 45-minute session with one of Saucony's technical reps. I certainly did, especially as I had just taken up running after agreeing to run the Royal Parks Half Marathon this October. Here's what I learned.
1. Hip Drop Is One Of The Commonest Problems The Stride Lab Sees
This is probably the biggest reason to opt for a visit to the Stride Lab over the foot-focused versions of gait analysis – it'll catch problems higher up the body that single-camera services can miss. Dropping the hips can cause problems to develop elsewhere because other parts of your body compensate for the work that the weak hip muscles and core aren't doing.
Core work will resolve this problem – and that's running core, not six-pack abs core – although in general cross-training will help to avoid this issue.
RECOMMENDED: Strength Training For Runners
2. Pretty Much All Runners Should Try Some Yoga, Pilates Or A Bit Of Stretching – Including Me
While I didn't display hip drop – a job at Coach that involves plenty of activity and core work doesn't hurt – my rep did recommend taking up something that'll make me a bit more flexible. That's because the extension through my hip region is "slightly limited". Essentially, I'm bending the knee on my rear leg early, missing out on an extra bit of drive on every stride.
3. I Was Told, In The Nicest Way Possible, That I Didn't Know How To Run
Each session begins with a quick Q&A to discover more about your experience as a runner and routine (more on that later) to help interpret the footage that's taken on the treadmill. This helped my expert explain why I landed a bit rigidly on my heels. Apparently, because my body was new to running, it hadn't worked out the more efficient way to land – yet, but it will.
My less charitable colleague had an alternative explanation – I don't know how to run yet.
4. You May Need A More Cushioned Shoe If You Run In The Evening
Another of the Stride Lab questions asks when you run (morning, lunchtime or evenings) because people who run in the evening tend to be more tired so their form suffers. Consequently, they might benefit from shoes with extra cushioning.
5. I Have Misshapen Calves Thanks To Cycling
I told my expert that I cycle to work most days, which, for him, explained why the bottoms of my calves were larger than the top. Running should balance them out nicely, though.
6. If You're New To Running, This Is Well Worth Doing
Especially if you're going from zero to half marathon in five months, it's worth checking to see if there are any fixable issues that might cause injuries further down the line.
RECOMMENDED: 21 Running Tips to Help You Become a Better Runner
Jonathan Shannon has been the editor of the Coach website since 2016, developing a wide-ranging experience of health and fitness. Jonathan took up running while editing Coach and has run a sub-40min 10K and 1hr 28min half marathon. His next ambition is to complete a marathon. He's an advocate of cycling to work and is Coach's e-bike reviewer, and not just because he lives up a bit of a hill. He also reviews fitness trackers and other workout gear.
Sign up for workout ideas, training advice, the latest gear and more.
Thank you for signing up to Coach. You will receive a verification email shortly.
There was a problem. Please refresh the page and try again.