Steve Cram's Tips For Running A Mile PB
By Nick Harris-Fry last updated
Heed this advice from a one-mile legend and clock a time you didn't think you were capable of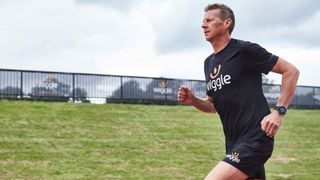 (Image credit: Unknown)
If you're looking for a challenge to add a bit of spice to regular running routine, try to set a new personal best over a mile. As well as the personal satisfaction you'll gain, the benefits of mile training will help across every distance.
Even you're not a regular runner, spending a couple of weeks training for and then attempting the four-lap sprint will do wonders for your overall fitness, and boost your power and endurance in other sports.
To further encourage runners of all stripes to attempt a one-mile sprint this June, sports retailer Wiggle and tracking app Strava have teamed up to create the #MyMile challenge. The premise is simple: run your fastest mile this June, upload it to Strava with the hashtag #MyMile and you'll be automatically entered into a draw to win a pair of shoes worth up to £100 with Wiggle.
Running one mile as fast as you can is a savage affair, so you really want to get the maximum return on your effort. To ensure you set your best PB, follow these tips from running legend Steve Cram, who ran 3min 46.32sec for the mile in 1985, which stands as the European record to this day.
1. Pick Your Target Pace Beforehand
Set yourself an ambitious target and stretch yourself – you can do a mile quicker than you may think.
"Most people take it easy and say, 'OK, I'm an eight-minute miler for 10K and so I'm happy if I run a 7½-minute mile, that's quite fast for me'," says Cram.
"In reality, I think that you should be able to run 15-20% quicker for one mile than you run for six miles [10K]. If you run eight-minute miles for a 10K, you should be able to run a six-minute mile as your best effort."
2. Practise Running Fast
Even people who run for hours every week might never spend any of that time running as fast as they can. As with all athletic endeavours, practising running fast will make you better at it.
"Running fast is different. When you run six-minute mile pace, it's different to doing eight minutes a mile – it's a different action," says Cram.
"You need to introduce interval training where you're doing repetition and recovery. Try doing 10 x 1min sprints, 10 x 30sec, 10 x 45sec, that sort of thing. You should be doing it at your target race pace. If you want to do a six-minute mile it's 90 seconds a lap, so you should be trying to do 1min reps at that pace, or 200m reps where you're running for 45 seconds."
3. Stretch And Strengthen Your Muscles
Running a fast mile puts a different kind of pressure on your body than going slower for longer distances does, so you need to prepare your muscles for the burden.
"You're going to start using your quads and your hamstrings, and being on your toes much more than in your normal running," says Cram. "You need to train your body for this – you don't want to get injured."
"It's not just about going to the gym – you need to start doing plyometrics and stretching."
4. The Third Lap Is The Key
Each lap of a one-mile race poses its own challenges, but the third lap is where things can start to go off the rails – just remember to keep your pace up.
"The focus has to come on the third lap – don't wait until the last lap," says Cram.
"Most people lose it on the third lap, holding back for lap four. They start getting a bit tired at that point so they slow down and get out of rhythm. That's a psychological thing. Focus on the third lap, not the last lap, because on that last lap you'll always find something a bit extra."
RECOMMENDED: More Tips For Setting A Mile PB
Run your fastest mile with Wiggle this month for a chance to win one of over 100 pairs of running shoes. Visit wiggle.com (opens in new tab) for more info.
Sign up for workout ideas, training advice, the latest gear and more.
Thank you for signing up to Coach. You will receive a verification email shortly.
There was a problem. Please refresh the page and try again.