Run Your Fastest Mile This June With Strava
By Nick Harris-Fry published
You could also win running shoes for you and ten friends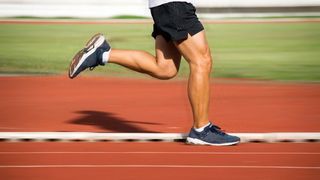 (Image credit: unknown)
No matter how experienced or proficient a runner you are, trying to set a mile PB is a brutal experience. It's a short enough distance that you have to more or less go all-out from the start, but far longer than you'd normally try to push the pace for, even if you regularly do interval sessions.
The beauty of this is that shooting for a mile PB can bring runners of all standards together, as they'll all feel equally broken at the end of it. It's the CrossFit of distances.
This June, Strava is hoping to inspire millions of new mile personal records. The Strava Mile campaign (opens in new tab) is simple – use the free app to track your fastest mile attempt at any point in June. Upload your run and tag it with #MyMile in the activity title.
You don't even have to actually set a new PB, which is good news for those who might not be in peak condition at the moment. Just try your damnedest.
If the prospect of a new PB isn't enough to inspire you to get out and sprint a mile, taking part in the Strava Mile will also enter you into a prize draw with Wiggle, where ten winners will get a pair of trainers (with a maximum price of £100) and the opportunity to each select ten of their Strava followers to also receive a pair.
RECOMMENDED: The Best New Road Running Shoes For 2017
You can attempt your fastest mile anywhere and at any time during June (except on a treadmill, that doesn't count – the @StravaWankers (opens in new tab) people are on high alert), but naturally you'd be best off finding a track to run on – you don't want your record attempt waylaid by having to dodge slow-moving pedestrians.
Given that Strava and all GPS devices are known to have some accuracy issues, it's worth running a tad more than a mile before stopping the clock, just to make sure you hit the required distance. Running on an open track well clear of signal-scrambling trees and tall buildings should also help you avoid GPS problems.
For technique tips and pacing advice for a mile PB attempt, learn from our experience attempting the feat on the track where Roger Bannister first broke the four-minute barrier. The main thing we learned? Laps two and three of a mile sprint are a simply dreadful experience. Enjoy!
Sign up for workout ideas, training advice, the latest gear and more.
Thank you for signing up to Coach. You will receive a verification email shortly.
There was a problem. Please refresh the page and try again.