Five Reasons To Try Trail Running
By Coach Staff published
If road running is getting you down, rekindle your love of the sport by heading off-road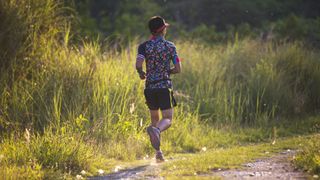 (Image credit: Unknown)
In This Series
Five Reasons To Try Trail Running
After spending four long months pounding the pavements to train for the London Marathon, after the event itself I, like many other marathon runners, felt that I needed a total break. The idea of heading out for another run along the same routes I'd covered almost daily, trying to log the same split times, just did not appeal.
Fortunately I had an upcoming ace in the hole in the shape of the Odlo Glentress 11km trail run in the Scottish Borders in late May. This meant that not only did my training still have some purpose, but I could abandon road running in favour of trails for a few weeks. This was my first real stint of trail running, and my first off-road event, and now I feel a fool for having waited so long.
If the appeal of road running is fading, here are five reasons to get out on the trails as soon as possible.
1. Trail Running Takes You To The Most Scenic Locations
Running seems a very different sport when you trade in a polluted run-commute through central London for the greenery of countryside trails. The scenery is an obvious draw, especially in the UK where you're never more than a couple of hours' train ride away from one of the 15 National Parks.
RECOMMENDED: The Best Trail-Running Spots For Londoners
2. You're Less Likely To Get Injured
Long, flat runs on Tarmac allow you to push for faster times but are punishing on the lower body. Trail running not only involves softer surfaces that aren't so jarring on the joints, but also tends to involve more ascents and descents, which means you work different muscles at different times so it's not the same areas of the body getting pounded mile after mile.
You'll also naturally shorten your stride and heelstrike less as you dodge roots, stones and the deepest patches of mud, which reduces the impact on the lower body even more.
The flipside to this is that if you take a winding downhill track through the woods at too high a speed there's a chance you'll trip and fall into a tree, an injury threat road runners very rarely face.
RECOMMENDED: Our Men's Trail-Running Shoe Picks For 2017
Keeping track of your split times is essential to hitting an overall target in a road race, where the terrain is more or less always the same. On the trail you'll have no idea what kind of terrain or slope will be around the next bend, so trying to pace a race using a watch is pointless. You run on feel alone, which is not only liberating but will also help you understand the limits of your body next time you do take on a road race.
4. It's Easier To Run With Others
You can, of course, run with friends or a club anywhere, but negotiating the many traffic lights and busy roads of a city centre is far harder to do with others than running in the countryside.
5. Hill Training Is Less Of A Chore
Running uphill is never easy, but the better the view at the top the more motivation there is to reach the summit, and trail running affords the very best views. The ups and downs of trails also provide a natural hill workout that will strengthen your legs and improve your running on all surfaces.
RECOMMENDED: Want To Get Into Trail Running? Here's Where To Start
Coach is the place to come for all your health, fitness, and personal wellness needs.
Sign up for workout ideas, training advice, the latest gear and more.
Thank you for signing up to Coach. You will receive a verification email shortly.
There was a problem. Please refresh the page and try again.