How To Run Your Fastest Mile
By Nick Harris-Fry last updated
Bored with 5K and 10Ks? Try this perfect test of speed and endurance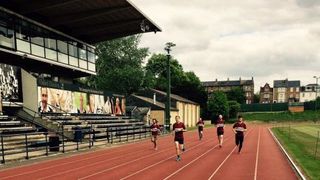 (Image credit: Unknown)
In today's metric world, the mile is not a distance most people run all that regularly. Track athletes will sprint all manner of distances up to 1,500m and road runners tackle anything from 5K upwards, but the unconventional charms of a 1,609.344m all-out effort are rarely appreciated.
Still, shooting for your fastest mile is a perfect test – a brutal blend of speed and endurance that somehow feels significantly further than 1,500m while knackering you out far more than much longer runs. To try and set my own mile PB I went to the spiritual home of mile record attempts – the Roger Bannister Running Track in Oxford, where Big Rog smashed the four-minute barrier in 1954 – for a training session with James Beckinsale (opens in new tab), triathlon coach and ambassador for Iffley Road (opens in new tab) running wear.
How To Set A Mile PB
Since running the mile is a test of both anaerobic and aerobic fitness, a variety of other running sessions will help towards improving your time. Long, steady runs will improve your aerobic capacity, while sprints and hills are a must to bolster your pace and anaerobic capacity.
Good technique is another thing that can help you run faster and more efficiently. In Coach's training session with Beckinsale, he encouraged two changes: upping cadence and landing on the forefoot.
You can measure your cadence by running for 15 seconds and counting every time your left foot lands. Then multiply that number by four for your per-minute score (some measures multiply that number by two to take into account both feet). Elite runners generally have a cadence in the high 90s. A high cadence stops over-striding, which not only slows you down but raises the risk of injury.
Landing on your forefoot also improves your running efficiency because it transfers your speed more effectively than heelstriking while running. To practise getting this right, focus on leaning forward slightly as you run 25m shuttles. It's a technical change that can't be achieved overnight, but it's something you can work on over time – try going a little further without heelstriking each time. Don't worry if it's harder to focus on technique as you tire – that's the same problem all runners have (just look at the photo of Bannister crossing the finishing line for his four-minute mile, the man's a mess).
To get the best measure of how your training is progressing, run a mile time trial, then do some work on technique and building your aerobic and anaerobic capacity, and then go for another mile PB to see how much you've improved.
Beckinsale reckons that even if you can't touch Bannister's time – let alone the mile world record of 3min 43.13sec, set by Hicham El Guerrouj in 1999 – you can get within shouting distance of it if you're an intermediate club runner.
"A "good' mile time depends on your age but broadly a top-end club runner would be able to run a four-minute mile; an intermediate club runner around five to six minutes; and a beginner around seven to eight minutes."
Pacing is vital to running a fast mile – four laps of a track feels a lot longer than you might imagine. "An even pacing for the four laps is key," says Beckinsale.
"It's natural to set off a little quicker for the first 100m, but then you need to settle into an even pace. Be prepared for the second and third laps to hurt."
I can vouch very strongly for that last piece of advice. The second and third laps of a mile PB attempt are a truly awful experience. On the plus side, the whole experience is over fairly quickly, even if you spend the rest of the day coughing from the effort.
Next time you find your running needs some focus, devoting a couple of weeks to running a faster mile is a great short-term goal. Even if you can't go for a PB on Banister's hallowed turf, there will almost certainly be a track nearby you can use (have a look on UK Running Track Directory's track list (opens in new tab)), or just a flat (and quiet) stretch of road when you're not concerned with getting your absolute fastest time.
To check out Iffley Road's premium running gear head to iffleyroad.com (opens in new tab). For more info on James Beckinsale's coaching go to jamesbeckinsale.co.uk (opens in new tab)
Sign up for workout ideas, training advice, the latest gear and more.
Thank you for signing up to Coach. You will receive a verification email shortly.
There was a problem. Please refresh the page and try again.