Why You Should Sign Up For A Tower Running Event This Year
By Nick Harris-Fry last updated
Coach tried Shelter's Vertical Rush at Tower 42. Here's what we learned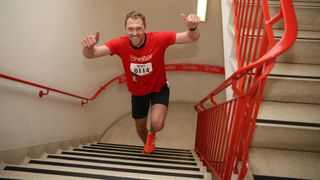 (Image credit: Unknown)
Pictured: Two-time Olympic Gold medallist Alex Gregory taking part in Shelter's Vertical Rush
Take the stairs. It's an absolutely classic bit of fitness advice, but when people bring it up, they generally mean a couple of flights here and there to avoid using escalators – not charging up the 932 steps of Tower 42 in the City of London.
Coach did just that with Shelter's Vertical Rush (opens in new tab) in 2017. Well, charged is probably not the right word. We plodded up the stairs. Crawled. Collapsed. Can you collapse up a staircase?
Despite the difficulty involved, tower running is surprisingly good fun, not least because you're rewarded with a cracking view at the end. If nothing else, an event has more novelty value than a 10K or marathon.
There are other benefits to opting for a tower run over a long run or cycle too. The events are generally pretty short – the tallest buildings in London will take less than 15 minutes to conquer – and if you're already exercising regularly, you don't really have to train specifically for a tower run unless you're dead set on smashing a past PB or target time.
If you are keen on emulating Piotr "Showtime" Łobodziński (that's right, tower runners get glitzy nicknames), the tower running world champ who clocked an absurd 3min 59sec at Vertical Rush 2017 (Coach's times were, ahem, slower), we'd recommend building up your general endurance through regular running, as well as strength work in your quads and glutes.
See related
In terms of tactics on the day, start steady rather than opting for an all-out sprint in the first few flights, and make as much use of any bannisters as possible. Pulling yourself along shifts some of the burden from your legs to your upper body.
For more specific training, run up some stairs (obviously) or, if you're a Londoner, join in with the occasional sessions organised by Tower Running UK (opens in new tab).
Got all that? Good. Now here are some UK tower running events to sign up for.
UK Tower Running Events
Walkie Talkie Tower Climb
Date: 29th February 2020
Location: Walkie Talkie, London
Stairs: 896
Sign up (opens in new tab) | £25, plus £250 fundraising
Vertical Rush
Date: 12th March 2020
Location: Tower 42, London
Stairs: 932 (single-climb event), 9,320 (ten-climb event)
Sign up (opens in new tab) | Single climb £30, plus £180 fundraising; ten climbs £35, plus £350 fundraising
The Broadgate Tower Run Up
Date: 5th July 2020
Location: Broadgate Tower, London
Stairs: Single climb 877, three climbs 2,631, six climbs 5,262, 12 climbs 10,524
Sign up (opens in new tab) | Single climb £40, three climbs £60, six climbs £70, 12 climbs £90
Guy's Urban Challenge
Date: 26th September 2020
Location: Guy's Hospital, London
Stairs: 2.4km run, 15km spin then 648-stair tower run
Sign up (opens in new tab) | £30, plus £200 fundraising
SAMH Stomp
Date: 10th October 2020
Location: BT Murrayfield Stadium, Edinburgh
Stairs: Stomp 4,200, Extreme Stomp 7,400, Ultimate Stomp 22,500
Sign up (opens in new tab) | Stomp £20, plus £100 fundraising; Extreme Stomp £30, plus £150 fundraising; Ultimate Stomp £40, plus £175 fundraising.
The Gherkin Challenge
Date: TBC 2020
Location: The Gherkin, London
Stairs: 1,037
Sign up (opens in new tab) | £20, plus £250 fundraising target
Sign up for workout ideas, training advice, the latest gear and more.
Thank you for signing up to Coach. You will receive a verification email shortly.
There was a problem. Please refresh the page and try again.