The Best Base Layers For Running
By Nick Harris-Fry last updated
When it comes to running in comfort, it's all about that base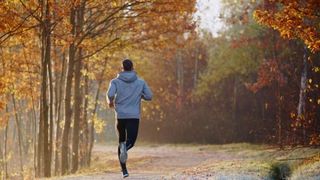 (Image credit: Unknown)
One of the most vital parts of an active wardrobe is the right base layer. In fact, you probably want at least two – one for warm-weather training and one for the cold.
It's easy to grasp how base layers can help in the winter – they sit tight against the skin to help keep you toasty warm while also wicking away sweat so you don't end up a sticky mess 20 paces into a run. You might be more sceptical of their benefits come summer, but adding another layer can actually be just the ticket to avoiding overheating, because lightweight base layers with sweat-wicking tech that dry quickly have a cooling effect on the body.
Here are the best base layers for both hot and cold training.
Cold Weather Base Layers
Montane Dart Long Sleeve T-Shirt
(opens in new tab)
A pleasingly versatile and comfortable long-sleeved top that you can use all year round, Montane's Dart works well as a base layer in colder conditions or as a standalone tee on milder days. As well as offering UPF20+ protection, the fabric is made from 100% recycled polyester and treated with Polygiene, which means you can use it multiple times before it starts to smell.
Buy from Montane (opens in new tab) | £32
---
Adidas Terrex Drynamo Baselayer
(opens in new tab)
Whatever your sleeve preferences, there is an Adidas Terrex Drynamo base layer to suit. Along with this long-sleeved top, there is also a short-sleeved tee (opens in new tab) and a sleeveless tank (opens in new tab) available, so you can absolutely nail your layering in all conditions. The lightweight material helps you regulate your body temperature in both hot and cold conditions, with ventilation zones in key areas so you stay comfortable no matter how hard you're working.
Buy from Adidas (opens in new tab) | £75
---
(opens in new tab)
Last year we used Iffley Road's Bodmin base layer throughout the entire winter, won over by its turtleneck design – protect your neck in the cold, people, for goodness' sake – and the anti-odour properties of the soft Merino wool yarn. However, the Bodmin had one fatal, or at least life-threatening, flaw, which is that it's hard to wash. Popping that beauty in the washing machine even at low temperatures was a roll of the dice, given the propensity of the fabric to shrink.
This year, then, we're delighted to see Iffley Road has launched a new base layer. The Malvern is just as delightfully soft and odour-resistant as the Bodmin, but can be machine-washed. On a cool/delicates cycle, of course. Always play it safe with your Merino base layers.
Buy from Iffley Road (opens in new tab) | £95
---
(opens in new tab)
This featherweight base layer keeps you far warmer than it has any right to, given the lack of heft to the fabric. It dries rapidly too, and has an anti-bacterial treatment which resists odours, helping you to cut down on your laundry load. The base layer is also made of roughly eight recycled plastic bottles, which never hurts.
Buy from Inov-8 (opens in new tab) | £50
---
Soar Merino And Silk T-Shirt Base
(opens in new tab)
The Merino and silk fabric used in this base is as comfortable as it sounds, which is to say very comfortable indeed, and the Merino wool naturally resists odours and wicks sweat away from your body. Soar also makes the base in a long-sleeved version, but we prefer slipping the tee under a jacket or mid layer during the colder months – and it also works as the only layer when the weather is slightly warmer.
Buy from Soar (opens in new tab) | £55
---
(opens in new tab)
This 50% Merino wool top from Odlo is an absolute treat to pull on, being just the right level of snug to persuade you that going out in frosty weather won't be too bad, but not overbearing once you start to heat up on your run. The top can ride up a little if you don't tuck it in to your shorts, but you should be tucking it in anyway for maximum warmth. You are tucking in your base layers, right?
Buy from Odlo (opens in new tab) | £75 (currently reduced to £59.95)
See related
Warm Weather Base Layers
Nike Pro
Warm Weather Base Layers
(opens in new tab)
This body-hugging top comes in short- and long-sleeved varieties, and the stretchy, sweat-wicking Dri-FIT fabric is ideal for testing training sessions in hot conditions. While the fit is undoubtedly tight, it's not so aggressively form-fitting that the more self-conscious among us will feel uncomfortable running in it without any other top.
Buy from Nike (opens in new tab) | £26.95
---
Men's UA HeatGear Armour Short Sleeve Compression Shirt
(opens in new tab)
The exceedingly tight fit of these tops ensures that sweat doesn't get even a second to linger on your skin before it is whisked away to evaporate.
Sign up for workout ideas, training advice, the latest gear and more.
Thank you for signing up to Coach. You will receive a verification email shortly.
There was a problem. Please refresh the page and try again.