Europe's Incredible Ultra Marathons
By Coach Staff last updated
Marathon ticked off your fitness challenge list? Then be inspired by these epic ultras and tackle one with expert advice from Ian Corless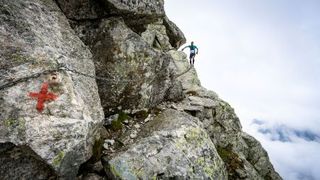 (Image credit: Unknown)
Photograph: Ian Corless
"The arena in which ultras take place is so fascinating," says Ian Corless, author of Running Beyond (opens in new tab), an inspirational new book exploring long-distance off-road races. "There is something primitive about covering huge distances on foot. I like that. I also love that ultras can provide an opportunity for anyone to take part. The speed is always slower, certainly for those near the back, than shorter races."
It's true. But don't be fooled into thinking that they're easy – they're not. They are, however, worth the effort because you get to yomp through incredible scenery as in the three races below, which are all detailed in Corless's book.
| | Dragon's Back | Ice Trail Tarentaise | Matterhorn Ultraks |
| --- | --- | --- | --- |
| Where | Wales | France | Switzerland |
| Distance | 300km | 65km | 48km |
| Total ascent | 16,000m | 5,000m | 3,600m |
| Fastest time | Jim Mann 40:08:03 | Francois D'Haene 08:16:35 | Kílian Jornet 04:43:06 |
Dragon's Back Race
Photograph: Ian Corless
Where Wales
Distance 300km
Total ascent 16,000m
Fastest time Jim Mann 40:08:03
The first edition of the Dragon's Back Race in 1992 struck fear into both participants and onlookers. Starting in the north of Wales at Conwy Castle, competitors travelled down the toughest mountainous spine of Wales over multiple days and finished in the south at Carreg Cennen Castle. A singular, breathtaking journey of 300km with 16,000m of vertical gain, all while navigating your route using a compass and map. The race was beyond challenging – so punishing that it took place only once. It became infamous, and the mere mention of its name made the most experienced ultra runner shudder.
That is, until 2012, when Shane Ohly, an experienced mountain runner, broke a 20-year hiatus and revived the event, sticking to the original format. Renowned mountain runner Steve Birkinshaw won the 2012 event, while 1992 champion Helene Whitaker returned and won the women's prize, placing fourth overall. The Guardian called it, "one of the world's most challenging races… It fills even the hardest runners with awe."
In the period between the first and second races, the sport of ultra running had changed. Further, tougher, more vertical, gnarlier – use the word "hardest" to describe a race and runners would now flock to sign up. The once-intimidating reputation of the Dragon's Back Race had become a calling card.
Photograph: Ian Corless
Day one is one of the best days one could ever experience in British mountain running. Its 49km route takes in all the Welsh 3,000s – 15 peaks over 3,000ft (914m) in succession on a route totalling 3,823m of vertical gain, as well as the exposed knife-edge ridge of Crib Goch.
It would make a great standalone race – and in fact it does, in the form of the V3K, a Skyrunning UK race that takes in much of the same route. However, V3K participants run for one day, rest and then go home. No such mollycoddling on the Dragon's Back. It's followed by four long, torturous days that make the hardiest competitor question his or her sanity.
The race isn't just one of the toughest challenges in the UK, it's one of the hardest worldwide. Wales may not have peaks that soar thousands of metres high like the Alps or Pyrénées but what makes Welsh mountains so tough is the relentless rollercoaster of highs and lows, combined with unpredictable and often boggy ground.
The weather is a huge factor, and the runners' ability to navigate the fastest and most logical route is a key element of the race. The route is often off-piste, far removed from the groomed trails of, say, the Ultra Trail du Mont-Blanc in France.
Multiple days of relentless climbing and descending, harsh terrain, self-navigation, lack of sleep, frequently poor visibility and daily distances of 50km or more… At some point every runner asks themselves: "Can I really do this?"
Photograph: Ian Corless
Mountain women
Only 30 people completed the 2012 edition. When it was staged again three years later 300 applied, but only 144 were accepted due to strict entry criteria, of whom 128 made the start line. And in the end only 65 completed the journey, a failure rate of 50%.
In the original race, Whitaker showed the men a thing or two, and 2015 had the potential for a repeat as Jasmin Paris led for much of the race. She eventually placed second overall, closely followed by Beth Pascall in fourth and Lizzie Wraith (sixth).
Race victory went to Jim Mann, but it was the women to whom Ohly paid tribute at the post-event awards: "Despite the so-called advantages that men have, ladies once again triumphed at the Dragon's Back Race and I think that is brilliant."
It's fascinating to see how racers change from day to day. The race is full of highs and lows, and not just in the mountainous sense. Some found increased strength from the process, realising that the mind was actually the supreme endurance tool and not the legs or the lungs. For others, their mind became exhausted from the full-on concentration required to navigate the fastest way to the line.
Competitor Mike Evans describes his experience vividly. "What a journey. Cut off from the world, no social media, no showers, just living in the wild with a group of equal enthusiasts. It is impossible to explain how tough, how mentally and physically challenging it was, but also how spiritual it has been."
The Dragon's Back Race now has a reputation as one of the races to do – and Ohly has pledged to hold it every other year, so there are no guessing games about when the next one will be.
For more info visit berghausdragonsbackrace.com (opens in new tab)
Ice Trail Tarentaise
Photograph: Ian Corless
Where France
Distance 65km
Total ascent 5,000m
Fastest time Francois D'Haene 08:16:35
Starting and concluding at the beautiful mountain retreat of Val d'Isère in the French Alps, the Ice Trail Tarentaise in many respects personifies what Kílian Jornet – probably the world's best-known skyrunner – has been pursuing throughout his career.
If alpinism is high-speed mountaineering, skyrunning is high-speed alpinism, doing away with any clutter that might prevent you from moving at a pace. This is a race that involves traversing glaciers and ascending and descending summits like the 3,386m Aiguille Pers, and takes in some of the most iconic mountain landscape found anywhere in the world.
Although this region is closely associated with the Tour de France, and the route includes the highest paved mountain pass at the Col de l'Iseran (2,770m), which has been included in the Tour multiple times, there are no bicycles to be seen on the Ice Trail.
Instead there are ropes, ladders and way markers to assist the competitors – but with more than 60km of the race route above 2,000m altitude, a highest point of 3,653m at Grande Motte, other peaks over 3,000m and around 5,000m of ascent and descent altogether, you can guarantee that not all those who line up at the start will see the finish.
Weather the storm
It's such a tough race, in fact, that the inaugural event didn't even take place. It was due to be staged in 2011, but severe weather left the organisers with no choice but to cancel – only the safer 32km "Altispeed" race was run, won by Damien Vouillamoz in just over 3½ hours.
The 2012 edition was eagerly anticipated after the shortened version whetted many racers' appetites, and despite (again) initial weather concerns, the race went ahead. François D'Haene and Anne Valéro were the winners, with times of 8hr 16min 35sec and 11hr 20min 13sec respectively.
Despite the technical demands of the race, the challenging terrain, the high altitude, the snow, the ice and extreme difficulties, the race has continued to attract a plethora of runners. It's easy to understand why – to climb Grand Motte, for example, from the lower altitudes in one push is a pure, adrenaline-charged experience. At the summit, the challenge changes as, with the help of light crampons, participants traverse a glacier, with extreme danger lurking either side.
French trail runner Fabien Antolinos, twice winner of one of the France's most prestigious trail races, the Grand Trail des Templiers, articulates the event's specific attractions. "The Ice Trail Tarentaise is a race of pure happiness. To travel in high mountains in running shoes and not boots, moving from summit to summit in an often wild and organic way… it is magic. The highest trails in Europe offer a challenge for any runner, especially when moving as fast as possible and with less oxygen because of the altitude."
Breaking the ice
Depending on the year and the conditions, the race can offer varying challenges of terrain and body-climate control. The upper slopes of Grand Motte will almost certainly be covered in snow, but the lower peaks and valleys can be clear – or they can be icy. This was the case in 2013, when deep snow and ice made the paths treacherous work, and for many it exemplified a true mountain race.
In contrast, the 2015 edition saw only minimal snow and ice, creating a very different race with only one thread of continuity: incredible beauty, views and landscapes.
In 2015, the race had the honour of hosting the Skyrunning World Championships, which meant runners travelled from all over the world to run, climb and traverse the alpine slopes, trails and mountains of the Tarentaise valley. Luis Alberto Hernando of Spain and Sweden's Emelie Forsberg were crowned champions in the male and female categories.
Owing to a dispute with Val d'Isère, the 2016 Ice Trail Tarentaise was run on a different course that some say is even harder.
One thing is for sure: the extreme challenge that has made this region an adrenaline junkies' playground will continue to inspire skyrunners to take part in one of the great ultra races.
For more info visit icetrailtarentaise.fr (opens in new tab)
Matterhorn Ultraks
Photograph: Ian Corless
Where Switzerland
Distance 48km
Total ascent 3,600m
Fastest time Kílian Jornet 04:43:06
Located 1,600m above sea level, the picture-postcard mountain resort of Zermatt is a town of contrasts. Tourists flood in to trawl the streets, shop and snap photos of the Matterhorn looming high above, while among them hardcore mountaineers head upwards with packs, ropes, crampons and ice axes. It's also the start and finish of the Matterhorn Ultraks race, a 48km skyrunning race with 3,600m of positive and negative gain.
The race offers wild, expansive space and dizzying climbs, while the lone peak of the Matterhorn provides an ever-present backdrop, raking the sky above the runners with its majestic beauty.
The Ultraks is renowned for its tough opening kilometres: from the start it immediately heads skywards, to Sunnegga at 2,260m and then down to 2,000m beore swinging up to the race's highest point, Gornergrat, at 3,130m. This brutal 14km stretch is arguably the hardest opening of any race anywhere, and those opening stages can be decisive in determining who crosses the finish line first.
Megan Kimmel from the USA ran hard from the gun in 2015, setting the pace against a world-class field. "Any time you get the rhythm in the up, the down or the flat, the body is abruptly put into one of the other actions," she says. "It is steep enough to grind you to a walk on a lot of the uphill, and has fair bits of technical descent."
A 1,000m drop from Gornergrat is broken by a small climb at Riffelalp, followed by the 1,880m Furi at 24km. Two short sharp climbs come next, the first to Schwarzsee at 2,583m and then, after a critical drop down to 2,200m, another 500m-plus climb.
As Kimmel notes, these can be defining moments in the race, as the efforts from the brutal first section can leave legs struggling. "I was comfortably leading the race for 30km," she recalls. "When I say comfortable, I mean it seemed fairly effortless in a racing sense. I was moving with the terrain on the uphills and I was holding back on the descents, because it was a long race with a lot of transitions."
Then, suddenly, she was "just empty. I couldn't drink enough to satisfy my thirst and I couldn't get the gels down my throat. The three big 600m climbs were never-ending… My discomfort was deep-seated and my mind quickly shut off. My lead was enough to delay being passed until about 38km, but the whole time between 30 and 38km – which is probably an hour on this course – I was wondering how could I feel so miserable while winning a race."
Fearsome finish
With around 13km to go, the runners begin the gradual descent to Trift. After a final 200m burst upwards, a fast and furious drop of almost 1,000m over a distance of 6km leads the pack to the finish line in Zermatt and the assembled crowds. But the final stages in 2015 brought no relief for Kimmel, who a few weeks earlier had won the Dolomites SkyRace. After leading the women's race for more than three-quarters of the course, she was overtaken by the chasing pack and sadly ended with a DNF (the victory went to the previous year's winner, Stevie Kremer).
The Ultraks is an essential lesson in the requirements of skyrunning. You need not just speed on the brutal ascents, but a true head for fast descents. Besides this, racing is often a psychological journey as much as physical experience, and Kimmel says this was what proved her undoing. "I was exhausted – I am sure I needed more water and calories – but I think really I just wasn't mentally prepared."
It's a telling example of the extreme challenge that faces each runner on the start line. Happily, Kimmel was better prepared in 2016 and won the race in 5hr 25min 15sec.
For more info visit ultraks.com (opens in new tab)
Ultra Marathon Running Tips
Suitably motivated? Then use Ian Corless' tips to start going long.
Be kind to yourself
If it's your first ultra, make things as easy and enjoyable as possible. "Pick a race in a great location that has a reputation for good organisation," says Corless. "Pick a distance that will test you but isn't so off-the-scale it becomes intimidating. For example, if you have run a marathon, a 50km or 50-mile race would be a logical step. Finally, incorporate a holiday or at least some downtime into your race trip."
The only way is up...
It doesn't matter where or how long your race is, you can be sure of one thing: it will involve some steep inclines. "Climbing is a skill and to do it well takes practice,'" says Corless. "First, get low and take small steps using your hands on your knees to help build momentum. The alternative is to use poles (make sure they're not too long). Both techniques require practice, and which technique is preferable depends on the individual. My advice is learn both techniques because some races don't allow poles."
This means targeting your legs in training. "Use hill repeats – and lots of them," Corless says. "In addition, work on leg strength and core strength. In particular, your achilles and calf muscles take a great deal of pressure when climbing. Also, your lower back can really feel the pressure of long sustained climbs. In Europe, races often require well over an hour of climbing at a time. If you don't live near hills that can replicate that, use a step machine in the gym and a treadmill set at a steep incline."
...except when it's down
Running downhill sounds easy. And it is, on a gentle decline. Sadly those are few and far between in the world of ultras. "Descents are all about agility, foot-to-eye co-ordination and reading the terrain," says Corless. "A runner should be looking 2-3m ahead and planning where his or her feet will go – that way they can keep a good pace. If you are only looking as your foot lands, you'll be constantly braking."
The right kit and technique are even more important on the descents. "Have the correct shoes for the terrain – protection and the appropriate grip is essential when running downhill. As for the technique, lean forward and let go. Finally, remember the best descenders are able to switch their brains off and not think about fear."
Bring the pain
The brutal truth is that if you hate the idea of suffering, ultra running probably isn't for you. "There is a great saying in ultra running that when someone says, 'I feel good!' the response is, 'Don't worry, it won't last long!' If you run long distances, one thing is guaranteed: you are going to have low spots," Corless says. "That's one thing that makes ultra attractive to people – it's about how you get through it. The best ultra runners are often as strong in the mind as they are physically, if not stronger. Above all you need to be stubborn and keep going."
So what tricks do ultra runners use? "One good tip is to break a race down into segments, such as aid station to aid station, or kilometre marker to kilometre marker. If you look at the big picture it can be daunting but, say, 100km broken down into ten 10km sections is less so. Also, have a plan A but also have plans B and C. The better prepared you are, the more possibilities you can deal with and the more likely you are to finish."
Relax and recover
A lot of ultras take place over multiple days, so recovery at the end of a day is key. "You need to eat and drink, making sure you get some protein for repair and good-quality carbohydrates to restore energy," Corless says. "After a few hours you can eat a balanced meal. With hydration, drink when you're thirsty, but you'll need plenty of liquid after any run, particularly in a hot climate."
Recovery is about more than eating and drinking, though. "Take a nap and elevate your legs to promote a quicker recovery. Although proof on compression kit's effects is still not 100%, many believe that wearing compression gear helps. And although maximising rest is crucial, so is planning for the next day before you go to bed. Have supplies and kit ready, and attend to your feet if need be, so that you're not rushed in the morning. Get into a rhythm and a routine and you'll find the days will go much more smoothly."
Running Beyond by Ian Corless (£20, Aurum Press) is out now. Buy on amazon.co.uk (opens in new tab).
Coach is the place to come for all your health, fitness, and personal wellness needs.
Sign up for workout ideas, training advice, the latest gear and more.
Thank you for signing up to Coach. You will receive a verification email shortly.
There was a problem. Please refresh the page and try again.