This Guy Went From Smoker to British Veteran Marathon Record Holder
By Kate Carter last updated
For some people, running the London marathon is a gateway to an entirely different life. Smoker Steve Way went on to win the UK 100km championships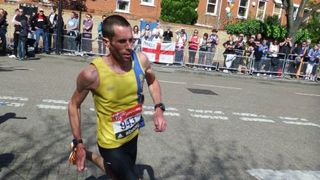 (Image credit: Unknown)
In his early 30s, Steve smoked and weighed over 100kg. He started jogging – and by 39 he had represented England in the Commonwealth Games for the marathon.
First London Marathon: 2006
Many people take up running to lose weight, but few end up representing their country. What happened?
Ten years ago I weighed 16.5 stone [105kg], had high blood pressure and smoked. Until then, I'd got away with it. I wasn't particularly happy looking at myself in the mirror but what really started to impact on my life was the smoking. I'd wake up coughing in the night for half an hour. That's the sort of thing that makes you think, "What the hell am I doing to myself?" I knew I needed something that embraced my addictive personality – something to fill that empty space. So I started running.
And you entered the London Marathon…
Yes. My first one was in 2006. I didn't really do any structured training. I just wanted to complete it. The event itself was inspiring – as an experience, it was just fantastic. But right then and there, I didn't get the running bug.
RECOMMENDED: How to Train for a Marathon
You still ran a pretty cracking time, though, by most people's standards.
Well, I ran it in 3hr 7sec. I'd lost quite a bit of weight to do the race, but I was probably still only halfway between "fattest me" and "marathon PB me". I guess maybe about 14st [89kg].
And you were actually still smoking and enjoying the takeaways at that point. Were you surprised to run that quickly?
To be honest, no. I guess I've been blessed genetically, because I always thought that running was quite easy. I remember being really emotional and excited because I'd just run the marathon. But the surprise was probably more from my friends and family…
Did you take it more seriously in 2008?
In 2006, I didn't really have an idea of what was a good time or not. By 2008 I knew full well. And I ended up doing 2hr 35min that day. And that was a surprise – not only that I had done it but I remember thinking, "You know, that wasn't that hard". So there was this awareness that there was a lot more to come. That's when it really kicked in.
So you chipped more and more time off. And then, in London, in 2014 you ran under the qualifying time for a certain big event…
Yes, I qualified and was selected for the marathon at the Commonwealth Games. To this point, the best day of my life. The date, 27th July, is up on my wall on a plaque, in one of those fancy fonts surrounded by lots of words relating to the marathon.
What was that day in Glasgow like?
There was a certain amount of pressure. Marathon training is a bit of a tricky sport – there's no guarantee that it's ever going to go right on the day. So to run 2hr 15min, hit all my targets, and get a PB and the British Veteran record too, at what will probably be the biggest event of my life… I'm just so thankful it all went according to plan. Three or four years before that, I could cock up a race quite nicely and not a soul in the world would notice or care. But when you know lots of people are watching you, it starts to get to the point where you think, if this goes wrong, I'm going to look like a right twat.
Putting on that kit, though, you must have been pinching yourself?
Definitely. I had been Mr 2hr 19min Marathon for the past four years, and then taking that step up with a 2hr 16min at London to qualify, part of me thought: was that just a one-off? Did I just happen to catch my body on a really good day? And then I ran 2hr 15min.
And then you decided that the marathon just wasn't long enough…
In the autumn of that year I won the UK 100km championships. That's probably the occasion when I've run to the best of my ability. I ran 6hr 19min 20sec, which is a British record. At that stage, I was actually the best 100km runner in the world. It's a shame really, because it would've been so much nicer if I could've done that kind of performance at the world champs level, rather than as a solo time trial around Gravesend Cyclo Track, but I had a disastrous 2015.
But you're not done yet…
No, I do feel that if I can get back to that level of fitness, then there's plenty more to come. I haven't point-blank said I'm not going for the Rio Olympic qualifying time…
But it would be the most amazing ending to one hell of a fairy tale.
I'll run as fast as I can and if that happens to get me first or second Brit, in under 2hr 14min, then the fairy tale goes on!
Sign up for workout ideas, training advice, the latest gear and more.
Thank you for signing up to Coach. You will receive a verification email shortly.
There was a problem. Please refresh the page and try again.