Adidas Releases The Adios Pro 2 Carbon Racer And All-New Prime X Running Shoes
By Nick Harris-Fry last updated
Adidas announce a new flagship racer, a concept shoe that intentionally breaks World Athletics regulations and a Boston upgrade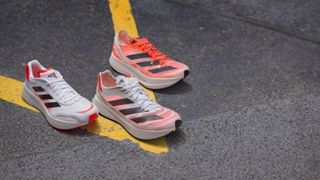 (Image credit: Unknown)
The first Adizero Adios Pro was Adidas's long-awaited response to the dominance of the Nike Vaporfly racing shoes and it proved an immediate success. It was worn by a host of elite runners to set world records and win major races in 2020 and 2021.
Amateurs took to it as well, helped by the relatively low price for a carbon racer of £170. Availability was a problem, and the Adios Pro sold out rapidly whenever a batch appeared, but the launch put Adidas's high-performance racing shoes back on the map.
Bolstered by that success, Adidas has announced an updated version of the Adios Pro, and has applied tech from that shoe to improve the popular Boston trainer as well. On top of that, Adidas has released a brand new shoe called the Prime X, which takes the tech from the Adios Pro to extremes. The Prime X has a 50mm-high stack, which means it won't be permitted in road races because it exceeds the 40mm limit set by World Athletics, but it should be tremendously fun to train in. Or you could just race in it anyway, if you're not expecting World Athletics to come down on you like a ton of bricks at a local 10K.
All three shoes will be available on the Adidas website (opens in new tab) from 16th June, though only Creator Club Members will have access to the Pro 2 and Prime X before the global launch on 18th June. Here's more on each shoe.
Adidas Adizero Adios Pro 2
Adidas has made significant changes to the design of the original. The midsole has been reshaped to provide more energy return and a fair chunk of it has been carved out of the bottom to reduce weight – partially revealing the five carbon-infused EnergyRods.
(opens in new tab)
The upper has also seen changes and more importantly so has the outsole, which now has a Continental rubber section on the forefoot to increase grip and durability. The thin layer of smooth rubber on the original Adios Pro was not renowned for either.
The Adios Pro 2 will cost £180, which is £10 more than its predecessor but still on the cheaper end of the carbon shoe spectrum.
Buy from Adidas (opens in new tab) | £180
Adidas Adizero Boston 10
The combination of soft and bouncy Lightstrike Pro foam in the midsole and embedded EnergyRods is what creates the propulsive ride in the Adios Pro 2. Excitingly, both foam and rods have been introduced on the new Boston 10.
The lightweight, comfortable and durable Boston has long been a favourite among runners as a great training shoe that you could also race in. Now it boasts Adidas's latest performance tech it should be an even better option.
Adidas has used both Lightstrike Pro and Lightstrike EVA foams in the shoe's midsole, with Pro on the top to provide a more energised ride and EVA underneath to increase the shoe's durability. In between those foam layers you'll find the five EnergyRods, matching the Adios Pro 2. The Boston has a full Continental rubber outsole to ensure the durability the line is known for.
The Boston is priced at £130, offering a more affordable way into the world of Adidas's high-stack EnergyRod shoes.
Buy men's from Adidas (opens in new tab) | Buy women's from Adidas (opens in new tab) | £130
See related
Adidas Adizero Prime X
For its part the Prime X takes all the technology above and turns it up to 11. The 50mm stack contains three layers of Lightstrike Pro foam. Between the top two layers are the same EnergyRods found in the other shoes, but three extra stiffening blades have been introduced between the bottom two layers to add even more spring to your step.
The result is an absolute monster of a shoe which probably shows where racing shoes were heading had World Athletics not stepped in and imposed a 40mm stack limit, along with a cap on the amount of plates or even rods that you can cram into a shoe's midsole. There are no limits in training, however, so if you have a spare £220 you can enjoy a ride like no other.
Buy from Adidas (opens in new tab) | £220
Sign up for workout ideas, training advice, the latest gear and more.
Thank you for signing up to Coach. You will receive a verification email shortly.
There was a problem. Please refresh the page and try again.