The Best Brooks Running Shoes For Every Type Of Runner
By Nick Harris-Fry last updated
From the comfiest shoe around to some of the quickest, Brooks has every runner covered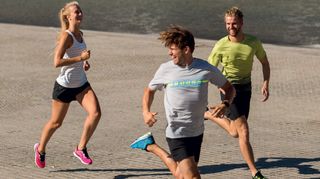 (Image credit: Unknown)
Unlike behemoths like Nike and Adidas that cater to the needs of all kinds of sportspeople, Brooks is solely about running, giving it a focus which has resulted in excellent options for every type of runner – whether you're looking for a soft and cushioned ride or a firm and fast one.
There's a useful shoe finder tool (opens in new tab) on the website, which will make personalised suggestions based on the feel you want and how much and how far you run, but for an overview of the key styles stay right here: we've been testing out a range of Brooks shoes for several years and we're sure we can guide you in the right direction.
---
The Best Brooks Running Shoes
The Tempo is Brooks's partner training shoe to the Hyperion Elite 2 carbon plate racing shoe, and it has the same DNA Flash cushioning in the midsole. It's at its best when undertaking speed sessions and tempo runs, but runners who like a firmer feel will enjoy using the Tempo for their base runs as well. It's certainly a firmer shoe than most we'd class as all-rounders though, so if you prefer a softer ride then the Launch or Ghost lines might be a better pick from Brooks's selection of do-it-all shoes.
Buy men's from Brooks (opens in new tab) | Buy women's from Brooks (opens in new tab) | £140 | Brooks Hyperion Tempo review
---
Like the Glycerin 19, the Ghost 14 has a high stack of soft DNA Loft cushioning in the midsole, and it's designed to offer comfort first and foremost, which new runners will appreciate immediately. However, the Ghost has a little more pop and pace than the Glycerin, which means that as people get more into the sport and start thinking about their first races or stepping up their parkrun pace, the Ghost will be the more attractive option of the pair.
Buy men's from Brooks (opens in new tab) | Buy women's from Brooks (opens in new tab) | £120 | Brooks Ghost 14 review
---
The Glycerin is all about comfort, with a generous stack of soft cushioning underfoot, plus a padded tongue and collar to hold your foot in place securely. It offers an unrivalled level of protection on the run. If you're just starting out in the sport and are looking for the most comfortable experience available, the Glycerin is your best bet no matter what brand you're looking at.
With the Glycerin 19, Brooks sticks to the shoe's tried-and-tested formula, with the addition of a little more DNA Loft foam into the midsole to make it even more comfortable without adding any weight. There is also a companion Glycerin 19 GTS, which offers some stability features for runners who overpronate.
Buy men's from Brooks (opens in new tab) | Buy women's from Brooks (opens in new tab) | £140 | Brooks Glycerin 19 review
---
Brooks Launch 8
Best Value
The Launch 8 is a solid all-rounder that is reasonably light (257g in a UK men's 9) and quick, while still cushioned enough to use for general training. It's already great value at £100 but is regularly discounted, making it an absolute snip. It splits the difference in Brooks's range, offering a firmer feel than the Ghost while being a little more cushy than the Hyperion Tempo. The lack of exciting new tech may make it easy to overlook, but runners looking for a reliable option at a more reasonable price should certainly consider it.
Buy men's from Brooks (opens in new tab) | Buy women's from Brooks (opens in new tab) | £100
---
Brooks Adrenaline GTS 21
Best For Overpronators
The Adrenaline GTS has been one of the top stability models for two decades, offering a comfortable and smooth ride that gently corrects overpronation. The latest edition of the shoe features a full-length DNA Loft midsole that delivers a soft ride without sacrificing stability, alongside GuideRails that help to counter overpronation. While it's no lightweight – stability shoes rarely are – the Adrenaline is a good option for long-distance races, especially the full 42.2km.
Buy men's from Brooks (opens in new tab) | Buy women's from Brooks (opens in new tab) | £120
---
(opens in new tab)
Brooks's first attempt at a carbon racer – the Hyperion Elite 1 – was a bit of a dud that offered nothing like the bouncy, propulsive feel of rival shoes from other brands. Fortunately, Brooks was quick to recognise this and launched the Hyperion Elite 2 within months of the original, getting it right at the second time of asking.
The key update was the introduction of DNA Flash cushioning, a foam that is a vast improvement on the DNA Zero used in the Hyperion Elite 1. The Elite 2 still isn't as soft and springy as something like a Nike Vaporfly, but it has a comfortable, smooth and fast ride and the carbon plate will help propel you to PBs at any distance. It's also a more stable option than most high-stack super-shoes, which will be valuable to those who find some of the modern racers too squishy.
Buy from Brooks (opens in new tab) (unisex) | £210 | Brooks Hyperion Elite 2 review
See related
Brooks Catamount
Best Trail Running Shoe
The Catamount uses the same DNA Flash foam found in the Hyperion Tempo road shoe, for a fast, springy ride that's perfect for tearing along on harder trails in particular. There's not a substantial amount of grip on the outsole for boggy conditions, but the Catamount does find purchase well on rocky terrain, even in wet conditions. If you favour a cushioned road shoe the Caldera might be a preferable trail option because it's softer, but if you're looking to go fast off-road the Catamount is hard to beat.
Buy men's from Brooks (opens in new tab) | Buy women's from Brooks (opens in new tab) | £125
Sign up for workout ideas, training advice, the latest gear and more.
Thank you for signing up to Coach. You will receive a verification email shortly.
There was a problem. Please refresh the page and try again.