The Best Running Shoes For The Mud
By Nick Harris-Fry last updated
When you need reliable grip to see you through the mud, turn to these shoes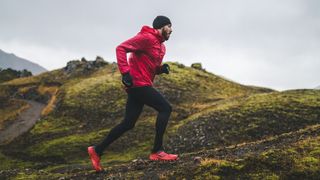 (Image credit: Unknown)
Sometimes your road running shoes will do a fine job on trails. When you're running on the sun-soaked rocky tracks of California for example, or hitting the off-road paths of your local park during the summer.
However, sometimes you really do need a specialist shoe, and one of those times is when you take on the bogs and mudslides that are commonly found when you trade the pavements for the trails during the British winter.
The key feature on a good trail-running shoe for the mud is the outsole, which needs to have lugs that are at least 6mm deep, and ideally 8mm studs for tackling seriously boggy conditions. This does mean the shoes are generally not great on hard ground, because those deep lugs can wear down and aren't comfortable on firmer terrain, but there are some options that do well on a variety of surfaces.
Below you'll find several great options for the mud, including a couple of lightweight racing shoes for cross-country season.
---
Adidas Terrex Speed Pro SG
(opens in new tab)
The Speed Pro SG's outsole features aggressive 7mm chevron-shaped lugs, which provide almost as much bite as the 8mm studs you'll find on other options while being more comfortable and reliable on harder ground. The Speed Pro SG is fairly versatile for a soft-ground shoe as a result, and it's also light, making it a great racing option for XC events where there is some asphalt thrown into a predominantly muddy course.
Buy from Sports Shoes (opens in new tab) | £140 (currently reduced to £125.99)
---
This lightweight studded beauty is the racing shoe you want on your feet when the going gets really muddy. The X-Talon 210 2 weighs just 210g, has 8mm lugs on the bottom that found grip for us even on the mud bath of the Southern XC Championships at Parliament Hill, and a strong but thin upper that also drains rapidly – crucial when you're powering through puddle after puddle. The graphene-enhanced rubber used for the outsole is also durable enough that long sections on hard ground won't wear it down. Inov-8 has toughened up the upper on the second edition of the shoe, a welcome improvement as we did find we tore holes in the first one during the rigours of an XC season. As well as running races, these are a great option for OCRs and mud runs.
Buy men's from Inov-8 (opens in new tab) | Buy women's from Inov-8 (opens in new tab) | £135
See related
Higher State Soil Shaker 2
(opens in new tab)
Budget shoes that can handle deep mud are few and far between, so the Soil Shaker 2 is a real diamond – especially since it's always available for the bargain price of around £40 or even less. That's outstanding value for a durable shoe with 8mm multidirectional lugs that will find grip even when going up and down steep, boggy hills. The second edition of the Soil Shaker is lighter than the first, which means it works as a decent racing option for XC fans not overly concerned with shaving seconds off their time, and it's a great pick in general for budget-conscious runners who love the mud.
Buy from Sports Shoes (opens in new tab) | £79.99 (currently reduced to £39.99)
---
The Peregrine line has always been a great option for runners who want a versatile shoe that is good for all kinds of terrain but can still hold its own in the mud, and the expanded Peregrine collection now includes the ST, which is especially at home on sloppy ground. The lugs are a little deeper and more widely spaced on the ST than on the standard Peregrine 11, though the latter is also a good muddy trail option and more comfortable on harder ground. The Peregrine is particularly good for long runs in the mud, and the PWRRUN cushioning in the midsole will help you hit and maintain your race pace in trail events.
Buy men's from Saucony (opens in new tab) | Buy women's from Saucony (opens in new tab) | £115
---
There's a strong case for saying we've saved the best for last, because the grip provided by the 8mm lugs on the Mudclaw G 260 V2 is at least as reliable as any other shoe, and it's also durable and reasonably lightweight. It's not as speedy and light as the X-Talon G 210 V2 but it's not far off, and the upper has been reinforced with Kevlar to ensure it lasts just as long as the hard-wearing graphene-enhanced rubber on the outsole. To make the shoe even hardier, Inov-8 updated the second version with a new microfibre rand to provide more durability around the forefoot of the upper. The Mudclaw G 260 V2 costs more than most, but thanks to the materials used it will last long enough to justify the outlay, especially as you can feel confident of not slipping over during the many miles you'll cover in the shoe.
Buy men's from Inov-8 (opens in new tab) | Buy women's from Inov-8 (opens in new tab) | £140
---
The Speedcross 5 is a great shoe for long runs on the trails, offering a little more cushioning and comfort than the X-Talon while still having deep enough lugs to find grip on a range of terrains. Those lugs are 6mm deep, so not as reliable as 8mm when it comes to really deep mud, but the slightly shallower depth means they're more comfortable on harder ground. The quick-lock laces make the shoes easier to slip them on and off even when caked in dirt, because fiddling with standard laces that you've let mud dry on can be a right pain. There is also a waterproof version of the Speedcross 5 with a Gore-Tex liner, but be wary of using those in deep mud, because once water gets in it can pool around your foot for the rest of the run.
Buy men's from Sports Shoes (opens in new tab) | Buy women's from Sports Shoes (opens in new tab) | £119.99 (currently reduced to £71.99-£95.99)
Sign up for workout ideas, training advice, the latest gear and more.
Thank you for signing up to Coach. You will receive a verification email shortly.
There was a problem. Please refresh the page and try again.