The Best Nike Running Shoes For Every Type Of Runner
By Nick Harris-Fry last updated
From world record-setting speedsters to trail-running shoes, Nike ticks all the boxes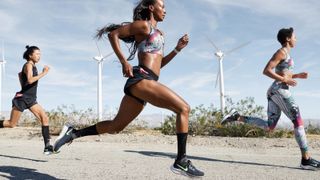 (Image credit: Unknown)
The hype surrounding each new release would suggest that every brand makes the best running shoes. Of course, all of them have strengths and weaknesses, and what the perfect shoe is will change with regard to what the individual runner needs from it.
That said, Nike can claim to have come closer than most to creating the perfect shoe, for racing at least, because there are few runners who have tried the Nike Vaporfly and disliked it. It's the racing shoe that changed the game and it remains one of the best carbon plate running shoes, and runners of all levels have used it to set world records and PBs at a range of distances in recent years.
However, high-stack racing shoes like the Vaporfly aren't for everyone. In fact, they're not for many, because they cost more than £200 and should really be saved for key training runs and race day. Fortunately, Nike has a range of other shoes that fit the bill for all kinds of runners, so whatever you're hoping to achieve, there'll be one that works for you.
The Best Nike Running Shoes
Best all-rounder
Specifications
Drop:
9mm (mens) 8mm (womens)
Reasons to buy
+
Smooth and stable ride
+
Highly durable
+
Improved upper lockdown
Reasons to avoid
-
Fairly firm and dull ride
-
Not great for speedwork
Nike is to resurrect the popular Pegasus Turbo line this year with the Nature version of the shoe, but while we wait for that there isn't an outstanding all-rounder in its current line-up. There are shoes that excel at easy training, and some ideal for fast running and racing, but none that shine at both. However, there are a couple of options if you want one shoe to do it all. One is the Pegasus 38, but our preferred pick is the Infinity Run 2.
Although it's designed for base training runs, we found during our testing that it could handle speedy running well, too. The React midsole has a firm ride and the rocker helps to move you through your foot strike smoothly. It's durable and the updated upper on the second edition is more comfortable and secure than the original's.
You'd be better off looking at other brands for a truly versatile shoe, such as Saucony's Endorphin Speed or the Hoka One One Mach 4. But if you're sticking with the swoosh and can't find a Pegasus Turbo 2 left in stock, give the Infinity Run 2 a go.
The Infinity Run 3 has just launched and we're about to test it to see how it compares with the 2, but first impressions suggest it will be similar so it may be worth bagging a bargain on the older shoe before stocks disappear.
Read more about this running shoe in our Nike React Infinity Run 2 review
---
Best value shoe
Specifications
Stack:
33mm heel, 23mm forefoot
Reasons to buy
+
Comfortable ride for easy runs
+
Outsole provides great grip
+
Good value
Reasons to avoid
-
Less versatile than past Pegasus shoes
-
Not the most exciting ride
The enduring Pegasus is closing in on the big four-oh, its staying power based on a winning blend of value, durability and versatility. Though the latest generations of the shoe aren't as geared towards speed as they once were, they offer more comfort thanks to the React cushioning Nike introduced to the shoe with the Pegasus 37.
This cushioning is still relatively light and bouncy, but lasts forever and excels at protecting your legs on base training runs. The Pegasus 38 also has a great outsole that can grip light trails as well as the road, and tweaks to the upper have made it more comfortable.
That said, Nike hasn't made huge changes here compared with the Pegasus 37, so it might be worth hunting the previous edition of the shoe down in sales while possible.
Read more about this running shoe in our Nike Air Zoom Pegasus 38 review
---
Best cushioned shoe
Specifications
Stack:
36.6mm heel, 27.6mm forefoot
Reasons to buy
+
ZoomX foam gives a soft and springy ride
+
Very comfortable for easy training runs
+
Fairly versatile
Reasons to avoid
-
Not very stable thanks to soft midsole
-
Expensive
This is the first training shoe Nike has made with a midsole comprised entirely of its top-of-the-range ZoomX foam – the same soft, springy stuff found in racing shoes like the Vaporfly. The result is a very comfortable ride indeed – so much so that Nike made the Invincible a very wide shoe and added a plastic clip around the heel to make it stable enough to run in. The Invincible is ideal for racking up long and easy runs in comfort, and isn't a complete slouch when it comes to faster running either, though there are certainly better options in Nike's range for that.
Buy men's from Nike (opens in new tab) | Buy women's from Nike (opens in new tab) | £159.95 | Nike ZoomX Invincible Run Flyknit review
---
(opens in new tab)
Best for half marathons and marathons
Reasons to buy
+
Fast, springy ride
+
Protective over long races
+
Improves running efficiency
Reasons to avoid
-
Not very stable
-
Expensive
-
Heavier than some carbon shoes
The Alphafly is the consumer version of the shoe Eliud Kipchoge wore to run the first sub-two-hour marathon at an unofficial event in Vienna last year. According to Nike, the Alphafly you can buy is pretty much the same as the shoe Kipchoge had on, so you can be sure it's a very fine choice for your own marathon racing. You can also be sure it will be in high demand and hard to find for a while.
Along with Nike's springy ZoomX foam, the Alphafly has two Air Zoom pods in the forefoot, which provide a firmer, more powerful toe-off than the also insanely good Vaporfly. The high stack of soft cushioning is great for protecting your legs during marathons, and to be honest the Alphafly is also rapid enough for short racing too, but that stack can make it a mite unstable when taking sharp turns at full speed or when running on uneven surfaces.
Buy men's from Nike (opens in new tab) | Buy women's from Nike (opens in new tab) | £259.99 | Nike Alphafly NEXT% review
---
Best for 5Ks and 10Ks
Reasons to buy
+
New upper is more comfortable
+
Springy ZoomX midsole with carbon plate
+
Great for races of any distance
Reasons to avoid
-
Expensive
-
Some runners find it unstable
There's a case for saying the Vaporfly 2 is the best racing shoe in Nike's line-up full stop, especially since it's now £50 cheaper than the Alphafly (the original Vaporfly NEXT% was £239.95). While we just prefer the Alphafly for longer races, the Vaporfly 2 is still a great half marathon and marathon distance racer, and it has the edge on its heftier stablemate in shorter events.
That's partly because it's lighter, but also because it has a more stable ride that makes rounding corners at speed easier, which comes into play more in shorter races like 5Ks. The Vaporfly doesn't have the propulsive Air Zoom pods you find in the Alphafly under the forefoot, but it still packs in a stack of light and springy ZoomX foam and, of course, a carbon plate.
Aside from the price drop, the only notable updates to the second Vaporfly NEXT% are found in the upper, which is now a breathable knit. These changes are for the better in the toe box, where you get a roomier fit, but we did find the second edition of the NEXT% rubbed at the heels more than the first. You may not experience that, but it's something to look out for.
Buy men's from Nike (opens in new tab) | Buy women's from Nike (opens in new tab) | £209.95 | Nike Vaporfly NEXT% 2 review
---
A speedy option that's much cheaper than the Vaporfly
Specifications
Stack:
32mm heel, 26mm forefoot
Reasons to buy
+
Light
+
Soft and springy ZoomX midsole
+
Good value
Reasons to avoid
-
Lacks the propulsion of a carbon plate
-
Suited to shorter races only
The Vaporfly and Alphafly might be terrific racing shoes but they're not for everyone. If you're a runner who sticks mainly to short-distance events, such as 5Ks and 10Ks, and wants a lower-profile shoe more in line with classic racing flats then it's worth checking out the Streakfly.
While there is no carbon plate in the Streakfly, it has the same bouncy ZoomX midsole as Nike's top racers, and a Pebax shank in the midfoot provides extra pop to your transition to the forefoot with each stride. It's also a light shoe, which is a benefit when attacking shorter races.
We still rate the Vaporfly as the more accomplished short-distance racer thanks to the carbon plate, but the Streakfly is much cheaper and still speedy, and it's a fun shoe to use for interval sessions as well.
Buy from Nike (opens in new tab) | £134.95 | Nike ZoomX Streakfly review
---
Best for fast training
Reasons to buy
+
Faster than it looks
+
More durable than racing shoes like the Vaporfly
Reasons to avoid
-
Heavy for a fast training shoe
-
Mix of foams and tech creates awkward ride
-
Noisy
-
Expensive
There's a lot going on with the Tempo NEXT%, which has two different foams, a carbon composite plate, and an Air Zoom pod in its midsole. The blend of all this tech makes for a slightly odd ride, but it's an undeniably fast one despite the fairly hefty build of the shoe. But while the Tempo is a great training partner for the Alphafly, unfortunately it has too high a stack to be legal for road races itself. It's unlikely anyone will care if you do use it for them – it's far from an advantage compared with using a proper carbon plate racer – but it's worth noting.
Buy men's from Nike (opens in new tab) | Buy women's from Nike (opens in new tab) | £179.95 | Nike Tempo NEXT% review
---
Nike Air Zoom Structure 24
Best Stability Shoe
Specifications
Stack:
27mm heel, 19mm forefoot
Reasons to buy
+
Stylish design
+
Smooth, comfortable ride
If you need a shoe to combat overpronation, the Zoom Structure is a great pick that has been favoured by stability-seeking runners throughout its 24-version history. The amount of stability the Zoom Structure offers isn't overbearing: the heel overlay and midsole support guide your foot smoothly through the heel-to-toe transition, rather than forcing it into line in an uncomfortable manner. As this kind of shoe goes, the Structure is a relatively speedy and light option, and works well for both training and racing if you find the lack of stability in shoes like the Vaporfly makes them unusable.
Buy men's from Nike (opens in new tab) | Buy women's from Nike (opens in new tab) | £109.95 (currently reduced to £87.97) | Best stability running shoes
---
Best for road-to-trail running
Specifications
Stack:
36mm heel, 26mm forefoot
The Pegasus Trail 3 is a comfortable road-to-trail shoe that's ideal for those who split their running between the asphalt and fairly light off-road tracks like canal towpaths or city parks. The Trail 3 has a similar feel to the Pegasus 38 road shoe when running on hard ground, with a generous stack of React cushioning in the midsole, but grips well on dry trails too. It can handle reasonably muddy ground, though we did find it came unstuck in anything too boggy or slippery.
Buy men's from Nike (opens in new tab) | Buy women's from Nike (opens in new tab) | £114.95 (men's currently reduced to £80.47) | Nike Pegasus Trail 3 review
Sign up for workout ideas, training advice, the latest gear and more.
Thank you for signing up to Coach. You will receive a verification email shortly.
There was a problem. Please refresh the page and try again.