The Best Adidas Running Shoes For Every Type Of Runner
By Nick Harris-Fry last updated
Whether you're lining up a marathon or a couch to 5K plan, Adidas has a shoe for you – this guide will help you find the right one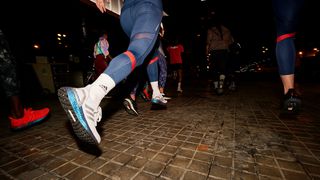 (Image credit: Unknown)
When you are new to the sport it can be baffling to see how many different kinds of running shoes a brand like Adidas has in its line-up. Rest assured, though, there's a reason for this breadth of range, and with a little research you'll be able find your ideal shoe within it.
More than anything else, Boost foam is the magic ingredient in Adidas's running shoes that keeps people coming back to them time and time again. The springy and comfortable midsole is found in all of the German company's most popular shoes, from the speedy Adizero Adios to the stylish UltraBoost.
Whatever kind of runner you are there's a Boost shoe for you in Adidas's range, so beyond the midsole there are a few other factors to consider. Start with what kind of running you want to do with the shoe. Are you a casual runner mostly doing runs of around 5-10km at whatever pace feels good on the day? Or are you training hard for a particular event like a marathon and undertaking a range of different training sessions like track, tempo, easy and long runs?
You should also consider whether you overpronate and therefore may need a stability shoe – getting gait analysis done at a running store can help identify this – and the surface you'll be running on (road or trail).
Once you've armed yourself with a rough idea of the kind of runner you are and what type of shoe you need, check below to find the Adidas shoe that matches your aims.
---
(opens in new tab)
RRP £130 | Adidas Adizero Boston 10 review
The Boston 10 marks the biggest ever change to the popular Boston line, with Adidas throwing all sorts of new tech into the midsole of the shoe and increasing the stack height considerably. The Boston 10 has two Adidas foams in the midsole – top-of-the-line Lightstrike Pro on top and Lightstrike EVA underneath – plus a small carbon plate at the heel and plastic EnergyRods that run under the forefoot of the shoe. Once you've done a few runs to break it in, this shoe delivers a firm but comfortable ride that works well for everything from long runs to track sessions.
Buy men's from Adidas (opens in new tab) | Buy women's from Adidas (opens in new tab)
---
Adidas Adizero Adios Pro 2
Best Racing Shoe
(opens in new tab)
RRP £180 | Adidas Adizero Adios Pro 2 review
The Adios Pro 1 was a good carbon racing shoe, but the Adios Pro 2 is a great one. Adidas has changed the geometry of the shoe by altering the midsole to create a smoother, more propulsive feel. The Pro 2 has a chunky Lightstrike Pro midsole plus carbon-infused EnergyRods under the forefoot, which combine to create an efficient, speedy ride that also protects your legs so you can finish strong in longer races. You can actually see the rods in the Pro 2 thanks to the cut-out on the inner side of the shoe, which also reduces the weight of the shoe. However, it can create some stability problems when running at anything other than your race paces, so save the shoe for racing and fast training.
Buy men's from Adidas (opens in new tab) | Buy women's from Adidas (opens in new tab)
---
(opens in new tab)
RRP £140 | Adidas UltraBoost review
There are newer versions of the UltraBoost to consider, but we found that the original design (tweaked a little by the time the 4.0 came around) remains our favourite to run in with its comfortable, bouncy feel thanks to the Boost foam in the line-up. The newer UltraBoosts pack even more Boost into the midsole and are heavier as a result – though we are yet to test the UltraBoost 22, which could be an improvement on the slightly unwieldy UltraBoost 21. Whichever version you opt for, the UltraBoost is a durable and stylish shoe that can handle your base training well.
Buy men's from Adidas (opens in new tab) | Buy women's from Adidas (opens in new tab)
---
Adidas SL20.2
Best Value Shoe
(opens in new tab)
RRP £100
The SL20.2 is great value at its RRP of £100 and is nearly always available in sales for a lot less than that price. This is the second version of the SL20, and the main change from the original is that Adidas has added extra Lightstrike foam to the midsole to create a more cushioned ride. The SL20.2 still has a fairly firm and snappy feel, and is best used for shorter runs and speedwork, though runners who prefer a firmer ride will find it a capable all-rounder.
Buy men's from Adidas (opens in new tab) | Buy women's from Adidas (opens in new tab)
---
Adidas SolarGlide 4 ST
Best Stability Shoe
(opens in new tab)
RRP £120
The standard SolarGlide 4 has an EVA rail on the side to help guide the foot into a neutral position on the run, so if you just need a little extra stability that's a great choice. However, if you're looking for a full-stability shoe, the ST version of the SolarGlide 4 is the way to go. It has a structured upper and a full frame to help support your foot, and the same bouncy Boost foam underfoot as the standard SolarGlide 4, which delivers a responsive and enjoyable ride whether you're out for an easy plod or pushing the pace.
Buy men's from Adidas (opens in new tab) | Buy women's from Adidas (opens in new tab)
---
Adidas Runfalcon 2.0
Best Budget Shoe
RRP £45
If you're training for a marathon or similar event we recommend going for one of the other shoes on this list, which will be more comfortable and durable, but the Runfalcon 2.0 will certainly serve the occasional runner logging a couple of 5Ks a week well. You don't get the benefits of Boost or Lightstrike foam when you drop into Adidas's bargain bracket, but the EVA midsole on the shoe still does a good job of cushioning. The Runfalcon 2.0 is also pretty good-looking for a running shoe, so you get the added versatility of being able to wear it when not exercising as well.
Buy men's (opens in new tab) | Buy women's (opens in new tab)
---
See related
Adidas Terrex Two Ultra Parley
Best For Trail Running
RRP £159.95
We're not sure how long Adidas will continue to sell the superb zebraflage design of this shoe, so that's reason enough to make haste and bag a pair. The Terrex Two Ultra Parley is a generously-cushioned trail shoe that's best used on harder tracks or for road-to-trail runs, since the outsole doesn't have quite enough grip for muddy paths.
The generous slice of Boost cushioning in the midsole gives you a similarly comfortable and responsive ride as the Ultraboost road shoe, and it's durable as well, which is necessary considering the high price of these shoes. The Parley in the name indicates that the upper is in part made from upcycled plastic waste that is intercepted on its way to polluting the ocean.
Buy men's (opens in new tab)| Buy women's (opens in new tab)
---
Adidas Terrex Speed Ultra
Best Trail-Running Shoe For Racing
RRP £160
The Terrex Speed Ultra was developed with the input of ultramarathon runner Tom Evans, but after our test of the shoe we view it as a great racing option for much shorter distances as well. The shoe is fairly lightweight despite the thick rubber outsole, which has short lugs that are at their best on hard trails rather than sludgy mud. The midsole contains layers of both Boost and Lightstrike foam: the former provides a cushioned landing while the latter creates a responsive and fast feel when you are looking to push the pace.
Buy men's (opens in new tab) | Buy women's (opens in new tab)
Sign up for workout ideas, training advice, the latest gear and more.
Thank you for signing up to Coach. You will receive a verification email shortly.
There was a problem. Please refresh the page and try again.