The Best Barefoot Running Shoes
By Nick Harris-Fry last updated
Our top minimalist shoe picks, plus some low-drop options to help you transition to barefoot running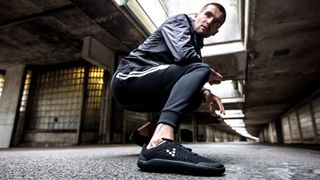 (Image credit: Unknown)
The barefoot running boom inspired by the release of Christopher McDougall's book Born To Run in 2009 might have died down a little in the decade since, but minimalist running shoes are still popular with plenty of people enticed by claims that they encourage a more natural running style and so can reduce your risk of injury.
We'd advise against making a sudden switch to barefoot running shoes if you haven't used them in the past, because you won't be used to the lack of cushioning and you could get injured – at the very least your calves will ache like billy-o – but a gradual transition to minimalist shoes might be just what some runners need to rediscover their love for the sport.
Below you'll find our top barefoot shoe picks, plus several shoes with a low heel-to-toe offset that you can use to transition to minimalist shoes. A typical running shoe will have a 10-12mm heel-to-toe offset, which means that the heel is that much higher than the toe, while barefoot shoes are called "zero drop" because the heel and toe are at the same height. It might just be millimetres but it makes a difference in how you run, and going from 10mm to zero in one go is a big change, so trying shoes with a 6mm or 4mm drop first is wise.
Other common features of barefoot shoes are a wide toe box that allows your toes to splay on landing, rather than the tapered ends of standard running shoes, and of course the merest slice of cushioning rather than the hefty stacks you find on most shoes.
---
The Best Barefoot Running Shoes
The 3mm sole on these barefoot shoes is extremely tough, so you need have no fear about your sensitive soles getting spiked on a run around town. The breathable upper is comfortable and there's a band of rubber running around the front of the shoe to protect your toes.
Buy men's from Vivobarefoot (opens in new tab) | Buy women's from Vivobarefoot (opens in new tab) | £115
---
You do have to be pretty committed to the minimalist movement to pick up a pair of Vibram's Five Fingers shoes, because the separated toes design will attract looks every time you step out the door. However, allowing each toe to move as it wishes is the natural extension of the wide toe box common in barefoot shoes, granting your feet complete freedom of movement. The Vibram V-Run has a puncture-resistant sole and a slice of lightweight cushioning to protect your feet during training sessions.
Buy men's from Sports Shoes (opens in new tab) | Buy women's from Sports Shoes (opens in new tab) | £116.99
---
The Escalante is a zero-drop shoe that mimics the shape of your foot. With its 24mm stack height, it has a little more cushioning than Vivobarefoot and Vibram shoes, making it a good option for those transitioning to barefoot shoes from standard road running kicks.
The rubber on the outsole is designed to flex with your feet, while the wide forefoot means your toes can splay out naturally on the run.
Buy men's from Altra (opens in new tab) | Buy women's from Altra (opens in new tab) | £120
---
Merrell Bare Access XTR Eco
This zero-drop shoe has extra grip on the outsole which makes it suitable for trail running. It's also designed to be as eco-friendly as possible, with a lot of recycled materials used – Merrell even provides a breakdown of each part of the shoe saying how much of it is made from recycled material.
Buy men's from Merrell (opens in new tab) | Buy women's from Merrell (opens in new tab) | £100 (currently reduced to £80)
See related
The Best Low-Drop Running Shoes
This cushioned shoe is both comfortable and quick, making it a great option for a variety of training runs as well as longer races. The Kinvara has a 4mm drop and works beautifully as a stepping stone from road shoes with their usual 8-10mm offset towards zero-drop and barefoot options.
Buy men's from Saucony (opens in new tab) | Buy women's from Saucony (opens in new tab) | £115 | Saucony Kinvara 11 review
---
With their massive stacks of cushioning Hoka shoes might not look anything like barefoot shoes at first, but they are all low-drop and many of them have a wide fit around the toe box as well. The Carbon Rocket has a heel-to-toe offset of just 1mm, plus a carbon plate in the midsole to put a little extra pep in your step on fast runs. It's a firm shoe designed for fast running and is practically zero drop, so it's not one to suddenly switch to for all your runs if you're currently using a 10mm-offset trainer, but it's a great racing option once you've become accustomed to zero- or low-drop shoes.
Buy from Sports Shoes (opens in new tab) | £129.99 | Hoka One One Evo Carbon Rocket review
---
Most of the major shoe manufacturers have steered clear of the minimalist shoe movement but Nike opted in with its Free RN shoe, even if it states that it should only be used for short runs of up to 5K. The Free RN 5.0 has an offset of 6mm, but the minimal cushioning and flexible design means you'll feel more of the ground as you run.
Buy men's from Nike (opens in new tab) | Buy women's from Nike (opens in new tab) | £94.95
Sign up for workout ideas, training advice, the latest gear and more.
Thank you for signing up to Coach. You will receive a verification email shortly.
There was a problem. Please refresh the page and try again.