First Run in the New Nike Free RN Flyknit
By Ben Isaacs published
Coach tried the new Nike Free running shoes and recommend them for runs of up to 10km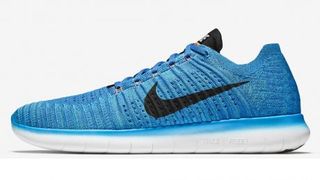 (Image credit: Unknown)
Here at Coach we'd never recommend you run 10km in your slippers, but we would recommend you do so in running shoes that are just as comfortable. And the Nike Free RN Flyknit, which went on sale at nike.com (opens in new tab) this morning, fit that bill.
The new Nike Free running shoes (not to be confused with free Nike running shoes, which would be an unconventional business strategy) stay true to the line's heritage by focusing on the way the foot naturally expands and flexes as you move.
Since its debut in 2004, the Free sole has been split into small segments which lets the shoe mimic the way your foot moves. This allows a more natural movement which research has shown to actually strengthen your foot.
A few years back Nike added its new Flyknit uppers to the range. These woven uppers are "knitted" from one piece of yarn making them practically seamless and astonishingly lightweight.
But where the range used to have a variety of sole depths (3.0, 4.0 and 5.0) there is now just one standard size for the Flyknit editions, with the Nike Free RN having a bit more cushioning. The simplification should help runners get to grips with the shoes and allow Nike to focus all its attention on making that sole as flexible as possible without working on too many variations.
And that sole, while as geometric as ever, now splays more than before – handy for cushioning your ever-expanding feet. The upper on the flagship Flyknit version is incredibly lightweight and fits like a sock. It's as comfortable as anything you'll wear on your feet this year – it's just that good
See related
Two of the Coach team (those handsome gents on the far left) were invited by Nike to test the shoe last night on a run starting and finishing at Frame Victoria. There was a surprising amount of cushioning underfoot and the snug fit of the Flyknit upper made you forget you had anything on your feet, which is always a good thing. We covered 5km and feel these would be ideal for anything up to 10km. Whenever possible it's good to rotate shoes if you run a few times a week so these are an ideal addition to your arsenal.
Nike Free RN Flyknit, £105, buy on nike.com (opens in new tab)
Ben Isaacs was the features editor of the print edition of Coach until it shuttered in 2016. Ben is currently the features editor at The Week Junior.
Sign up for workout ideas, training advice, the latest gear and more.
Thank you for signing up to Coach. You will receive a verification email shortly.
There was a problem. Please refresh the page and try again.