The Best Running Snoods
By Nick Harris-Fry last updated
Protect yourself from the elements with these top-notch neck warmers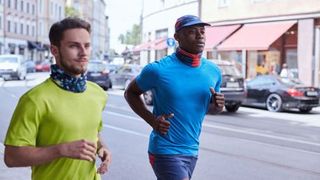 (Image credit: unknown)
No serious runner's wardrobe is complete without a snood. This versatile bit of kit fits into a pocket and can be worn in a number of different ways to ensure maximum comfort on your run. In cold weather it's vital for keeping you warm, and in hot conditions it works well as a sweat-wicking headband. Furthermore, in today's troubled times, having a bit of fabric you can pull up over your mouth and nose when passing people during a run is no bad thing. Here are seven great snoods to consider.
---
(opens in new tab)
There's only one place to start with snoods and that's Buff. Its products are so ubiquitous that many people call any neckwear a Buff (no doubt enraging the Alan Partridges of the world). This multifunctional garment can be worn as a neck warmer, hat, headband, bandana, wristband and even like a pirate's hat, if you twist it just right. The CoolNet range of snoods are all warm, lightweight and quick-drying, and provides UPF 50 protection from harmful UV rays (a UPF rating being greater than the SPF ratings from sun creams).
Buy from Buff (opens in new tab) | £16 (some styles reduced, from £9.80)
---
Kalenji Multipurpose Headband
(opens in new tab)
If you consider it unacceptable to spend over £10 on a snood, Kalenji's budget option might be more up your street. It's called a headband, but it can be unfurled to wear as a neck warmer, and it's available in five different colours.
Buy from Decathlon (opens in new tab) | £4.99
---
(opens in new tab)
Inov-8 calls this a "wrag" but it's the same piece of handy kit whether you call it a wrag, snood, neck warmer or indeed Buff (but don't call it a Buff). The Wrag can be worn in several ways and counts as a hat if you need to carry one as part of a kit list for a long trail-running event.
Buy from Inov-8 (opens in new tab) | £12
---
See related
Buff ThermoNet Multifunctional Tubular
(opens in new tab)
Yes, we're doubling up on Buffs, because it has far too broad a selection of snazzy snoods to only pick one out. The ThermoNet snood is ideal for when you're running in extra cold conditions, and it's made from at least 70% recycled materials – more of that, please.
Buy from Buff (opens in new tab) | £21.40 (some styles currently reduced, from £14.20)
---
(opens in new tab)
Calling it a multi-use band does suck the fun out of a snood in our opinion (and they are fun), but is an undeniably accurate description. The Fractel band ticks the usual boxes, being soft and sweat-wicking, and it offers UPF 30 level protection from the sun.
Buy from Fractel (opens in new tab) | £17
---
Waring Brooke Personalised Monogram Pattern Snood
(opens in new tab)
Tested the waters with a few cheaper options and decided that you really are into this warm neck malarkey? Then it's time to upgrade to a monogrammed Merino wool snood. The Waring Brooke snood is the warmest option on this list and you can pick two initials to have woven into the pattern.
Buy from Waring Brooke (opens in new tab) | £30
---
Higher State Reflective Neck Gaiter
(opens in new tab)
Neck gaiter is just another term for snood, but whatever you plan on calling them, getting two for £4 is a bargain in anyone's book (or even £9.99, if paying the rarely used RRP). There are six colour combos to pick from, and all the gaiters have reflective details on them.
Buy from Sports Shoes (opens in new tab) | £9.99 for two (currently reduced to £3.99)
Sign up for workout ideas, training advice, the latest gear and more.
Thank you for signing up to Coach. You will receive a verification email shortly.
There was a problem. Please refresh the page and try again.