The Best Sports And Running Underwear For Men
By Nick Harris-Fry last updated
Train in complete comfort with a pair of performance pants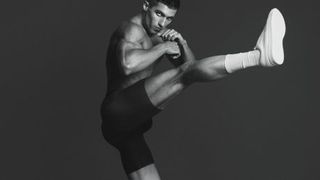 (Image credit: Unknown)
All too often people overlook the importance of their underwear when running or playing sports, never clocking the inherent madness of popping a set of sweat-wicking performance shorts over a pair of standard tighty-whities or cotton boxers. You might get away with using sub-par pants for short, sharp bursts of activity, but once you start exercising for longer the discomfort caused by inadequate undies becomes abundantly clear – especially if you're a runner.
One option is to go without underwear, which is why many pairs of gym shorts or running shorts come with a built-in inner brief or a tight under-layer to provide you with the support normally provided by dedicated undies. However, for many runners this doesn't quite do the job, and the thorny issue of chafing can raise its head again, so there is definitely some value in investing in a couple of sets of primo running underwear.
All of the below fit that description, and you can be sure that you'll finish your run in complete comfort when wearing them. If you're training for a marathon in particular, we guarantee that a couple of sets of proper performance underwear will be among the best purchases you ever make, especially if you've found yourself prone to chafing on your long runs.
---
(opens in new tab)
BAM Jersey Bamboo Sports Trunks
The natural characteristics of bamboo fabric – which is soft on the skin, wicks sweat and resists odours – make it the perfect material to use for sporty underwear. These exceedingly comfortable pants have a long cut and don't ride up during runs or other workouts, and that design also helps to reduce the risk of thigh chafing on longer runs.
Buy from BAM (opens in new tab) | £18
---
(opens in new tab)
These long boxers are made from a soft and breathable fabric and have a couple of key features. The Coccoon is a pocket to keep your private parts separated from your thighs to minimise chafing, while the X-Fly is, well, an X-shaped fly that allows for faster access when required. The latter never came in all that handy in our testing – how fast does access really need to be? – but the Coccoon pocket is a nice addition, and in general the material used makes the boxers comfortable for long runs or workouts.
Buy from Crossfly (opens in new tab) | £24.99
---
(opens in new tab)
These boxers are made from MicroModal Air fabric, which scores well for comfort and sustainability: it's made from sustainably sourced tree fibres, which are CO2-neutral and biodegradable. The fabric also wicks sweat and is anti-bacterial, and although it's a little thicker than some of the material used on synthetic sports underwear and dries more slowly, we found the boxers comfortable for long training sessions. There are two versions of JustWears' boxers: the standard Pro and an Active edition that has a pouch to "keep your banana and plums separate", as JustWears puts it. We found both types good for sports use.
Buy from JustWears (opens in new tab) | £38.75 for duo pack
---
(opens in new tab)
The USP of these undershorts is the wide waistband, which is designed to provide added support to the abdomen and thereby enable you to push harder for longer in workouts. We can't say that we've noticed a substantial boost to our performance while wearing the pants, but they are undoubtedly comfortable to use for strength sessions and runs.
Buy from CXP (opens in new tab) | £30
---
(opens in new tab)
Hamilton And Hare Sports Trunk
These long trunks hit all the key notes with their features – sweat-wicking, seamless construction, mesh panels for breathability – and we found the extra length they offer compared with many boxers creates a comforting feeling on the run. They're almost like a set of compression shorts, without the extra tight squeeze. They're one of the pricier options on this list at £28 a pair, but if you subscribe, the price drops to £23.80. You can get a delivery every one, three or six months – although if you're wearing them out in one month, maybe you're wearing them wrong.
Buy from Hamilton And Hare (opens in new tab) | £28
---
(opens in new tab)
Under Armour Tech 15cm Boxerjock
Under Armour made its name by producing comfortable, sweat-wicking base layers that helped to keep you cool during intense exercise – and all the properties that made those base layers great work just as well, if not better, in the Boxerjock underwear. We've used Under Armour's excellent underwear for years of regular running and never had the slightest problem with chafing or any other discomfort.
Buy from Under Armour (opens in new tab) | £30 for pack of two
---
(opens in new tab)
Glance at these form-fitting boxers and you may think they're inside out. In fact, Saxx has placed the nicer-looking, softer seam next to your body. All underwear from this American brand have a nifty ball pouch which keeps 'em separated from the skin on your leg, but this particular pair also have a gripping material around the leg openings to keep everything in place.
Buy from Wiggle (opens in new tab) | £30
---
(opens in new tab)
The biggest name in running underwear, with a product that offers unrivalled comfort thanks to a seamless, sweat-wicking design that guarantees a chafe-free run. There are a range of underwear styles in Runderwear's line-up but our favourite is the boxer, which has gripping strips on the bottom of the legs to stop them riding up mid-run.
Buy from Runderwear (opens in new tab) | £20
---
(opens in new tab)
Runderwear Merino Running Boxers
Merino wool has one key feature that Runderwear's synthetic boxers lack, namely natural anti-odour properties. Now we're not saying you need never wash these undies after a run, but if you're signed up for a multi-stage run or similar event, having underwear that (a) you can use again and (b) won't stink out your overnight accommodation is a big plus. Merino wool is also incredibly soft and naturally sweat-wicking, and it helps keep you cool on hot days and warm on cold ones – perfect.
Buy from Runderwear (opens in new tab) | £35
---
See related
(opens in new tab)
Will you get questions when the waistband on these boxers rides above your trousers and people see the name Comfyballs? Yes, you will, but it's worth suffering a few awkward moments because the underwear really does live up to its name. The Performance boxers in the Comfyballs range are made with Coolmax fabric to keep your comfortable and dry, even during long training sessions. We've worn Comfyballs for runs ranging right up to a marathon and never been disappointed.
Sign up for workout ideas, training advice, the latest gear and more.
Thank you for signing up to Coach. You will receive a verification email shortly.
There was a problem. Please refresh the page and try again.