Shine Like A Beacon With This Reflective Running Gear
By Nick Harris-Fry last updated
Stay warm and safe by filling your winter running wardrobe with reflective clothes and accessories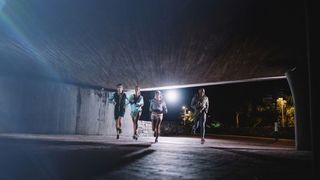 (Image credit: Unknown)
Wearing the right clothes can make a difference on every run you embark on, but it's especially important in the winter when you need to stay warm (but not sweaty) and visible if you're training after dark.
If you scoff at the idea of taking your running indoors during the cold season, or worse still, giving up the sport altogether until the spring, then the gear below will see you shine through your night runs this winter.
---
Proviz REFLECT360 Running Jacket
(opens in new tab)
No-one does reflective gear quite like Proviz, which embeds millions of tiny beads in its clothes so they flare up the moment any light falls upon them. This jacket is designed for cold-weather running, so can be a tad sweaty if you push the pace, but for easy night runs there's no better option for increasing your visibility.
Buy men's from Proviz (opens in new tab) | Buy women's from Proviz (opens in new tab) | £89.99
---
Proviz REFLECT360 Running Backpack
(opens in new tab)
If you're a run commuter then half the reflective details on your jacket can be covered up by a backpack, so it's wise to make said backpack reflective too. Proviz's running backpack is lightweight, has adjustable straps so you can set it up to fit closely and not bounce while running, and the back panel is made from reflective fabric.
Buy from Proviz (opens in new tab) (unisex) | £49.99
---
Saucony VIZIPRO Endorphin Speed 2
(opens in new tab)
Sometimes you have to make sacrifices on your choice of gear for the sake of reflectivity, but sometimes a brand makes a reflective version of your absolute favourite. In our opinion the Endorphin Speed 2 is the best all-round running shoe you can buy, with an extremely fast but still comfortable ride that allows you to use it for much of your training as well as on race day. The VIZIPRO edition features eye-catching colours to make your feet visible in the day plus reflective details that shine when light hits them at night.
Buy men's from Saucony (opens in new tab) | Buy women's from Saucony (opens in new tab) | £155 | Saucony Endorphin Speed 2 review
---
(opens in new tab)
A running gilet works well in a wide range of conditions, keeping you warm without the risk of overheating that comes with a jacket. The Carbonite vest has strips of 3M Scotchlite Carbon Black Stretch tape placed along the arms and collar, and this tape shines when hit by light, making you visible to drivers from up to 200m away, according to Brooks. The gilet is wind- and water-resistant, giving you some extra protection from the elements.
Buy men's from Brooks (opens in new tab) | Buy women's from Brooks (opens in new tab) | £100
---
(opens in new tab)
The Flipbelt is one of our favourite running belts, to the point where we've used it to run three marathons. It can hold a remarkable amount of stuff tight against your body so it doesn't bounce around annoyingly while you run. The reflective versions of the belt are ideal for long runs in the darker winter months when you need to carry your gels, phone and other essentials with you.
Buy from Flipbelt (opens in new tab) | £35
---
(opens in new tab)
If you've nailed your ideal running outfit, only to get to autumn and realise it's all dangerously black, this vest is a cheap and easy way of making yourself more visible at night. The material is very lightweight so it won't add any warmth to your usual jacket or top, and the mix of fluorescent fabric and reflective strips makes you stand out more both during the day and at night.
Buy from Sports Shoes (opens in new tab) | £10.99 (currently reduced to £4.99)
---
Ronhill Nightrunner Gloves
(opens in new tab)
There's no shortage of reflective material on these gloves, with most of their back covered in a reflective print and Ronhill logo. For those who want to increase their daytime visibility too, the gloves also come in fluorescent pink and yellow colours. The gloves have pads on the index fingers and thumbs that can be used to control touchscreen devices.
Buy men's from Ronhill (opens in new tab) | Buy women's from Ronhill (opens in new tab) | £23
---
See related
(opens in new tab)
Shaped to provide total coverage of your ears and with a fleecy lining, this headband will keep you cosy on cold winter nights as well as helping you to be seen. The entire top rim of the headband is made of a reflective material to provide 360° visibility, and there's also a loop on the back that you can use to attach a flashing light and ensure you're unmissable in the dark.
Buy from Decathlon (opens in new tab) (unisex) | £6.99
---
Safety Skin Reflective Skin Spread
(opens in new tab)
If you have absolutely no reflective clothes and zero intention of getting any, you can always just smear this clever spread over your skin instead. Spread some stripes on your arms and legs (and your face if you really feel like it), and it will appear a dull grey until a light shines on it when it will light up in dramatic fashion. Sweat and rain won't wash the spread away, but rest assured it comes off easily in your post-run shower.
Buy on Amazon (opens in new tab) | £15 (currently reduced to £12.99)
---
A cheap and simple solution to your visibility concerns is to pick up four of these reflective bands – which have a flashing light built in – and strap them around your wrists and ankles.
Buy from Karrimor (opens in new tab) | £5.99 each
Sign up for workout ideas, training advice, the latest gear and more.
Thank you for signing up to Coach. You will receive a verification email shortly.
There was a problem. Please refresh the page and try again.