The Best Running Belts
By Nick Harris-Fry last updated
Carry your phone, keys, wallet and gels without strapping on a backpack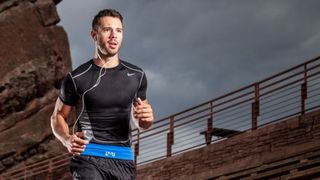 (Image credit: Unknown)
While some runners pound the pavements entirely free of their worldly possessions, there are plenty that prefer to carry stuff with them on their run, especially when heading out for long trips that require both entertainment and sustenance. For any runs that stray over the 90-minute mark you'll need to carry some kind of energy source to get you through, be it running gels, energy bars or dried fruit, and maybe a water bottle, too.
And while smartphones are undeniably handy to have with you to use running apps to track runs and stream music or podcasts to running headphones, today's massive models pose a problem. Once the screen size hits 5in it becomes too big for almost all running shorts pockets and too awkward to comfortably strap on in an armband.
Running backpacks are one solution, but they're unpleasantly bulky when running races, rather than simply commuting. A good running belt, however, will be able to carry everything you need for any run up to an ultramarathon without getting in your way or on your nerves. Here are 11 great belts to consider.
---
(opens in new tab)
This is a very smart design indeed and, in our opinion, just about the best belt for all your running needs. Slide the belt on – you'll need to get the right waist size – and slip your valuables and gels into the pockets that run the entire length of the belt. Then flip the belt over to completely secure your stuff, which is held tight against your body so there's no bounce. The Classic FlipBelt is good for most phones, but the bigger Zipper edition (opens in new tab) is preferable if you're a phablet fan.
Flipbelt also sells a range of water bottles designed to slip into its belts. These are gently curved to fit comfortably against your body, with 175ml and 320ml sizes available. You can buy a package that includes the Flipbelt classic plus the water bottles (opens in new tab) for £50.
Buy from Flipbelt (opens in new tab) | £28
---
(opens in new tab)
For some years our favourite high-capacity running belt has been the Flipbelt Zipper, which we've used in five marathons to carry copious amounts of gear. The Camelbak Ultra Belt is the first real contender for the Flipbelt's crown, offering a vast amount of storage in a clever design that ensures you don't get any annoying bouncing no matter how much stuff you cram into its pockets.
Those pockets include a zipped pouch on the front and a large pocket on the back that you can tighten. The rear pocket can take a 500ml soft flask and being able to tighten the pocket means that even if you carry a full flask, it won't bounce around. There are also drop-in side pockets, and another drop-in pouch behind the zipped pocket on the front. We've taken a 250ml flask, a 150ml flask, two gels, a phone and a Buff in the belt, and still had entire pockets to spare. What luxury!
Buy from Camelbak (opens in new tab) | £44.99
---
Proviz REFLECT360 Running Belt
(opens in new tab)
Although this belt doesn't offer as much storage as its large size might suggest, it does bring a high degree of visibility, with reflective details all the way around. The soft material can feel a little hot at times, partly because the band is so wide, but it dries quickly and is comfortable to wear next to the skin if you're not wearing the belt on the outside of your running top to increase your visibility. There are three pockets on the inside of the belt so your gear is held tight against your body, and there's enough room for all the essentials plus gels or energy bars.
Buy from Proviz (opens in new tab) | £24.99
---
Lululemon Fast And Free Run Belt
(opens in new tab)
This belt holds an impressive amount of stuff given its slim profile. The main zipped pocket is able to take larger phones even in a case and the smaller pouch pockets on each side stretch to accommodate gels, keys and bank cards. It can be adjusted easily to fit snugly, minimising bounce, and the soft fabric on the pocket and strap is comfortable against the skin.
Buy from Lululemon (opens in new tab) | £28
---
Kiprun Hydration Flask-Carrying Running Belt
(opens in new tab)
This capacious belt has drop-in pockets that we've found can easily take two 250ml soft flasks plus several gels. You buy the belt corresponding to your waist size, and the resulting snug fit means there's no bouncing at all on the run, even when the belt is fully loaded. It has one large main pocket that runs around the front and sides, plus a smaller pouch at the back that can accommodate a large phone.
Buy from Decathlon (opens in new tab) | £19.99
---
Janji Multipass Sling Bag
(opens in new tab)
This sizeable bag can be worn around your waist or slung over a shoulder. With two litres of space in its various pockets for storing kit, it's a great option for long outings on foot. The bag has two zip pockets and an expandable bungee compartment, plus a pocket to tuck away the extra chest strap when it's not in use. It's a bit bulky for everyday runs but having the extra storage space could be invaluable, and the Sling Bag also works as a hiking pack for those who don't need a full backpack. Janji sells its gear in limited runs and the Multipass Sling Bag is currently out of stock, but you can sign up to be alerted when it is available again.
Buy from Janji (opens in new tab) | £35
---
(opens in new tab)
The running belt for the man or woman who has it all, and wants to carry as much as possible of it around their waist while running. This bumbag has a huge three-litre main compartment but can carry way more than that with the stretchy, easy-access pockets on the sides and bungee cord loops to hold broken-down poles or a rolled-up jacket. Once it's crammed full of stuff, you can pull the belt tight so the pouch sits against the small of your back for minimal bouncing. It's a belt that's designed for long days on the trails, offering the storage space of a small rucksack to those who don't get on with shoulder straps.
Buy from Montane (opens in new tab) | £30
---
Shapeheart Magnetic Sport Belt
(opens in new tab)
This belt comes with a sleeve you can pop your phone inside that then attaches to the belt via a large and powerful magnet on the front. And we do mean powerful – there's no chance your phone is coming loose once you've snapped it into place. The waterproof sleeve is available in three sizes to suit your phone and has a clear front side that is touchscreen compatible, so you can operate your phone without taking it out. There are also zipped pockets on either side of the belt that will take a gel or two plus your other essentials. The downside of the belt is that it's pretty large and your phone sticks out more than with other belts, but being able to snap and unsnap your phone quickly from the magnet makes it more easily accessible than with a zipped pocket.
---
Nathan Trail Mix Plus Insulated Hydration Belt
(opens in new tab)
For those who want to carry a lot of liquid with them without strapping on a backpack, this belt and its twin water bottle holsters is a great option. The 300ml bottles have a push/pull cap that's set at an angle so they point away from your body and won't stick into you on the run. The bottles are also insulated, which means you can get a refreshing, cold drink hours into the run rather than the usual tepid liquid. The central pocket is a good size too, holding a phone or a few gels comfortably.
---
(opens in new tab)
If you stretch it to its limits, this capacious running belt can take up to three litres of stuff, and the tight band design minimises bouncing while on the run. There are three pockets on the band, which also has elastic loops to which you can attach a jacket or trekking poles. There are also race number holders for those who prefer not to attach their bib to their T-shirt, or would rather not wear a T-shirt at all.
Buy from Centurion Running (opens in new tab) | £49.99
---
(opens in new tab)
Don't let the "mini" in the name fool you – this belt will expand to handle a phablet comfortably, even if it's protected with a slim phone case. You can also tuck a card and keys inside a separate compartment behind your phone in the main pocket. That's about it, though – there are no other pockets – so this is a belt for short races and runs when you just want your valuables, and can leave energy gels or bars behind. The small Lycra pouch dries quickly and the strap length will stick where you set it, so once it's adjusted you won't have to fiddle with it at the start of every run.
---
The seemingly-small front pocket on this popular belt surprises and delights in the manner of Mary Poppins's bottomless bag. It expands to take even the largest smartphones along with keys and cards. The waistband also has six elastic loops that hold running gels securely for your long runs.
Buy from SPIbelt (opens in new tab) | From £21.99
---
See related
It's not technically a belt, but this clever pouch fulfils the same function of carrying your belongings without the need to go the full Batman utility belt. The two-pocket design – one of them's waterproof – uses magnets to attach to the waistband of your shorts. Once again, phablet carriers will need to go for the XL version (are you regretting that upgrade yet?).
---
Ultimate Performance Titan Runners Pack
This bumbag has a classic two-pocket design with reflective patches to increase visibility at night. The main zipped section is able to hold a 5.5in screen, but overall it doesn't have as much room the other options on this list so it's best for shorter runs where you only need your phone and keys – but you can sneak a gel in as well if required.
Sign up for workout ideas, training advice, the latest gear and more.
Thank you for signing up to Coach. You will receive a verification email shortly.
There was a problem. Please refresh the page and try again.