The Best Running Compression Socks
By Nick Harris-Fry last updated
Compress yourself with these high-and-tighty calf-coverers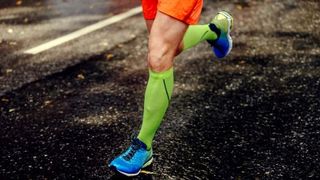 (Image credit: Unknown)
When you're feeling down, sometimes all you need to feel better is a big bear hug. So when you put your legs through their paces with a tough run, it makes sense to think a little squeeze might just help them out too.
That's a none-too-scientific way of looking at it, of course – but there is good evidence that compression can aid recovery after tough physical exploits. The jury is still out on whether compression socks can help improve performance during a run, but there's enough people hailing their benefits to assume you might pick up a placebo effect at least.
You'll need to get the right fit though, which some people find easier by just going for compression calf guards rather than full sock. You'll also have to make your peace with the fact everyone will see you in knee-high socks. For keen runners with lower-leg niggles like shin splints and plantar fasciitis, that will be a small price to pay if they feel compression socks are helping them at all.
Does Compression Work?
Proponents of compression clothing claim a lot of benefits. It is said to increase blood circulation, and decrease lactic acid and muscle fatigue, resulting in improved performance during a run and faster recovery afterwards.
The recovery element is backed up by the research: multiple studies indicated that using compression gear speeds up your recovery, decreasing muscles soreness and perceived fatigue. On the other hand, the supposed performance benefits of compression during running are yet to be proven.
However, that isn't to say your performance won't benefit from wearing compression socks. As any keen runner knows, the placebo effect of wearing gear that you feel is helping is not to be underestimated in terms of how much it actually can improve your performance. Many athletes, both amateur and pro, swear by compression socks for both running faster and reducing injury risk.
There's also no proven downside – unless you find them extremely uncomfortable – so giving compression socks a try during your runs is worth considering. Even if you don't take to wearing them while running, you'll have a handy tool to help with your recovery.
Here are some of the best calf-compressing socks to consider.
---
Rockay Vigor Compression Sock
(opens in new tab)
This sock is made from 100% recyclable materials, which is terrific, and it backs up its eco-friendly cred with top-notch performance too. The material is thinner than in many compression socks, which makes it more comfortable to wear on the run, but it still provides enough support to aid recovery. The socks have a thick arch band to support the bottom of the foot, have an anti-odour coating, and come with Rockay's blister-free guarantee, so if you develop a blister you can get a refund or a new set of socks.
Buy from Rockay (opens in new tab) | £24.95 (currently reduced to £15)
---
(opens in new tab)
If you're a firm believer in the benefits of compression socks then you'll want to wear them a lot of the time, especially to help you recover after intense bouts of exercises. One problem with this is that, what with being socks, they are prone to getting a little whiffy after a day on your feet. That's where these Vectr Merino socks come in – they're made of Merino wool, which naturally resists odours, so you can pull these beauties on day after day without worrying about stinking the joint out.
The socks are lightly cushioned around the forefoot and heel for extra comfort if you're wearing them on the run as well as afterwards, and the compression is targeted around the calf, shin, ankle and arch of your foot.
Buy from 2XU (opens in new tab) | £30
---
(opens in new tab)
In the opinion of most those who slipped on a pair, CEP pretty much nailed it with its first-generation compression sock – but the company wasn't satisfied, so it refined the formula with the CEP Run Sock 2.0. This was also great, but was CEP happy to stop there? No, sir! The third generation of the sock is more comfortable, more durable, better at managing moisture and just an improvement on all the fronts socks can improve on. The sock comes in no show, crew and knee length varieties, with the latter naturally being the most effective for delivering compression to your calf.
Buy men's from CEP (opens in new tab) | Buy women's from CEP (opens in new tab) | £45
---
Runderwear Running Compression Socks
(opens in new tab)
A lot of thought has gone into this sock, with each section carefully designed to produce the most comfortable and supportive fit possible. Graduated compression eases towards the top of the sock, and there is extra support around the heel and toe to ensure durability. Runderwear has achieved this with a minimum of seams, which reduces the risk of chafing (something the brand also does with its underwear). Another clever feature is the mid-foot band, which holds the sock in place so it doesn't bunch up around your toes or heel during a run.
Buy from Runderwear (opens in new tab) | £30
---
Compressport Full Socks Race and Recovery
(opens in new tab)
Swiss brand Compressport's calf compression sleeves are a common sight at every big running event – but it also does a fine line in compression socks, with different options to wear on race day, when recovering or both, as with these socks. The dots all over the foot and calf of the sock are designed to help it stay in place, while the fibres used provide the tiniest of massages with every step. The sock is lightweight and breathable to wear in comfort during races, and it's also great to slip on at home to boost your recovery after an intense run.
Buy from Sport Shoes (opens in new tab) | £33.29
---
See related
1000 Mile Compression Sock
Award-winning socks. You don't get many of those, but this pair have been recognised by the Hammacher Schlemmer Institute (think Which? for the US) as the best it has tested. They certainly seemed to do the trick in our somewhat less rigorous test – wearing them while recovering after a half marathon – and the padded areas in the heel and ball of the foot were a welcome bit of comfort too.
Buy from Sport Shoes (opens in new tab) | £15.29
---
Kiprun Running Compression Socks
(opens in new tab)
There are two things we particularly like about these compression socks from Decathlon. One is the price – like all of Decathlon's gear, they come in a little cheaper than most alternatives. The second is that they come with a detailed explanation of how to put the socks on. Sure, you probably think you know how to put on a pair of socks, but compression ones are trickier than normal socks. This guide also comes with a truly great parenthesis: "We advise you to put the right sock on the right leg (and the left on the left)."
Buy from Decathlon (opens in new tab) | £19.99
Sign up for workout ideas, training advice, the latest gear and more.
Thank you for signing up to Coach. You will receive a verification email shortly.
There was a problem. Please refresh the page and try again.